'Appropriate Behaviour', Desiree Akhavan's clever feature debut peppers the screen with wit, farce and melodrama. 'Still Alice' sees Julianne Moore give an effortless and stunning performance devoid of sentimentality.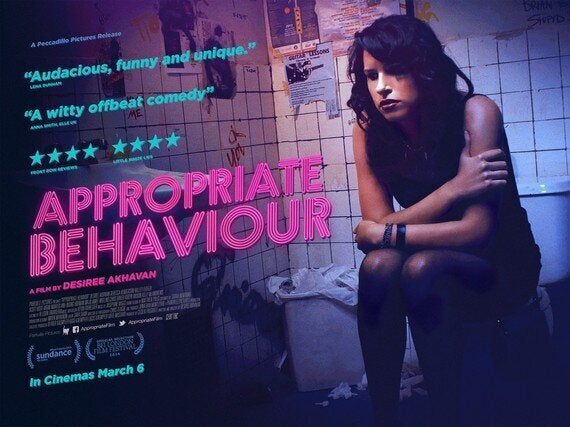 Director: Desiree Akhavan
Cast: Desiree Akhavan, Halley Feiffer, Rebecca Henderson
Language: English & Persian with English subtitles
Country of Origin: USA, UK 2014 90 mins.
Official Selection Sundance and BFI London Film Festivals
Shirin (Desiree Akhavan) breaking up with Maxine (Rebecca Henderson) and storming out waving a strap-on dildo is the scene steal opener for Desiree Akhavan's clever, hip, witty feature debut, a gem that hovers between farce and tragic melodrama and buzzes with deadpan comedic wit. Writer-director Desiree Akhavan and star of 'Appropriate Behaviour' is a bisexual Iranian-American and plays Shirin, a 20-something bisexual Iranian-American living in Brooklyn. It isn't autobiographical but it's personal and the director suggests that Shirin's a heightened and absurd version of her best and worst qualities.
Placed centre piece in a perfect Iranian family isn't easy. Shirin's parents Nasrin (Anh Duong) and Mehrdad (Hooman Majd) are middle class sophisticates and her brother Ali's (Arian Moayed) rapidly moving up the lucrative medical ladder with a fiancee who fits the parentally approved slot. The family doesn't know Shirin's bisexual, and her ex-girlfriend, Maxine (Rebecca Henderson), can't understand why she doesn't tell them. Acceptance eludes Shirin so bring on the private rebellion.
Natural performances, sparkling dialogue and beautifully observed excruciatingly awkward scenes pepper the screen. A web site hook-up that's not quite right, teaching film making to five-year-old boys, the straight face bra-basque sales pitch whilst shopping with pal Crystal (Halley Feiffer) and the invite to a couples minimalist pad for a threesome that Woody Allen would applaud puts Fifty Shades into the bland bin.
A witty, intelligent, 'all about me' debut feature shot in 18 days. That's some achievement.
Released by Peccadillo Pictures 6th March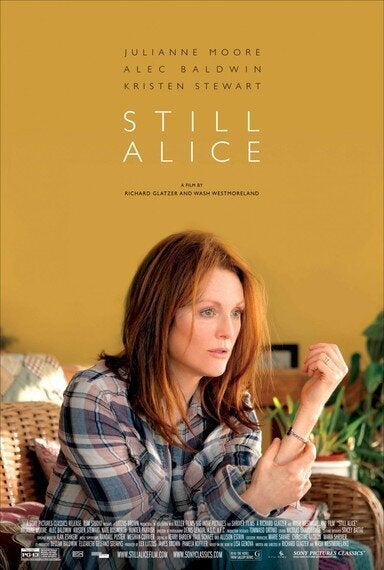 Director: Richard Glatzer
Cast: Julianne Moore, Alec Baldwin, Kristen Stewart, Hunter Parrish, Stephen Kunken, Kate Bosworth
Country of Origin: USA 2014 101 mins.
It's a good life for Dr Alice Howland (Julianne Moore). A Columbia University linguistics professorship, a devoted husband John (Alex Baldwin) and three loving children, Tom, who's on the verge of a career in medicine, lawyer Anna who's expecting her first baby and Lydia who has a fractured relationship with her mother and who's struggling to make it as an actress in LA. It's a busy and rewarding life, a whirlwind of work and family, and she thrives on it. While giving a guest lecture at UCLA, Alice suffers a memory loss mid-sentence. Neurological tests indicate not a brain tumour but early onset Alzeimer's whose genetic base suggests a fifty percent chance of it being passed onto Alice's children.
Adapted from Lisa Genova's novel of the same name, Julianne Moore, the winner of the this years Bafta and the Oscar for Best Actress gives a effortless and compelling performance that echoes the effects of this devastating disease. From a woman defined by her intelligence and generosity of spirit with her family the centre of her life, Alice begins to disappear and family relationships change. Workaholic research scientist John can't accept or cope and the children are confused, bewildered and conscious of their vulnerability to the disease.
As the Alzeimer's progresses it's Lydia who who bonds with Alice to live for each day, live for the moment.
The camera rolls and observes an effortless and stunning performance devoid of sentimentality.
So cruel is 'the art of loosing'.
Released by Artificial Eye/Curzon Film Releasing 6th March
For Film, DVD and Blu ray updates see www.film-reviews-and-news.co.uk