Clair Denis's intimate dramas are always eagerly awaited and 'Bastards' is no exception - a revenge drama about family ties, suicide and sexual abuse will frustrate, annoy, intrigue and mesmerise. 'Love is in the Air' in contrast is a predictable slickly directed romcom which proved to be amusing, charming and quite delightful.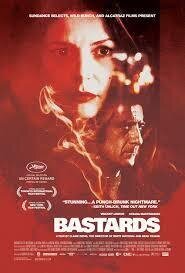 Director: Claire Denis Cast: Vincent Lindon, Chiara Mastroianni, Michel Subor, Lola Creton, Julie Bataille Genre: Drama Thriller Country of Origin: France,Germany 2013 Un certain Regard Cannes International Film Festival 2013 Language: French with English subtitles 100 mins. Rating:****
'Opaque, elliptical, disturbing, hypnotic with a dreamlike quality that lingers in the memory.'
A women, slowly walks down a rain swept Paris street at night, naked except for her high heeled shoes, a body lies in the road, police and ambulance crew mingle. Gradually clues are given connecting the characters in this revenge drama about suicide, sexual abuse and family ties. Marco (Vincent Lindon), a ship's captain receives a phone call from his sister Sandra (Julie Bataille) that his brother-in-law Jacque (Laurent Grevill) has committed suicide, their daughter Justine (Lola Creton) went missing and is now hospitalised, the family business faces bankruptcy and Sandra insists that their business partner, financier Edouard Laporte (Michel Subor) is depraved and responsible for her husband's death.
Marco moves to Paris and rents an empty apartment in the same up-market building as Edouard Laporte's long time mistress Raphaelle (Chiara Mastroianni) who has a young son Joseph (Yaun Antoine Bizette). He will seduce her and expose Edouard's treachery but will love enter the equation? it's a dangerous world of violence, corruption and exploitation linked to Edouard Laporte that will lead to a final shocking revelation.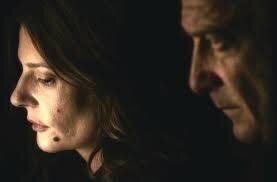 'Bastards' is chilling and mesmerising. We're never sure of what we're seeing, there's a sense of different times intermingling. What can prove frustrating are the minimal fragmented narrative jumps but gradually the puzzle falls into place with a superb manipulation of atmosphere and the use of mood enhancing electronic music by Tindersticks adds chill.
This unsettling and grim tale of sexual exploitation is powerfully acted with veteran Vincent Lindon's lived in face perfectly fitting Marco, the neo-noir anti-hero. Filmed on digital with Agnes Godard's hand held camera scanning faces and bodies in close up offering moody dark visuals and the terse narrative co-written by Jean-Pol Fargeau draws you towards the characters but leaves much hidden in this solitary world as we move towards the grim final scene.
Claire Denis has produced a modern take on the classic film noir that will frustrate and annoy but mesmerise and linger in the mind long after leaving the cinema.
BASTARDS is released by CURZON FILM WORLD 14th February in selected UK cinemas.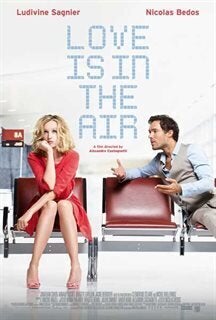 Director: Alexandre Castagnetti Cast: Ludivine Sagnier, Nicolas Bedos, Jonathan Cohen Genre: Comedy Country of Origin: France 2013 Language: French and English with English subtitles 96 mins. Rating:***
Flying's never fun even in first class. Relax, watch a movie, snooze, read a novel, tolerate the airline food - the predictable norm.
Bubbly Julie (Ludivine Sagnier), an aspiring sculptor about to be married in four days to a man she's pregnant by finds herself on a first class New York-Paris flight seated next to Antoine (Nicolas Bedos), an unrepentant playboy who three years earlier broke her heart. A six hour flight sitting next to an ex-lover that you haven't spoken to for three years could be the soap opera from hell.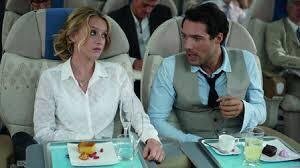 Adapted from a US screenplay by Vincent Angell ('21 Californication') and a host of other contributors, set on a plane and told in flashbacks with great use of the split screen, 'Love is in the Air' sticks to the expected romantic comedy conventions but is a delightful sit down, relax and enjoy movie. Slickly directed with charming lead performances from Ludivine Sagnier and Nicolas Bedos and amusingly supported by Jonathan Cohen as Hugo, Antoine's best friend and Clementine Celarie, Julie's sardonic mother.
It's light, easy and predictable but amusing, charming and a pleasure to watch.
LOVE IS IN THE AIR is released by SWIPE FILMS 14th February 2014 in selected UK cinemas