Movies touch our hearts, and awaken our vision, and change the way we see things
At 09:00 Tuesday 12 February the international press sit down in the Berlinale Palast to view Closed Curtain, the Iranian director Jafar Panahi's eagerly anticipated Competition entry in the 63rd Berlin Film Festival. Made whilst under house arrest in Tehran this screening mirrors the ingenuity that saw his 2011 This Is Not a Film smuggled into Cannes on a USB stick buried in a cake posted from Tehran to Paris. Beat that James Bond !
Jafar Panahi received a six year imprisonment in 2010 for
colluding with the intention to commit crimes against the country's national security and propaganda against the Islamic Republic
and a twenty year ban on directing and producing films. His friend Abbas Kiarostami, the leader of the Iranian new wave chose self-exile along with most of his colleagues who fled Iran in the wake of the 1979 Revolution. Where does that leave the Iranian cinema industry ? And what of Asghar Farhadi director of the award winning A Separation ?
Asghar Fashadi hasn't angered the Ayatollahs so far and was the first Iranian director to win an Oscar for Best Foreign Language Film. Additional to the Oscar A Separation won almost every prize on the award circuit and placed Fashadi as a major force in Iranian and world cinema. If you've seen A Separation Asghar Farhadi's About Elly is a MUST.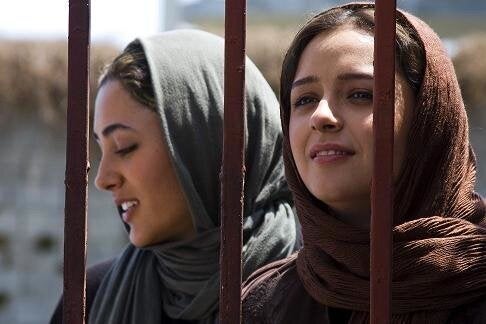 Taraneh Aldosooti and Golshifteh Farahani in About Elly
A group of cultured, university educated, pleasure seeking middle class couples with their children decide to spend the weekend away. Things don't go according to plan and they finish up in a dilapidated villa by the Caspian Sea. One of the group, Sepideh (Golshifteh Farahani) has invited along Elly (Taraneh Alidoosti) the children's teacher but relatively unknown to the group hoping to set her up with Ahmad (Shahab Hosseini) who's recently divorced and just returned from working in Germany. Elly and Ahmad play along with this but gradually tensions appear and Elly suddenly disappears. Perhaps that doesn't sound too inviting. Don't believe it. About Elly is a superbly acted, morally challenging gripping psychological drama that stands head and shoulders above most of what hits our cinemas. Despite its title, the film centres around Sepideh the vivacious leader of the group who believes that anything can be changed to suite her wishes. Elly's disappearance is the catalyst for the carefree atmosphere to descend into panic and deceit and for the tightly knit group to turn on each other to assign blame. Lies are exposed, new ones are made up, secrets come to light and verbal and physical violence breaks out.
It's a wonderfully intelligent script and the cast use it skilfully. The camera catches subtle glances and gestures that say more than words as it observes and dissects each character. There's no music until the final frames, the essence of the film being the script, cast and the camera work to realise the directors vision. About Elly is superb cinema and places Asghar Farhadi as a talent in Iranian and world cinema.
Panic, deceit, lies. Hardline Iranian parliamentary Speaker Ali Larijani wants to oust Mahmoud Ahmadinejad and become Iran's next President - whilst on a visit to Egypt Ahmadinejad's close ally Saeed Mortazavi, the
and ex-Tehran Prosecutor General linked to the arrest, torture and murder of the Iranian-born Canadian photojournalist, Zahra Kazemi is arrested - Larijani's brother, Fazel is accused of soliciting bribes from Mortazavi in return for political protection - the regime's dark secrets begin to emerge. Does life imitate art ?
If this egocentric madness for power wasn't so destructive and repressive you'd smile at the plotting and intrigue. In reality Jafar Panahi remains under house arrest in Tehran but Closed Curtain screens at 09:00 12th February in Berlin. Stephen Fry used the words
in his opening to the recent BAFTA awards. Those words are so apt for the screening of Closed Curtain a film made whilst under house arrest.
A bitter ending is better than an endless bitterness
Ahmed tells Elly. He and his friends endure both.
About Elly Director: Asghar Farhadi cast: Golshifteh Farahani, Shahab Hosseini, Taraneh Alidoosti Genre: Drama Country of Origin: Iran 2009 Language: Persian with English subtitles 1119 mins.
Related