'Black Souls' is a gripping, powerful and realistic mafia crime drama - 'Taxi Tehran', Jafar Panahi's 2015 Berlinale winner offers an innovative, insightful and witty glance at modern day Iran - Kevin Allen places a surreal visual fantasy touch to Dylan Thomas's masterpiece, 'Under Milk Wood.'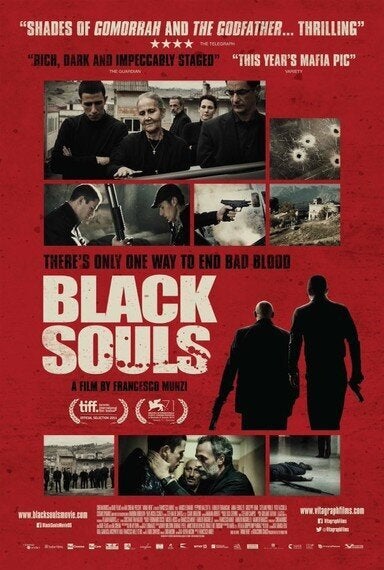 Director: Francesco Munzi
Cast: Marco Leonardi, Peppino Mazzotta, Fabrizio Ferracane
Language: Italian with English subtitles
Country of Origin: Italy, France 2014 103 mins.
Grippingly realistic and with echoes of Mateo Garrone's 'Gomorrah,' Francesco Munzi's 'Black Souls' based on a true story and Gioacchino Criaco's novel of the same name follows three brothers from the Carbone Ndrangheta mafia syndicate in rural Calabria. Luigi (Marco Leonardi) and Rocco (Peppino Mazzotta) look after the family's Milan based cocaine business but Luciano (Fabrizio Ferracane) herds goats in the mountains near to the ancestral town of Africo. The family business isn't for him but his discontented and reckless 20-year-old son Leo (Giuseppe Fumo), desperate to join his uncles opens old wounds with the Barracas, a sworn family rival which can only lead to tragedy.
With terrific performances 'Black Souls' is a powerful mafia crime drama that pears into a world of family bonds, social order and respect governed by long held rituals and customs, machismo, blood feuds and rivalry trapped in an endless and tragic spiral of violence shrouded in omerta, the code of silence.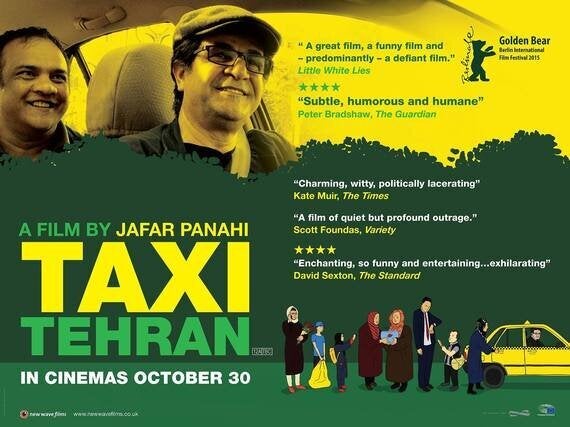 Cast: Jafar Panahi, Hana Saidi, Nasrin Sotoudeh
Language: Farsi with English subtitles
Country of Origin: Iran 2015 82 mins.
Golden Bear & Fipresci Prize, Berlin Film Festival 2015
Jafar Panahi is courageous with a glint in his eye. Banned from making films but not beaten, he's produced 'This is not a Film' (2011), 'Closed Curtain' (2013) and now 'Taxi Tehran,' winner of the golden Bear at this year's Berlinale with a car as his studio and shot with mobile phones mounted on the dashboard. Sounds crazy, but it's innovative, playful, witty and shouts defiance.
Playing himself, Jafar Panahi's an easy going taxi driver who's rarely au fait with Tehran's roads and his passengers have been known to have a free ride and it's through their eyes that we glance at modern Tehran - a liberal female teacher arguing with a reactionary about capital punishment and sharia law, a man selling pirated DVDs, a woman cradles her husband's head after a motor bike accident as he pleads with Panahi to video his last will leaving everything to his wife and Panahi's young niece Hana who's making a short film as a school project brings into play government censorship and what's allowed in Iranian cinema.
Insightful, funny and courageous. 'Im a film maker, I can't do anything else but make films. Cinema is my expression and the meaning of my life.' - Jafar Panahi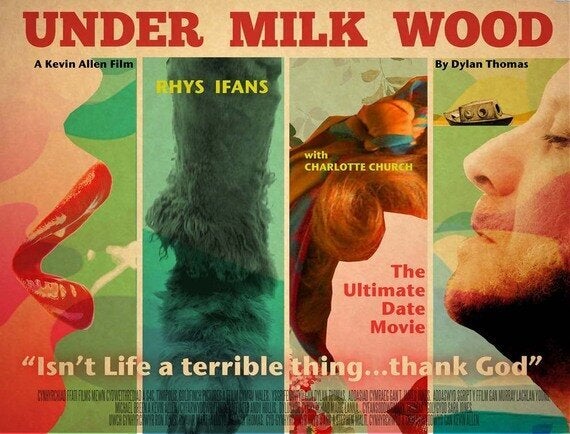 Cast: Rhys Ifans, Aneirin Hughes, Charlotte Church, Karen Eli, Boyd Clack
Language: English. A Welsh language version is available.
Country of Origin: Wales 2014 86 mins.
To cinematically capture the poetic essence, colourful comic characters and the lust and energy of Dylan Thomas's 'Under Milk Wood' takes imagination, flair and a visual feel for his masterpiece. Originally a BBC radio play broadcast in 1954 after Thomas's death and with Andrew Sinclair's 1972 version with Richard Burton, Elizabeth Taylor and Peter O'Toole considered the definitive version, Kevin Allen veers away from the traditional, literal reflection of Thomas's work.
A series of dreamlike vignettes challenge the eye and whet the poetic appetite. Faithful to the original text, the director presents a visually surreal fantasy of lustful comic characters who haunt this small Welsh village - Organ Morgan, Mr Pugh who dreams of murder, the Reverend Ely Jenkins and Polly Garter who meet and mingle as Rhys Ifan tells the story of 'Under Milk Wood.'
Slow West (15) Director John Maclean. Action, thriller, western. 'John Maclean's feature debut is an image defying trail that offers blood and black humour.' Rating: ****
Popular in the Community