Thomas Vinterberg's 'Far From The Madding Crowd' takes us into Hardy Country, a restored version of Federico Fellini's masterpiece'8 1/2' hits the screens, 'Samba' a romantic comedy and documentary offerings 'Big Bird', Caroll Spinney and Sesame Street and 'Argerich', a warm and intimate portrait of the renowned pianist Martha Argerich.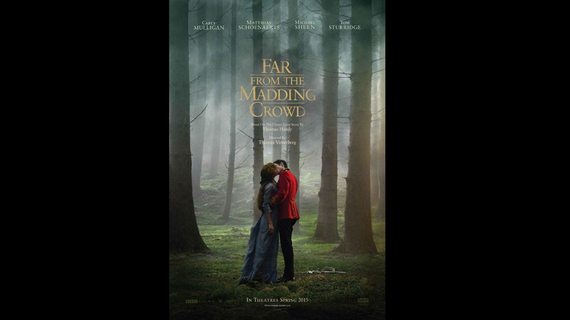 Director: Thomas Vinterberg
Cast: Carey Mulligan, Tom Sturridge, Matthias Schoenaerts, Michael Sheen
Genre: Drama
Language: English
Country of Origin: USA, UK 2015 119 mins.
Released by 20th Century Fox
Certificate 12A
Rating: ****
John Schlesinger's 1967 rich interpretation of Thomas Hardy's literary classic 'Far From The Madding Crowd,' with Julie Christie, Alan Bates, Peter Finch and Terence Stamp swept audiences along and is a hard act to follow. Thomas Vinterberg's version will please audiences and Carey Mulligan and Michael Sheen are outstanding.
Bathsheba, brilliantly played by Carey Mulligan inherits her uncle's farm making her a financially independent woman, a rarity in Victorian times and a person in her own right. Tough, instinctive, exciting, a free spirit, wild, attractive, fascinating and vulnerable Bathsheba attracts three suitors - Gabriel Oak (Matthias Schoenaerts), a shepherd, a rugged man of Hardy Country devoted and loyal who gradually works his way into Bathsheba's heart, Mr Boldwood (Michael Sheen), a man of wealth, and social position but enormous loneliness who's immediately smitten when Bathsheba sends him a Valentine's card and Sergeant Troy (Tom Sturridge), egotistical and fickle who who steals her heart with charm and flattery.
Michael Sheen offers a mesmerising performance that brilliantly captures the essence of Boldwood's isolation and inner loneliness. Matthias Schoenaerts, acclaimed for his lead roles in Bullhead and Rust and Bone has a lot to live up but it's the Flemish accent that sits uneasily in this rugged man from Hardy Country. Tom Sturridge didn't fit the Sergeant Troy role for me and why is Fanny Robin (Juno Temple), the tragic left-behind bride just a sideline. Of course the pivotal role is Carey Mulligan and she inhabits the mercurial heart and soul of one of literature's most fascinating characters with ease.
Released by 20th Century Fox 1st may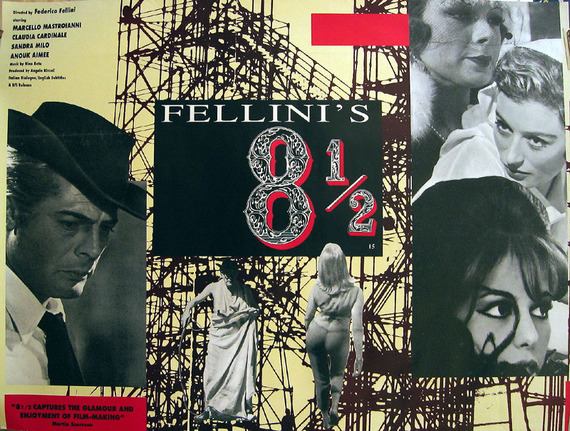 Director: Frederico Fellini
Cast: Marcello Mastroianni, Anouk Aimee, Claudia Cardinale
Genre: Drama Fantasy
Language: Italian with English subtitles
Country of Origin: Italy 1963 138 mins.
Certificate 15
Rating: *****
'A Fellini masterpiece. Visually stunning, exhilarating and stylish.'
A magical blend of fantasy and emotions. Guido Anselmi (Marcello Mastroianni), a famous film director (Fellini's alter ego), struggles to find the inspiration to shoot his new film. With a messy private life with his wife Luisa (Anouk Aimee) and mistress Claudia (Claudia Cardinale) and pestered by people from the movie business, Guido retreats into a personal world of dreams and fantasies that recall his childhood and events in his life and the women he loved and left. It ends in characteristic Fellini style with a parade of the eccentrics, grotesques, musicians and the main characters, all performers in a Fellini circus.
'8 1/2 is an autobiographical tale about the inability to create. Visually stunning, exhilarating and stylish, it remains a Fellini masterpiece and the best film made about film making. I've seen it many times and it never ceases to fascinate, amuse and tantalise.
Released by BFI Distribution 1st May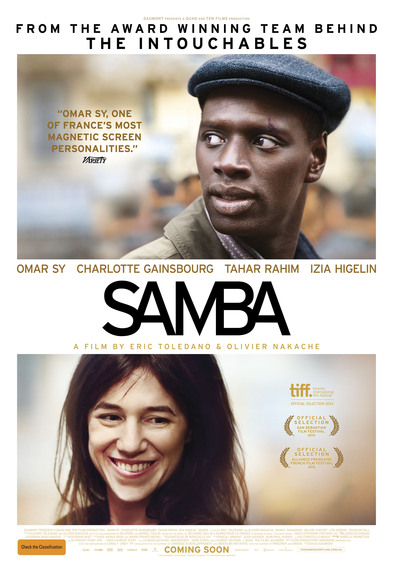 Director: Olivier Nakache, Eric Toledano
Cast: Omar Sy, Charlotte Gainsbourg, Tahar Rahim
Genre: Comedy Drama
Language: English, French, Portuguese, Russian, Serbian, Arabic with English subtitles
Country of Origin: France 2014 118 mins.
Certificate 15
Rating: ***
If you saw 'Untouchable' you'll remember the charismatic, larger than life Omar Sy who smiles a lot. He's back on the screen in 'Samba' which isn't the dance but the name of a penniless Senegalese immigrant illegally working odd jobs to get some cash together and hoping to get his French identity papers. When Samba meets Alice (Charlotte Gainsbourg) who's doing part-time volunteer work as an adviser at a Paris immigrant association, they hit it off. Lead onto an easy, smile a lot, heart warming comedy with some serious elements that are only too prominent nowadays - social status, race and culture, the elements of our European multicultural society. Omar Sy and Charlotte Gainsbourg play the unlikely couple with comedic ease and the support cast shine particularly Tahar Rahim who plays Walid, Samba's' best pal.
Released by Koch Media 1st May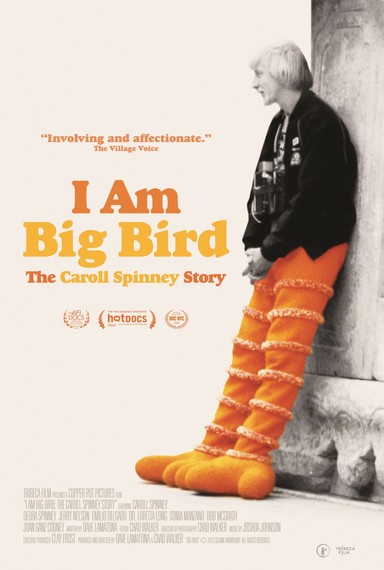 Director: Dave La Mattina, Chad N. Walker
Cast: Frank Oz, Jim Hensen, Sonia Manzano
Genre: Documentary
Language: English
Country of Origin: USA 2014 90 mins.
Certificate 12
Rating; ****
Caroll Spinney never dreamt that Big Bird, an eight foot yellow canary would wow the world, hit the Hollywood Walk of Fame, appear on West Wing and receive four Emmy awards. His wondrous Big Bird's up with Jim Henson's Kermit the Frog and Franz Oz's Miss Piggy striding the world stage and thrilling all. The publicity shy Spinney age 81 has been Sesame Street's Big Bird and Oscar the Grouch for 40 years and he's still going strong. With Debra, the love of his life, an English mother who loved Punch and Judy, handcrafted his first puppets and protected Caroll from his violent father this heartwarming documentary with a mix of current interviews and home videos is a moving portrait.
Released by Kaleidoscope Entertainment 1st May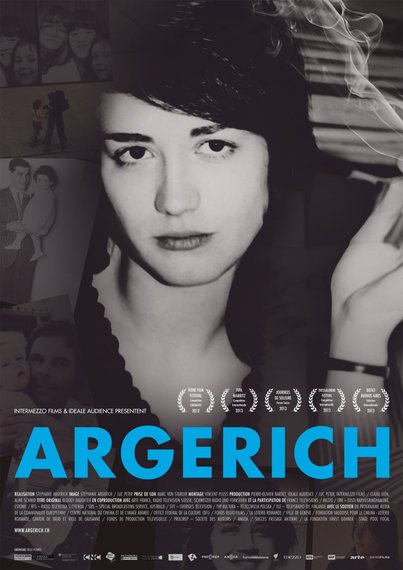 Director: Stephanie Argerich
Cast: Stephen Kovacevitch, Martha Argerich, Lyda Chen
Genre: Documentary
Language: English, Spanish, Japanese with English subtitles
Country of Origin: France, Switzerland 2012 100 mins.
Certificate PG
Rating: ****
The internationally renowned pianists Martha Argerich and Stephen Kovacevich, devoured by an all-consuming passion for music are placed under the scrutiny of their daughter Stephanie in a warm, intimate, personal and often humorous portrait that explores the relationship between Martha and her three daughters. The film's also used to reconnect with her estranged father, Stephen Kovacevich, a solitary man entirely devoted to music and described as a mix of tenderness, gloom, violence and vulnerability. Stephanie Argerich, who travelled with her mother on most of her concert trips explores the problems of growing up with larger than life parents devoured by a passion that left little time for family life. Martha's still the star, yet a woman-child who permanently harbours doubt.
Released by New wave Films 1st May
Also showing
Unfriended
Director: Levan Gabriadze
Certificate 15
Rating: ***
A horror movie that hogs the small screen with a narrative edited in real time. The laptop screen, scype conversations, Youtube, texting, Facebook, Google. The fun and games of a keyboard life. The audience's visual conversation piece is Blair's (Shelley Hennig) computer screen. A video's uploaded online, Laura Burns (Heather Sossaman) is cyber bullied and commits suicide. Years later a mysterious form comes online seeking vengeance. The games begin and there's no exit from online conversation, texting, freeze frames and video chatting as the avenging spirit stalks the screen pitting one against the other but it gets tedious after a while with lots of screams and squeals as the boring nasty characters are picked off.
Released by Universal Pictures 1st may
Elsa and Fred
Director: Michael Radford
Certificate 12
Rating: **
Fred Barcroft (Christopher Plummer), an embittered widower of seven months who hated his wife and yearns to be 'thirty years young with a prostate the size of a peanut', is forced to move into a New Orleans apartment by his ball breaking daughter Lydia (Marcia gay Harden) and meets a free-spirited neighbour Elsa Hayes (Shirley MacLaine), a romantic fantasist with a passion for Italy, a country she's never seen and Italian cinema, that is Fellini's 'La Dolce Vita'. Of course with it's never too late to fall in love the family feature. There's Lydia and husband Jack (Chris North), eager for a cash loan for a hair brained venture, Elsa's banker son Raymond (Scott Bakula) and Alec (Reg Rogers) 'can you lend me some cash, mom, I'm a struggling artist'. Predictable and a bit hackneyed but Shirley MacLean and Christopher Plummer keep it running towards Rome's Trevi fountain for a Marcello Mastroianni Anita Ekberg re-enactment.'
Released by Signature Entertainment 1st May
Bad Land: Road To Fury
Director: Jack Paltrow
Certificate 15
Rating: *
Desperate men willing to defend their patch guns blazing in a post-apocalyptic drought ridden America with water the new gold standard. Farmer, Ernest Holm (Michael Shannon) lives in the parched middle of nowhere with his daughter Mary (Elle Fanning) who's got the hots for local nasty boy Flem Lever (Nicholas Holt), who wants Ernest's land and Jerome (Kodi Smit-McPhee), Ernest's quiet unassuming son. With a plot line offered in lead character chapters, Jake Paltrow's sci-fi action drama attempts a western feel that drops into a tedious slow, slow parched road to nowhere. I need a drink, and it's not water.
Released by Signature Entertainment 1st May
For further reviews on Films, DVDs/Blu-rays see: www.film-reviews-and-news.co.uk