Shot in real time with an audacious 138 minute single take 'Victoria' is an exhilarating, drug fuelled, frenetic, roller coaster, crazy, dusk to dawn Berlin trip - 'Papusza' offers a fascinating glimpse into the world of the first Roma poet - 'Black Mountain Poets,' a low budget indie hopes for gentle farce but strains to live up to it's intentions.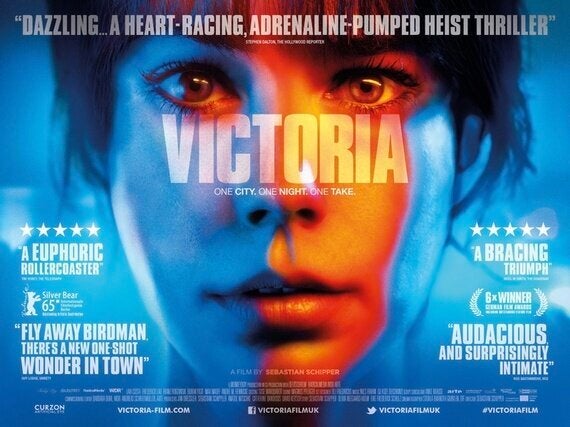 Director: Sebastian Schipper. Laia Costa, Frederick Lau, Franz Rogowski. Drama, Crime Thriller. English & German with English subtitles. Germany 2015 138 mins. Silver Bear Berlin International Film Festival for Outstanding Artistic Contribution for Cinematography (15) ****
Sedastian Schipper's first feature for six years lets the camera drift in real time with an audacious 138 minute single take on a surreal dusk to dawn Berlin trip.
A drug fuelled rave in a Berlin basement club, Schnapps, sweat and pounding techno. Victoria (Laia Costa), a waitress from Madrid isn't good with the language but that's no problem for the four 'Real Berliners.' Flirtatious moves with Sonne (Frederick Lau), small talk, laughter, fun, a good night out and then it's payback time and the 'Real Berliners' Sonne, Boxer (Franz Rogowski), Blinker (Buraki Yigit) and Fab (Max Mauff) hop over from a good night out to an early morning bank heist. There's no choice, Andi (Andre M. Hennicke), Boxer's protector whilst inside dictates. It's been a long night and the boys are down to three but Victoria will drive and a sweat and fear riddled ride begins for the 'Real Berliners' and one Spanish waitress from Madrid who plays the piano.
With a loose script, improvised dialogue and shot in real time, it's initially slow but bear with it because once it gets in its stride it's a hectic, crazy, drug fuelled, frenetic and exhilarating Berlin ride with a sense of the real. The cast play perfectly with Laia Costa's nuanced performance centre piece. An exhilarating, audacious, roller coaster, cinematic wow.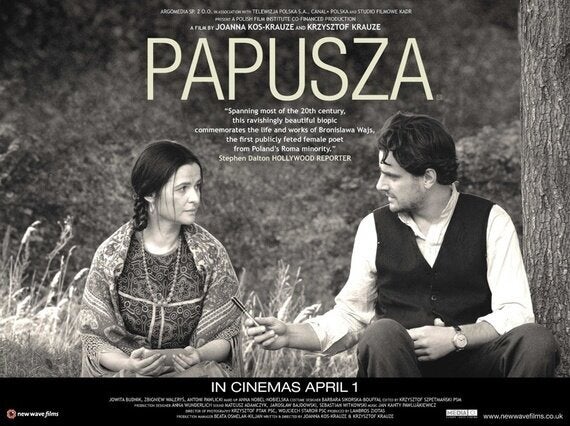 Director: Joanna Kos-Krauze & Krzysztof Krauze. Jowita Budnik, Antoni Pawlicki, Zbigniew Waleryś, Artur Steranko. Drama. Polish & Romany with English subtitles. Poland 2013 131 mins. (15) ***
'Papusza' offers a glimpse into the world of Bronislawa Wajs (Jowita Budnik), known as Papusza, the first Roma poet. Framed within a series of stunning monochrome portraits it reveals the Roma world, fiercely independent, secretive and isolated with an inbred distrust of gadjo (strangers, non-Roma), that was no place for a self-educated woman with a love of the written word. Tied into an unhappy marriage with a step uncle Dionizy Wajs (Zbigniew Walerys), Papusza's poetry becomes her personal curse when the depth and beauty of her talent was discovered by a young Polish poet Jerzy Ficowski (Antoni Pawlicki) who published her work and revealed the secrets of the Roma, an ultimate betrayal of her community.
Juggling with a 30 year period, doesn't make for easy viewing and surprisingly only cursory reference is made to the Nazi occupation and forced resettlement by the communist authorities. The freedom of the road, so much a part of Roma life, a life forged by music becomes a distant memory and visually captivating monochrome images define the journey - Papusza, a young girl being made ready for her wedding, a tear reflecting fear for the future and the final frames, aerial shots of horse drawn caravans, a disappearing world skilfully captured by cinematographer Krzyztof Ptak.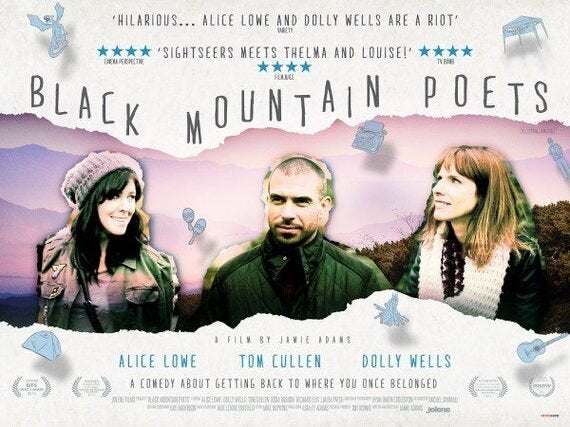 Director: Jamie Adams. Alice Lowe, Dolly Wells, Tom Cullen. Comedy. UK 2015 85 mins. (15) **
Jamie Adams's low budget indie, his third feature after 'Bennie and Jolene' and 'A Wonderful Christmas Time,' shot over 5 days with improvised dialogue hopes for a gentle farce on the back of a series of contrived unlikely situations but it strains to live up to it's intentions.
Sisters Lisa (Alice Lowe) and Claire (Dolly Wells) on the run after trying to steal a JCB as girls do when they need a few bob, hijack a car and pose as beat poets The Wilding Sisters, guests of the Poet's Poetry Society retreat in the Black Mountains. Hoped for romance with poet Richard (Tom Cullen) could be a problem when his jealous girlfriend (Rosa Robson) turns up, but if it doesn't work out there's a large cash prize up for grabs.
The Black Mountains look great. The spontaneous fun and games doesn't quite get lift off.
Sunset Song - Director: Terence Davies. Agyness Deyn, Peter Mullan, Kevin Guthries. Drama. UK, Luxembourg 2015 135 mins. (15) ****
The power and draw of the land and family is ever present in Terence Davies's emotionally powerful and visually stunning Scottish epic.
For further FILM & BLU RAY/DVD REVIEWS see www.film-reviews-and-news.co.uk