Quentin Tarantino's 'The Hateful Eight' is an audaciously clever and stylish dialogue driven bag of surprises that sprinkles tongue-in-cheek humour and blood over a snow covered Wyoming landscape - 'Bolshoi Babylon' offers a behind the scenes glance at the Bolshoi, beautiful on the outside, bitter inside - The enigmatic and sombre 'Partisan' has children at the heart of a violent world but suggests more than it says.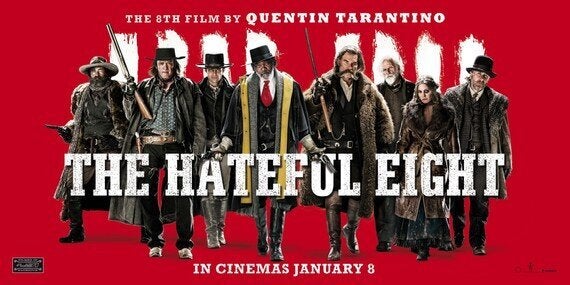 Director: Quentin Tarantino. Channing Tatum, Zoe Bell, Samuel L Jackson. Western. USA 2016 182 mins. (18) *****
Agatha Christie dances with Quentin Tarantino in a dialogue driven bag of surprises that sprinkles tongue-in-cheek humour and blood over Wyoming's snow covered landscape. The director's 8th feature filmed in 70mm Ultra Panavision with a superb score from Ennio Morricone, is audaciously clever and stylish with nods to Sergio Leone and Sam Peckinpah and a lingering glance to 'Reservoir Dogs.'
The stage to Red Rock, hurtles through the wintry Wyoming landscape with bountry hunter 'The Hangman' John Ruth (Kurt Russell) and outlaw Daisy Domergue (Jennifer Jason Leigh), nursing a black eye and a mouth full of venom and spit. Along the way they pick up ex-Union Major and infamous bounty hunter, Marcus Warren played with gusto by Samuel L. Jackson whose war record raises questions and confederate rebel, Chris Mannix (Walton Goggins), who claims to be Red Rock's new sheriff and would rid the world of Marcus Warren if he could. As the weather closes in, it's a stopover at Minnie's Haberdashery to rest and take coffee and chat with the other guests. But where's Minnie?
Kindly Mexican Bob's (Demian Bichir) looking after things while Minnie visits her mother. Hangman Oswaldo Mowbray (Tim Roth) holds court, cow-hand Joe Gage (Michael Madsen) offers a smirk but little else and ex-Confederate General Sandy Smithers (Bruce Dern) warms himself by the fire. Let the tale unfold.
'The Hateful Eight' is a wow, tongue-in-cheek, clever and stylish tale, a play divided into chapters whose titles throw the memory back to the early westerns. Superb. A visually spectacular OTT masterful cinematic feast of dialogue, surprises and guns.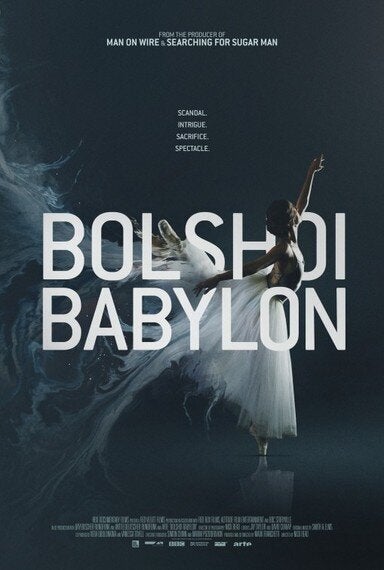 Director: Nick Read, Mark Franchetti. Maria Alexandrova, Maria Allash, Seregei Filin, Vladimir Urin. Documentary. English & Russian with English subtitles. UK 2015 86 mins. (PG) ****
'A symbol of our country, our secret weapon' - Russian Prime Minister Dmitri Medvedev. The secret weapon's the Bolshoi Ballet.
'Bolshoi Babylon,' a behind the scenes documentary examines the world famous dance company in the light of the 2013 acid attack on the Bolshoi's director Sergei Filin by a revengeful former principle dancer, Pavel Dmitrichenko who felt that his girlfriend wasn't given the roles she deserved. As the camera follows the company during its 2013-14 season, interviews with principle ballerinas Maria Alexandrova and Maria Allash and former artistic director Boris Akimov offer hints rather than spill the beans on corruption including pay-to-play bribes where a patron buys stage time and career advancement for a selected performer. What is offered is a fascinating glance at the Bolshoi, beautiful on the outside, bitter on the inside, a symbol of Russia, a state where corruption exists.
It's a closed world where ego rules, careers are short, the regime is physically punishing, jealousy and resentment's the order of the day and expectations don't always match artistic ability. A long standing distrust between managers and performers adds pressure and politics is never far from the door with the new director, Soviet style, doesn't smile a lot, Vladimir Urin needing President Vladimir Putin's blessing. A beautiful, fragile and toxic mix but the stage is filled with mesmerising beauty.
On Sunday 24th January the Bolshoi Ballet's production of 'The Taming of the Shrew' will be broadcast live from Moscow at selected cinemas in the UK.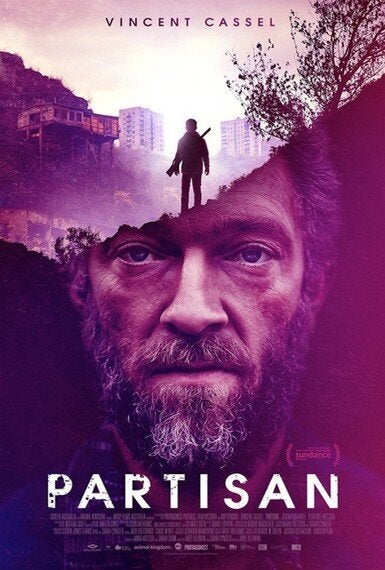 Director: Ariel Kleiman. Vincent Cassel, Jeremy Chabriel, Nigel Barbe. Drama, Thriller. Australia 2015 98 mins. (15) ***
Ariel Kleiman's enigmatic and sombre debut feature brings to mind Yorgos Lanthimos's 'Dogtooth' here pitching children in their formative years yielding to a dogma that places them at the centre of a violent world.
11-year-old Alexander (Jeremy Chabriel) and his mother Susanne (Florence Mezzara) live in a small closed community on the outskirts of an unnamed city. It's a world of obedience and conformity to the dogma imposed by the charismatic Grigori (Vincent Cassel). His is a measured, kindly approach that emotionally and physically binds his followers to an ideology but menace hangs in the air. And from this world seen through Grigori's eyes, a child will emerge as a trained assassin. An unquestioning world, with no room for individual thought but the arrival of Leo (Alex Balaganskiy) and his mother (Katalin Hegedus) and her baby has a far reaching effect on Alexander.
Children at the heart of a violent world, their formative years scarred by a dogma devoid of a moral conscience is a disturbing and intriguing concept. 'Partisan' suggests more than it says and Vincent Cassel is hardly stretched in a role that yells for more.
For further FILM & BLU RAY/DVD reviews go to www.film-reviews-and-news.co.uk
Popular in the Community