'Carol' is superb 5-star must-see, should see cinema - Steven Spielberg's 'Bridge of Spies' is masterly but it's a long wait to get to the Bridge - Johnny Depp's plays mobster James Bulger like a chilling skull from the grave in 'Black Mass' - 'Radiator,' a low budget gem is a great find - The partly autobiographical 'My Skinny Sister' looks at the impact of an eating disorder on a family and it's young star Rebecka Josephson is a revelation.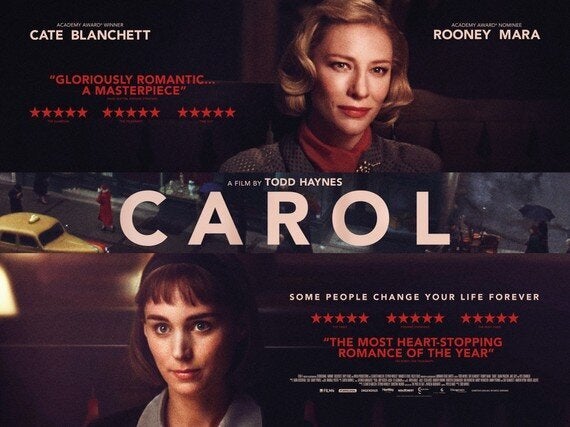 Director: Todd Haynes. Cate Blanchett, Rooney Mara, Kyle Chandler, Jake Lacy, Sarah Poulson. Drama. USA, UK 2015 118 mins. (15) *****
Todd Haynes opens the cinematic curtain to a superb 5-star should see, must see love story between two women of different ages and backgrounds in 1950s New York.
Carol (Cate Blanchette), fashionable, elegant, fur clad, sensuous and flirtatious, who has one daughter and is going through a divorce from the possessive Harge (Kyle Chandler), a wealthy investment banker, resentful of her continuing friendship with Aby (Sarah Paulson), her former lover. When Therese (Rooney Mara), a young woman in her 20s working in a Manhatten department store with dreams of being a photographer meets Carol the attraction's immediate and over lunch with martinis and cigarettes the affair begins. Richard (Jake Lacy), Therese's devoted boyfriend, a sideline shadow wants marriage but it's Carol whom Therese needs and when they go away together, Harge hits where it hurts with a custody battle for their daughter.
It's intelligent cinema, superbly made with spot on costume and set design, cinematography, music score and a cast who bring to life Phyllis Nagy's script adaptation of Patricia Highsmith's novel 'The Price of Salt' - it's a martinis and cigarettes package and Cate Blanchette, sensuous and defiant, her remoteness and self-possession masking her insecurity prowls the screen in a compelling performance that's Oscar winning material.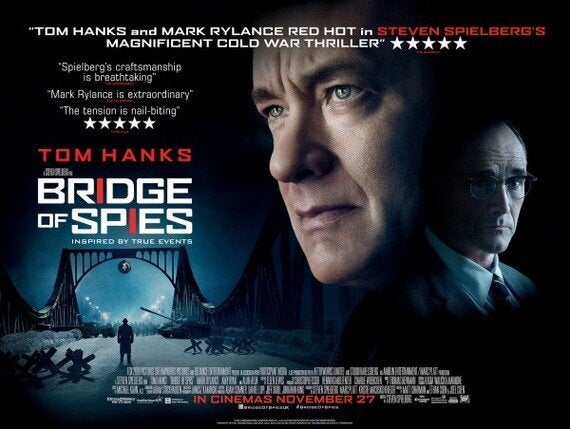 Director: Steven Spielberg. Tom Hanks, Mark Rylance, Alan Alda. Drama. English & German with English subtitles. USA 2015 141 mins. (12A)
Cold War fear and paranoia between the US and the USSR in the 1950s forms the backdrop to 'Bridge of Spies', Steven Spielberg's true life spy drama.
When James Donovan (Tom Hanks), an insurance lawyer from Brooklyn defends Rudolf Abel (Mark Rylance), a Soviet agent arrested in New York and charged with espionage and saves him from execution the public aren't happy. A few years later Rudolf Abel would be America's bargaining chip in a classic spy exchange.
In 1962 an American U-2 spy plane is shot down over Soviet territory and Gary Powers (Austin Stowell) is sentenced to 10 years in a Russian prison. Neither side knows whether their man has cracked and the stage is set for James Donovan's pivotal role in an East Berlin cat-and-mouse, one-up-manship game with the GDR's Wolfgang Vogel (Sebastian Koch) and Ivan Schischkin (Mikhail Gorevoy), a high ranking KGB officer to exchange Rudolf Abel for Gary Powers but James Donovan also wants to bring Frederic Pryor, an American economics student detained in East Berlin out as well.
Sharply edited with great cinematography, Joel and Ethan Coen's input into Matt Charman excellent screenplay adds a tinge of comedic absurdity to unfolding events, the cast are excellent, Tom Hanks is straightforward, no frills James Donovan but it's Mark Rylance who catches the eye as the enigmatic, quietly spoken Rudolf Abel but it's a long, long build up to get to Glienecke Bridge, the 'Bridge of Spies.'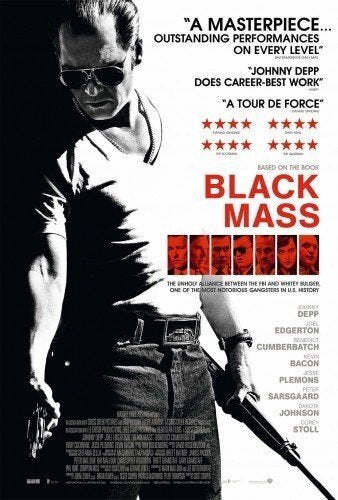 Director: Scott Cooper. Johnny Depp, Benedict Cumberbatch, Dakota Johnson. Crime Drama. USA 2015 122 mins. (15) ****
Blood, bullets and gore map out James 'Whitey' Bulger's place in Boston's mobster's hall of fame and Johnny Depp, bad teeth and piercing eyes sunken into a skull from the grave offers a chilling image of the vicious and psychotic Irish-American mobster. Extortion, drugs and murder are all in a day's work for Whitey who's the cat that got the cream when gullible FBI agent John Connolly (Joel Edgerton), who grew up in the same district gets Whitey's brother Billy (Benedict Cumberbatch), a rising political star as go-between and persuades Whitey to become an informant on the Italian mafia which allows him to become king pin at the top of the pile.
Gripping, brutal and bloody with a stylish feel for the period, 'Black Mass' joins the dots between blood, bullets, politics and corruption. I loved it.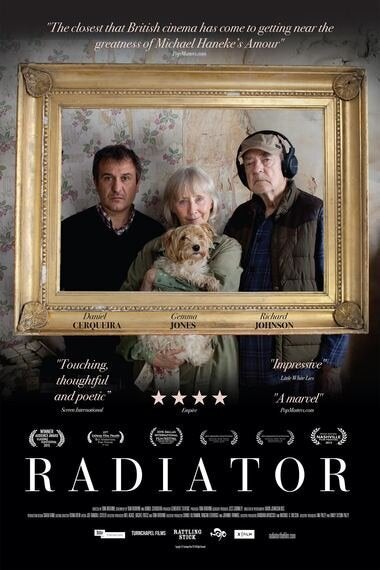 Director: Tom Brown. Daniel Orqueira, Gemma Jones, Richard Johnson. Drama. UK 2015 93 mins. (15) *****
Poignant, tender and perceptive Tom Brown's portrait of family love made on a budget of £145,000 that wouldn't buy lunch on a Hollywood set, has stand out cast performances and an indie quality wow factor.
Home for Leonard (Richard Johnson), the humourless bully whose acid tongue masks his fear and his long suffering wife, Maria (Gemma Jones) is a junk filled Cumbrian cottage with 40 years of memories of their eccentric loving relationship. Their son Daniel (Daniel Cerqueira) arrives from London with the intention of sorting things out but the pecking order's soon re-established, Daniel's good intentions are rebuffed and his parents's relationship remains an ever increasing mystery.
Compelling, sensitive, poetic, a gem. The scene on Lake Ullswater with Daniel and Leonard, is masterful, a reflection on the past, an emotional and symbolic echo of the fault lines in their relationship. A great surprise. Wonderful cinema. I hope it gets the recognition it deserves.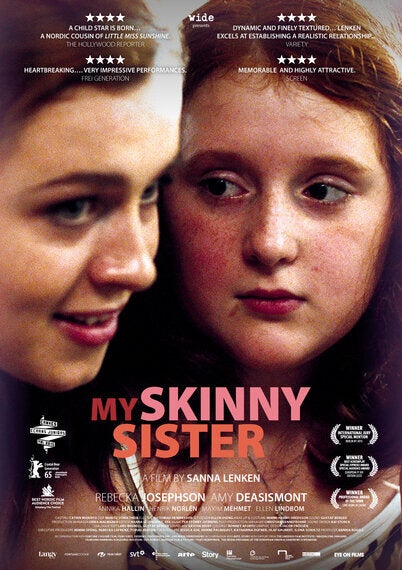 Director: Sanna Lenken. Rebecka Josephson, Amy Deasismont, Annika Hallin. Drama. Swedish with English subtitles. Sweden, Germany 2015 95 mins. (15) ***
12-year-old Stella brilliantly played by Rebecka Josephson who's a revelation, precocious and full of fun idolises her elder sister and has an innocent crush on her sister Katja's (Amy Deasismont) ice skating teacher. When Stella notices Katja's obsessive eating habits she's drawn into her sister's world of lies, manipulation, binging and purging, a world that her parents Karin (Annika Hallin) and Lasse (Henrik Norlen) are unaware of and when revealed, leaves them confused and distraught.
Partly autobiographical, Sanna Lenken was anorexic in her teens and told from Stella's perspective, 'My Skinny Sister' has an authentic feel for the fun and laughter of childhood and the horrors of anorexia.
For further Film and Blu Ray/DVD reviews see www.film-reviews-and-news.co.uk