Bill Pohlad's Love and Mercy is a spot on biopic of Brian Wilson, the troubled musical genius at the heart of the 60s group The Beach Boys - P'tit Quinquin, a laugh-out-loud wacky, wonderfully absurd murder mystery has the best comic duo since Peter Sellers and Burt Kwouk - The Choir is a feel good tale of a young soprano battling the odds - Anna Odell's debut feature, The Reunion tackles bullying, ostracism and psychological revenge but lacks the expected bite.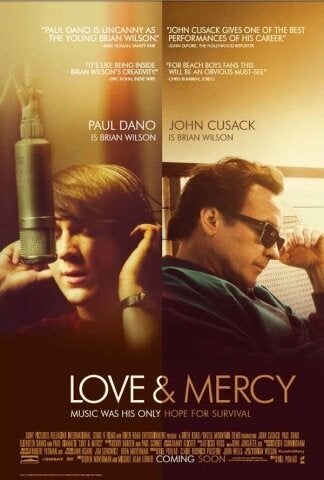 Cast: John Cusack, Paul Dano, Elizabeth Banks, Paul Giamati
Country of Origin: USA 2014 121 mins.
To chart the life and times of Brian Wilson, the reclusive heart and soul of the 60s group The Beach Boys is quite an undertaking but Bill Pohlad's Love and Mercy is a fascinating and mesmerising portrait of Brian Wilson that uses two actors to play the troubled musical genius. At the top of their fame in the 60s, it wasn't a stand still time for Brian Wilson when the competition's The Beatles and Phil Spector. The result was Pet Sounds, a creatively original, innovative album using amongst other things coca cola cans, barking dogs, whistles, cycle bells - revolutionary and avant garde, and instantly dismissed by fellow Beach Boy Mike Love, Brian's cousin.
Paul Dano gives a terrific performance as the young Brian Wilson in the 60s, his musical genius obvious and the destructive signs of schizophrenia appearing. John Cusack plays Brian Wilson in the 70s and 80s, a reclusive, medicated, broken man in the care of the infamous pill man, psychologist Dr. Eugene Landy (Paul Giamatti) and his group of 'carers,' a prisoner in his own home. To add insult to injury The Beach Boys were managed by the manipulative and abusive Murray Wilson (Bill Camp), Brian's father who sold Brian's song catalogue for small cash.
The doom and gloom scenario changes in the 1980s when Brian Wilson meets Cadillac car dealer Melinda Ledbetter (Elizabeth Banks) and an unlikely love blossoms and she becomes his second wife.
With some terrific performances, Oren Moverman's sharp script, Dino Jonsater's spot on editing, Robert Yeoman's cinematography and a sound track echoing the classic California surfing sounds, Love and Mercy is a spot on biopic of Brian Wilson.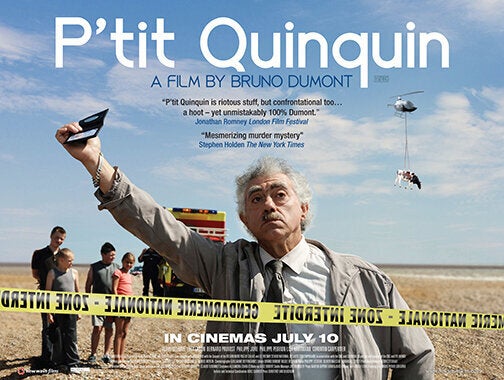 Cast: Alane Dellaye, Bernard Pruvost, Philippe Jore, Lucy Caron
Genre: Comedy, Crime, Mystery
Language: French with English subtitles
Country of Origin: France 2014 200 mins.
Directors' Fortnight, 2014 Cannes Film Festival, Toronto International Film Festival, London Film Festival, New York Film Festival 2014
P'tit Quinquin is magical and utterly captivating. Absurd, zany, comic, surreal and slapstick and originally conceived as a four-part serial for the French-German network Arte but now in a cinematic version. Captain van der Weyden, (Bernard Pruvost), the best thing since Peter Seller's Inspector Clouseau, a man who greets every question with the most extraordinary facial and bodily ticks strides his patch around Picard, Northern France with his side kick, the inscrutable Carpentier (Philippe Jore). The duo are tasked with investigating the mystery of the dead cow in an abandoned World War II bunker stuffed with human remains. If that's bad enough lurking on the sidelines is the mischievious scoundrel Quinquin (Alane Delhaye) and his trumpet playing girlfriend Eve (Lucy Caron) and their gang of friends. Bodies pile up and Captain van der Weyden and Quinquin grapple with an ever deepening mystery.
Beautifully photographed by Guillaume Deffontaines, P'tit Quinquin is a laugh-out-loud wacky and wonderfully absurd comedy with a tender naturalistic feel that pokes below the surface of French rural life and touches on marital discord, illicit sex, racism, immigration and violence. The cast are superb. It's Bernard Pruvost and Philippe Jore, a French rural take on Peter Seller's Inspector Jacques Clouseau and Burt Kwouk's Cato Fong without the karate up against Alane Delhaye and Lucy Caron, the magical kids playing summer time detective.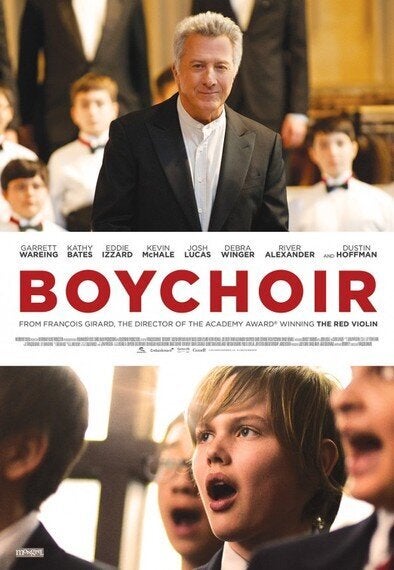 Director: Francois Girard
Cast: Dustin Hoffman, Debra Winger, Josh Lucas, Kevin McHale, Eddie Izzard
Country of Origin: USA 2015 103 mins.
The voices are wonderful, the choral music's stunning and Francois Girard's The Choir (Boy Choir) has that feel good factor but the story line's predictable with a no surprise happy ending.
11 year-old Stet (Garrett Wareing) may have a god given soprano voice but that means little when you have to care for an alcoholic mother, battle the world and attend school. When the school principle (Debra Winger) persuades Carvelle (Dustin Hoffman), the Head of an elite Boy Choir School in New Jersey to visit and hear Stet's remarkable voice, it's all too much and Stet bottles it and runs off. When his mother's killed in a car crash, Stet's father Gerard (Josh Lucas), who has a new family appears on the scene with a cheque book and a persuasive manner that gets his rebellious son accepted into the choir school and out of the way. A tale of a rebellious poor boy whose remarkable voice is recognised and nurtured by Master Carvelle, who battles school bullies, is dismissed as rather ordinary by ego driven Drake (Eddie Izzard) who's in a power struggle for Carvelle's job and an oppressed school principle, Ms Steel (Kathy Bates) who considers Stet ripe for expulsion. Great cast and a feel good touch but it's the story line predictability that nags.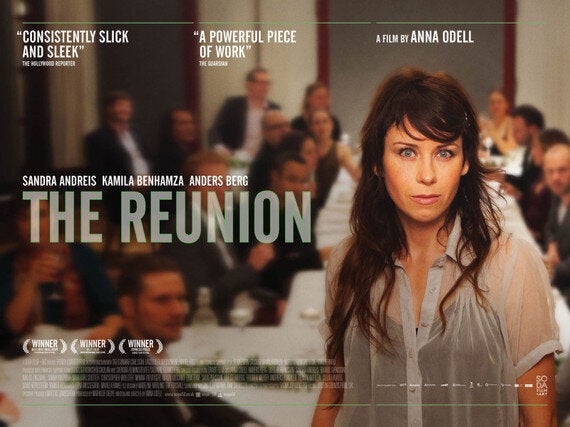 Cast: Anna Odell, Anders Berg, Davis Nordstrom
Language: Swedish with English subtitles
Country of Origin: Sweden 2013 88 mins.
Swedish conceptual artist, Anna Odell courted controversy and grabbed the headlines with her attempt to jump off of a bridge in Stockholm as part of her graduation show 'Suicide.' The result was time spent in a psychiatric ward and publicity you couldn't buy. The Reunion, Odell's feature debut, a study of bullying, ostracism and psychological revenge won the FIPRESCI Award at Venice in the International Critics' section for best debut but is far less controversial.
A twenty year reunion party for the students of class 9c sees aquaintences renewed but Anna (Anna Odell) who was bullied and ostracised during her school years isn't invited. With Anna played by herself, The Reunion is Anna Odell's idea of of how it may have been if she'd been invited and could have confronted her tormentors. Divided into two parts, The Speech sees Anna turn up at the reunion and seek redress for her years of torment which rapidly sees the group enthusiastically revert to their hierarchical bullying roles of twenty years ago and Anna's physically ejected from the gathering. The second part, The Meetings intended as a documentary interviewing those involved settles for a reconstruction as class mates refuse to appear on camera.
The Reunion's been compared to Thomas Vinterberg's The Celebration, but it lacks the mastery and vigour of the latter. Nevertheless, it's an interesting concept that plays with fact and fiction, fear, courage, truth and lies but with a staged rather than a true documentary in the second part it looses strength and momentum.
Related