NYPD corruption in the 1980s is revealed in Tiller Russell's gripping documentary 'Precinct Seven Five' - 'Theeb' is a coming-of-age and loss of innocence adventure at the time of the Arab Revolt in 1916 - 'Captain Webb' is the story of the Victorian hero Captain Matthew Webb who was the first man to swim the English Channel - 'The Confessions of Thomas Quick' documents Sweden's most notorious serial killer's confessions.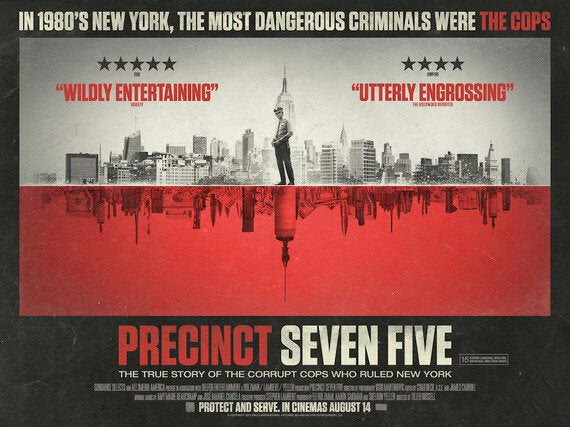 Cast: Michael Dowd, Ken Eurell, Walter Yurkiw
Country of Origin: USA 2014 104 mins.
Fact can be blacker than fiction as seen Tiller Russell's gripping documentary. An unrepentant Michael Dowd, the cop who crossed the line, a character who could have leapt out of a Sidney Lumet movie, his partner, Ken Eurell and drug lords on camera revealing the scams and criminality that led to Dowd's arrest in 1992 and the largest NYPD corruption case in New York history. It's 1980s New York as seen in J.C Chandor's 'A Most Violent Year,' (2014), a bankrupt city with a crack epidemic, a soaring crime rate, violence and political and industrial corruption.
NYPD patrolman Michael Dowd, keen, eager and smart, the rookie cop in the 75th Precinct in East Brooklyn. It was all so easy - start small, skim off cash from drug busts and move up the chain to drug deals, money laundering and whatever needs to be done. It's all in a day's work for Michael Dowd, NYPD cop and mobster. It didn't take long to bring Dowd's partner Ken Eurell into the fold and the the hassle-free empire grew, all strictly in-house, the code of silence, look the other way.
Of course it all came crashing down. Dowd's partner Ken Eurell, the 'good cop' became a prosecution witness to get a reduced sentence and Dowd goes down for 11 years. A riveting, gripping and frightening true crime story. Have times changed?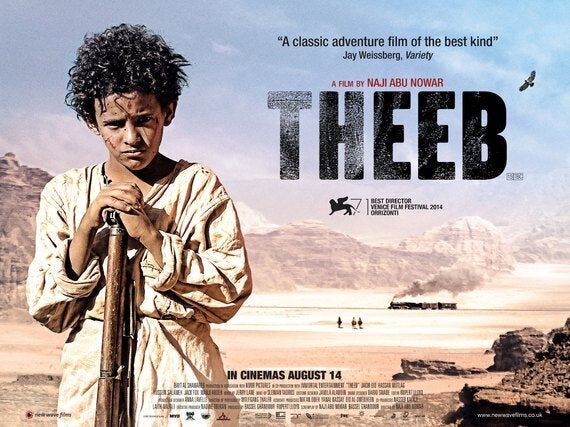 Cast: Hussein Salameh Al-Sweilhiyeen, Hassan Mutlag Al-Maraiyeh, Jacir Eid Al-
Language: Arabic with English subtitles
Country of Origin: United Arab Emirates, Quatar, Jordan, UK 2014 100 mins.
It's 1916, the Ottoman Empire is crumbling, the Arab Revolt is spreading and T.E. Lawrence and Prince Faisal plan an Arab kingdom. It means little to orphaned pilgrim guides Hussein (Hussein Salameh) and his younger brother Theeb (Jacir Eid). They hunt and seek out water, the day-to-day life of the bedouin.
When a mysterious English officer appears played by Jack Fox, the only professional actor in the cast, Hussein agrees to lead him on a treacherous journey across the desert. Theeb, looking for adventure, tags along, a decision that will change his life. Writer-director Naji Abu Nowar's directorial debut is a coming-of-age and loss of innocence adventure, a reflection on the conflict of the old and new in a world of dramatic change. The desert isn't simply a visual backdrop, it's the character that moulds the brothers lives. Wolfgang Thaler's camera captures the desolate and stunning beauty of Jordan's Wadi Rum and Wadi Araba, Jerry Lane's musical score compliments the unforgiving beauty of this harsh landscape and the non-professional cast make for a skilful reflection on survival.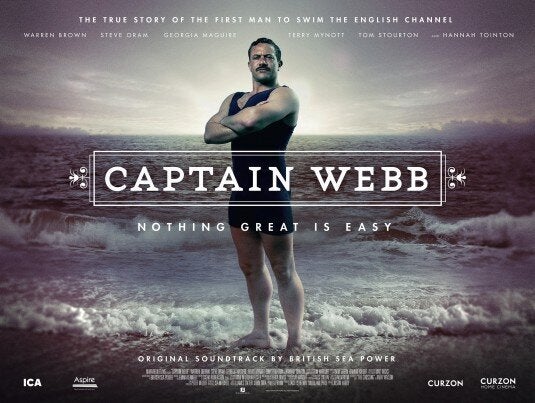 Cast: Hannah Tointon, Warren Brown, Steve Oram
Country of Origin: UK 2015 85 mins.
The Victorian era wasn't renowned for it's sporting heroes but on the 24th August 1875 Captain Matthew Webb dived off Dover's Admiralty Pier and 21 hours and 45 minutes later struggled ashore at Calais to became the first man to swim the English Channel unaided, a feat not repeated for 36 years. It's a Boys Own do and dare tale where no challenge was too great - Matthew Webb was awarded the Stanhope medal for bravery when he dived into the Atlantic to try to save a sailor who had fallen overboard. The dream was to conquer the Channel and with the help of self-styled publicist and trainer,Professor Fred Beckwith Webb believed that he could do it. His first attempt on the 12th August had to be abandoned and with competition from American Captain Paul Boyton who paddled to Calais in his rubberised life-saving swimming suit with an American flag attached, Webb made his second unaided attempt. Covered in porpoise oil, swimming breaststroke and with Bovril and brandy for sustenance passed from the escort boat history was made when Captain Matthew Webb struggled ashore at Calais on the 25th August 1875, a national hero.
'Captain Webb' cries out for greater depth and insight into the life of this death defying Boys Own character. Warren Brown's left to paddle through a padded out script that does little justice to a unique story and the man who captured the public imagination and went onto other daring stunts before a fatal attempt in 1883 to swim through the Whirlpool Rapids in the Niagara River below Niagara falls.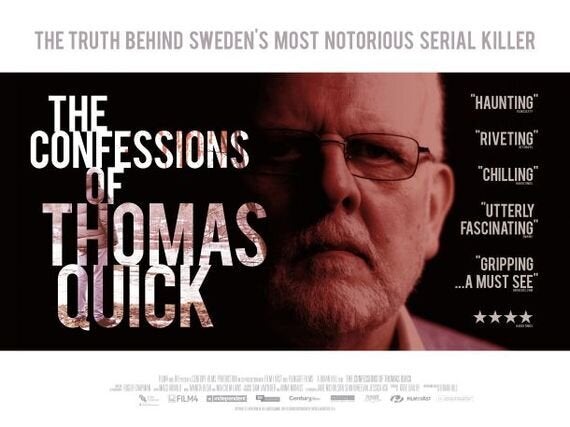 Language: English & Swedish with English subtitles
Country of Origin: Sweden, UK 2015 93 mins.
Johan Asplund disappeared in 1980 on his way home from school. His body was never found. In 1993 during a therapy session at the Sater Psychiatric Hospital in Northern Sweden, Thomas Quick who had been committed for stabbing a man and robbing a bank manager told his therapist that he'd kidnapped, raped and murdered 11-year-old Johan. Quick continued to confess to a series of killings. Portrayed matter-of-fact to camera, Thomas Quick, Sweden's most notorious serial killer, a killer without a modus operandi, a man who suppressed a childhood trauma, struggled with his homosexuality and was drug dependent claimed to have killed 39 victims.
But then a twist. Quick stopped talking to the police in 2001.
Fascinating as this true crime story is with direct access to Thomas Quick, it leaves unanswered questions and there's the feeling that greater depth would have strengthened what is a remarkable and horrifying story.
For further details on films, Blu Ray/DVDs see www.film-reviews-and-news.co.uk
Popular in the Community