John Maclean's feature length directorial debut Slow West is an imaginative, original trail of blood and black humour with breathtaking imagery and terrific performances - The Third Man, one of the great early post war film noir thrillers is re-issued as a digitally re-mastered feature- Patrick Brice's The Overnight, an odd ball off-beat comedy about love, marriage and sexual anxieties sets you gueesing as to who's seducing whom - There's mayhem galore in Everly, Joe Lynch's formulaic exploitative movie - Hippocrates, a docu-style comedy drama glances at the French health care system.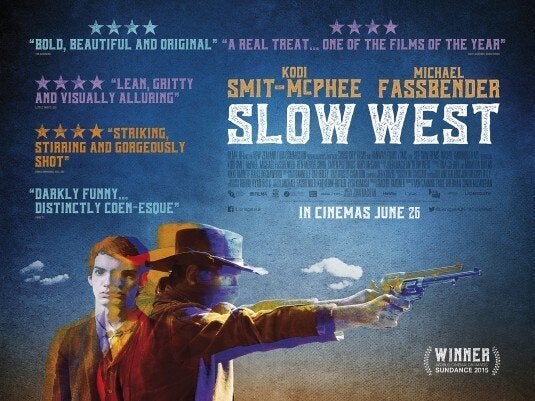 Cast: Michael Fassbender, Kodi-Smit-McPhee, Ben Mendelsohn
Genre: Action, Thriller, Western
Country of Origin: UK, New Zealand 2015 84 mins.
Westerns aren't flavour of the month, but Scottish writer-director John Maclean, former keyboard player with The Beta Band has fashioned an image defying trail that offers blood and black humour for his feature length directorial debut which premiered and won the Grand Jury Prize at 2014 Sundance in the International Dramatic Section. Imaginative, atmospheric and visually captivating, it's a terrific debut and John Maclean's a talent to watch.
16 year-old Jay Cavendish (Kodi Smit-McPhee) has travelled from the Scottish Highlands to Colorado to search for his lost love, Rose Ross (Caren Pistorius) unaware that there's a bounty out for Rose and her father John (Rory McCann). Bounty hunter Silas Selleck, played with super cool screen presence by Michael Fassbender offers help and protection aware that Jay will lead him to his bounty.
With New Zealand's South Island filling in for Colorado, cinematographer Robbie Ryan places a sheet of mesmerising images as a backdrop for this long, lonely and unforgiving blood shed landscape that leads to new beginnings. Tangents abound and surreal Coenesque-like humour draws you to the characters that wonder in and out of this harsh wilderness. Congolese musicians believe it or not, a gun toting Swede (Karl Willetts) who robs the general store desperate for food for his family, Ben Mendelsohn as Payne with moth eaten furs keeping out the chill and a bottle of Absinth can only mean a blood bath. And slowly a protective bond develops between Jay, the innocent in a harsh land and the cynical Silas.
Breath taking imagery, violence and humour and of course as with any western, the final shoot out. Imaginative, original, sharply edited with it's own defined pace and terrific performances makes for quite a directorial debut.
Cast: Orson Wells, Joseph Cotton, Alida Valli, Trevor Howard, Wilfred Hyde-White
Genre: Film Noir, Mystery, Thriller
Language: English, German, Russian
Country of Origin: UK 1949 93 mins.
Visually stunning with a dramatic use of tilted angles and light and shadow that captures the atmosphere of post-war Vienna, a city of intrigue, spies and black market racketeers coupled with Anton Karas's evocative zither score, Graham Green's masterful razor sharp script and terrific lead performances makes The Third Man one of the great early post war film noir thrillers.
Pulp novelist Holly Martins (Joseph Cotton) travels to post-war Vienna, at the invitation of his old friend Harry Lime (Orson Wells) only to find that Harry's been killed in a road accident leaving a grief stricken lover Anna (Alida Valli). When British investigating officer Calloway (Trevor Howard) claims that Harry Lime was a black market racketeer, Martins begins to investigate his friend's death and he and Anna grow closer as he learns of an unidentified 'third man' at the scene of the accident, who may hold the key to the ever deepening mystery surrounding Harry's death.
The Third Man is re-issued as a digitally re-mastered feature.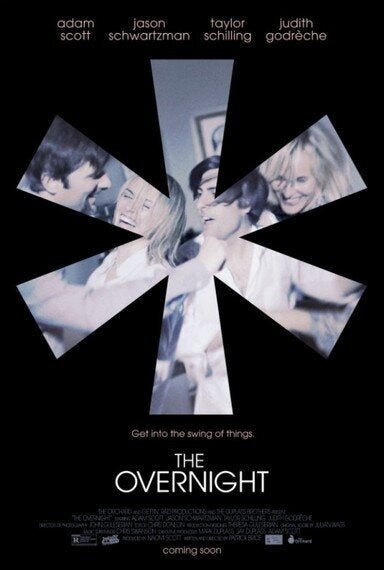 cast: Adam Scott, Jason Schwartzman, Taylor Schilling
Country of Origin: USA 2015 80 mins.
Writer-director Patrick Brice has fashioned an oddball off-beat love and marriage, sexual anxieties comedy that's a bit light on comedy but keeps you gueesing - who's seducing whom?
Meeting the cool enigmatic Kurt (Jason Schwartzman) and an invitation to a pizza dinner is a surprise for LA newcomers Alex (Adam Scott) and Emily (Taylor Schilling) who are on the hunt for new friends. It's all a bit wide eyed, incredible and amazing breath deeply, didn't expect this, as the newcomers meet ultra cool Kurt and his French wife Charlotte (Judith Godreche) in their wow LA house. Somehow Alex's two dollar bottle of red wine doesn't fit in but it's an easy relaxed evening and the wine flows so why not an overnight ? Put the kids to bed, relax and get to know one another. Smoke some pot, refill the glasses, relax. Charlotte's breast pumping video's quite an opener and Alex and Emily don't quite know what to make of Kurt's anal paintings, skinny dipping's a problem but Alex can keep his pants on - he's got a body issue and a Thai massage parlour with a peep hole's quite a revelation. Are Kurt and Charlotte swingers? Where will the temptations lead? It's a seducing game.
Low on the comedic level but the cast keep it together and Jason Schwartzman's terrific as the cool Kurt with a few things to hide - 'Charlotte's my friend, we just don't have a love life.'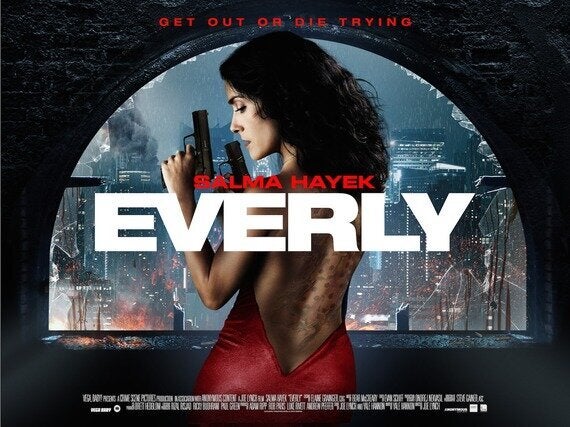 Cast: Salma Hayek, Hiroyuki Watanabe, Laura Cepeda
Language: English & Japanese with English subtitles
Country of Origin: USA 2014 92 mins.
There's not a lot of plot but there's plenty of mayhem in Joe Lynch's formulaic exploitation movie, Everly.
It's Christmas time but there's no mistletoe or mulled wine. For four years Everly's (Salma Hayek) been held as a sex slave in a luxury high rise apartment by a Yakuzi gangster. Now it's her time for revenge and informing on Taiko (Hiroyaki Watanabe), the Yakuza boss is her way out. He's not a happy man and there's a contract out on Everly and her family. Open the gates of madness and let the ferocious one woman killing machine free and keep the OTT mayhem in the luxury high rise apartment. They all come, contract killers, prostitute assassins in their fetish costumes, The Sadist (Togo Igawa), The Masochist (Masashi Fujimoto) and even a very nasty dog. The faster they come, the faster they fall to the gun totting sexy attired Everly.
Blood splattered walls and shell cases litter the floor and the bodies pile up and there's no escape from the madness.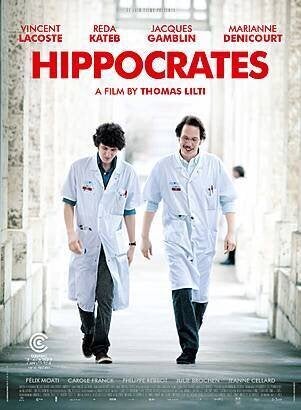 Cast: Vincent Lacoste, Jacques Gamblin, Reda Kateb
Language: French with English subtitles
Country of Origin: France 2014 102 mins.
It will run smoothly. Benjamin's (Vincent Lacoste) destined for France's prestigious and lucrative medical elite. Just get through the junior doctor bit and with his father's influence, who happens to be Professor Baris (Jacques Gamblin) doors will open. That's if he can cope with the impact of budget cuts, 48 hour shifts, understaffing, low pay and follows the essentials - avoid liability at all costs and exploit foreign staff. Writer-director Thomas Lilti's first hand experience as a doctor who still occasionally practices offers an engaging docu-style comedy drama glance at the workings of the large creaking bureaucratic French Health care System. 'Medicine's not a profession, it's a curse.' If you want to survive have a sense of humour and the blacker the better. Ring any bells?
With his confidence factor in short supply, Benjamin reluctantly finds himself dependent on the help and advice of Abdel (Reda Kateb) who, being Algerian can only secure the post of junior doctor. It's not long before reality hits big time when Benjamin doesn't give an ECG to alcoholic patient 'Tsunami' (Thierry Levaret) who dies on him. What to do when the patient's wife questions his death? Close ranks and cover up. Additional to a mad cap chase through the heaving bureaucratic machine, the film raises the difficulties in applying the French Leonetti Act - the rights of patients to control their end of life care.