Shane Black's 'The Nice Guys' is a zany, free-for-all, private eye odd couple, crazy comedy caper with great one-liners - 'The Measure of a Man,' a low key, powerful and compelling social drama won Vincent Lindon the Best Actor Award at the 2015 Cannes Film Festival - 'Versus : The Life and Films of Ken Loach' is a witty and insightful look at one of Britain's foremost film directors who's latest feature, 'I Daniel Blake' won the Palme d'Or at Cannes this year.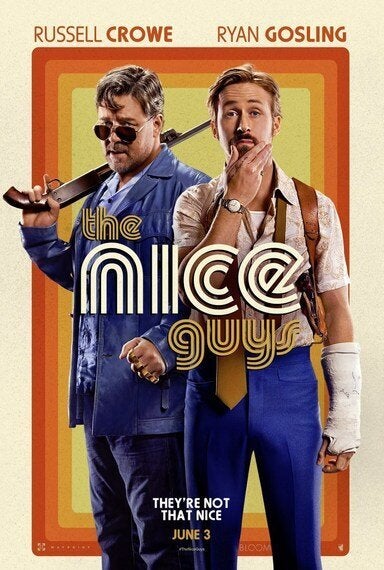 Director: Shane Black. Russell Crowe, Ryan Gosling, Kim Basinger, Matt Bomer. Action, Crime, Comedy. UK, USA 2016 116 mins. (15) ****
They're an odd couple, but Holland March (Ryan Gosling) and Jackson Healy (Russell Crowe) gel after a bit of a fall out in writer-director Shane Black's zany, private eye movie. Jackson Healy a goon with muscles hits people for a living. Clueless private eye Holland March likes the booze, takes on clients with Alzeimer's looking for their deceased husbands and has a very patient 13-year-old daughter (Angourie Rice). It gets a bit hairy when the boys are dropped into a murky 1977 LA underworld mystery that locks into the adult film industry, The Mob and big business as they look for the mysterious Amelia Kuttner (Margaret Qualley).
Cars, guns, dead bodies, slapstick violence, great one-liners, a Boogie Nights backdrop with Russell Crowe and Ryan Gosling's natural comedic touch, making the perfect odd couple. It works and what an opening scene. Never creep into your parents room to lift a porn mag to ogle the centrefold. You maybe in for a surprise. No cell phones, computers or high tech trickery, just a character, dialogue driven, crazy, free-for-all comedy caper. Great fun.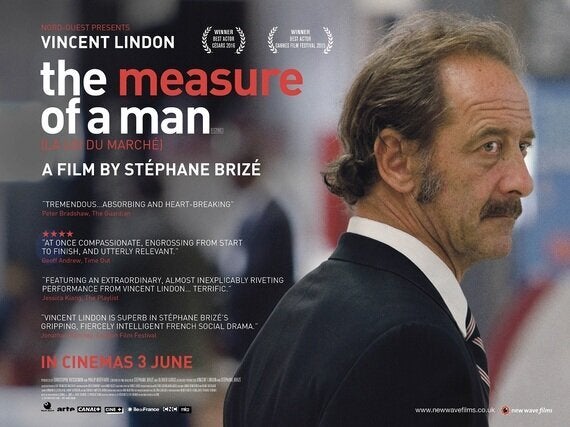 Director: Stephane Brize. Vincent Lindon, Yves Ory, Karine De Mirbeck. Drama. French with English subtitles. France 2015 93 mins. (15) ****
Stephane Brize's low key, powerful and compelling realist social drama 'The Measure of a Man' follows one man, a statistic in the labour market as he trawls through deadening bureaucracy in search of a job.
Who wants to employThierry Taugourdeau, a 51 year old ex-factory worker on the dole for one year and nothing in sight? Retrain the job centre manager suggests. What do they offer? A course for crane operatives when there are few jobs going and you don't get hired without experience. Thierry's life's a series of meetings with counsellors, interviews, even skyping one and being taken to task by a resource manager on his CV presentation. With dwindling savings and 500 Euros a month unemployment benefit to support his wife (Kariine de Mirbeck) and disabled son (Matthieu Schallwer) life's desperate and tainted with frustration, anger, humiliation and isolation, every rebuff a kick in the teeth, yet Thierry maintains his dignity, pride, ideals and self-respect. And then a job comes up as a security guard in a large store which places Thierry, a vulnerable man with a conscience with a moral dilemma. Should he compromise and stay and be an accomplice in an unfair system or leave and return to a life on the dole?
Originally titled 'Market Law' and shot in a documentary style with long takes that draw the viewer into Thierry's isolated world, Vincent Lindon, the only professional actor in the film won the Best Actor Award at the 2015 Cannes Film Festival for his terrific portrayal of Thierry, a man caught in the system.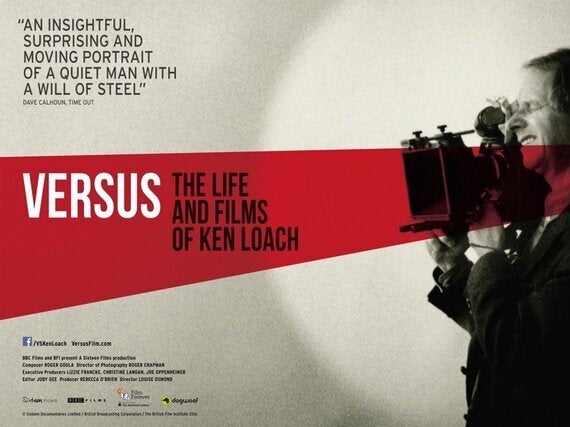 Director: Louise Osmond. Ken Loach. Documentary. UK 2015 90 mins. (12A) ****
Louise Osmond's documentary is a fascinating and witty insight into the life of Ken Loach, one of Britain's foremost film makers.
Radical, fearless and single minded, his latest feature 'I, Daniel Blake,' the story of a middle-aged widower struggling with the bureaucracy of the Benefits System took the Palme d'Or at this year's Cannes Film Festival.
Ken Loach has in fifty years of film making offered realistic, gritty, ground breaking classics - 'Up The Junction' (1965) watched by 10 million people and 'Cathy Come Home' (1966) both screened as part of the BBC's Wednesday Play Season, 'Poor Cow' (1967), his feature debut also with Carol White, 'Kes' (1969) and his 2006 Palme d'Or Winner 'The Wind That Shakes The Barley.'
With contributions from Tony Garnett, Rebecca O'Brien, long time collaborator Paul Laverty, writer Jim Allen, cast members and family, Ken Loach, the quiet, unassuming man with fire in his belly, adored and loved in Europe as pointed out by the film critic Derek Malcolm, has rattled some of the less perceptive, more conservative establishment figures at home as he pursued challenging, intense, mould breaking realistic drama. Long may it go on.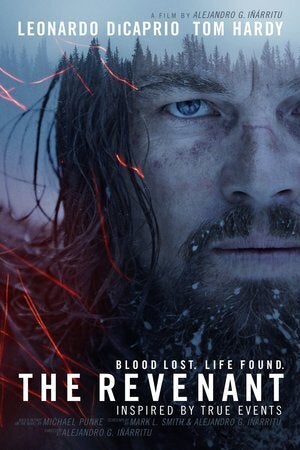 Director: Alejandro Gonzalez Inarritu. Leonardo Di Caprio, Tom Hardy, Domhnall Gleeson. Adventure, Drama, Western. USA 2015 156 mins. (15) *****
Epic, brutal, savage, mesmeric and magnificent. A should see, must see.
For further FILM & BLU RAY/DVD reviews see www.film-reviews-and-news.co.uk