'While We're Young',Noah Baumbach's sharp and witty Allen-esque take on generational angst, 'The Water Diviner', Russell Crowe's Gallipoli directorial debut and 'Altman', Ron Mann's documentary tribute to the late master film maker, Robert Altman.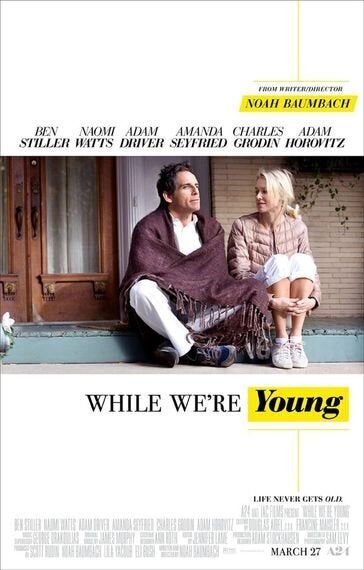 Cast: Ben Stiller, Naomi Watts, Amanda Seyfried, Adam Driver, Charles Gridin
Country of Origin: USA 2014 97 mins.
A quote from Ibsen's 'The Master Builder' opens writer-director Noah Baumbach's sharp and funny take on ageing, ambition and success.
New Yorkers Josh Srebnick (Ben Stiller) and his wife Cornelia (Noami Watts) are in their forties and don't have kids. He makes documentaries and Cornelia produces her father's movies. That should be OK but Leslie Breitbart's (Charles Grodin) in the Frederick Wiseman and D.A.Pennebaker league of documentarists and that rattles Josh who's been working on the same incomprehensible send-you-to-sleep film on the American war machine for ten years. Life's OK though. Josh and Cornelia do what they want. Well they don't go anywhere or do much beyond a meal and a drink with friends Marina (Maria Dizzia) and Fletcher (Adam Horowitz) who've just had their first child. And Josh tinkers with his masterpiece.
Enter effortlessly cool Jamie (Adam Driver) and Darby (Amanda Seyfried). He makes documentaries and has a vinyl collection to kill for and Darby's buzzy, fun and makes ice cream. It's smart phone, CD versus retro hip, typewriter and VHS.
As expected New York provides a great back drop, the cast are tops and it's funny. See it alone for the Brooklyn hip-hop dance classes and Josh's response to arthritis. It's a bit too serious towards the end and a Sharman led psychedelic brew 60s style, vomit your angst out needs trimming but the cardinal sin was not to have given the laceratingly dry Charles Gridin a larger part.
It's generational age hang ups with a Woody Allen touch. That universal unstoppable ageing process, hopes, aspirations and dreams, fading memories clung to, all of which seem so wonderful. Keep reality at bay. Then wake up.
Released by Icon 3rd April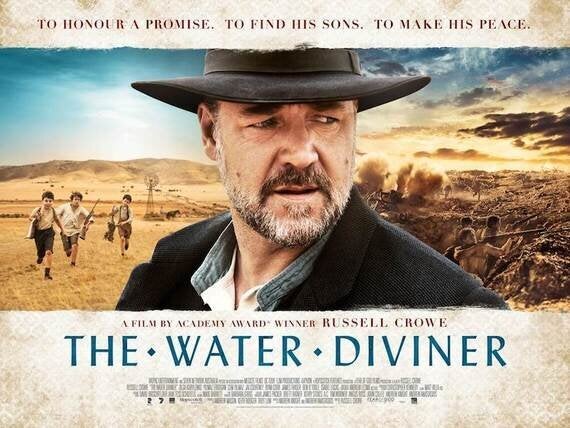 Cast: Russell Crowe, Jai Courtney, Olga Kurylenko
Language: English, Turkish, Greek, Russian with English subtitles
Country of Origin: Australia, Turkey, USA 2014 111 mins.
'One old chap managed to get here from Australia, looking for his son's grave.' One line from a letter found by Lt.Colonel Cyril Hughes, part of the Imperial War Graves Commission working at Gallipoli after World War I became the inspiration for 'The Water Diviner'.
In 1915 with the blessing of their father Joshua Connor (Russell Crowe), a water diviner and farmer, three brothers, Arthur (Ryan Corr), Henry (Ben O'Toole) and Edward (James Fraser) leave their home in the Australian outback to fight with the Allies and capture the Gallipoli Peninsula. Four years later after the failed Gallipoli offensive and brutal slaughter Arthur, Henry and Edward are listed as missing in action, presumed dead.
Overwhelmed by guilt, and conscious of his wife Eliza's (Jacqueline McKenzie) wish to find her boys, Joshua travels to Turkey but finds that unlikely alliances are needed to circumvent military bureaucracy that blocks his passage to Gallipoli.
Death's cloak laid with an easy smile doesn't distinguish between Anzac and Turk. They're both losers unified in an overwhelming grief and the redemptive power of forgiveness. Gallipoli, a defeated Ottoman Empire, the Greek campaign for Western Anatolia and the poignant story of a a lone Australian farmer whose life has been ripped apart by the loss of his sons.That's a broad canvas for a directorial debut and the sensitivity and sincerity of the film aren't in doubt. So why the contrived studio slots-ins that make it flick from a story of redemption and forgiveness into a soft-centred Hollywood Arabian Nights. The hypnotic beauty of the Australian outback captured in stunning aerial shots contrasts with grainy flashbacks of the Gallipoli battlefield and Josh's emerging relationship with Turkish Major Hasan (Yilmaz Erdogan) merges with a twee and contrived love interest story line centred on widowed Ayshe (Bond girl Olga Kurylenko) doesn't want to marry her late husbands brother Omer (Steve Bastoni) who's not happy with an Aussi farmer infidel coming on the scene. Add on her son Orhan (Dylan Georgiadis) who thinks Josh is OK plus the compulsory hard nosed Brit Army officer Brindley (Dan Wyllie) and the cinematic division's in place. It's a box office necessity which with Russell Crowe's understated performance make it a crowd pleaser.
Ambitious, sincere, sensitive, emotional, yet box office syrupy, 'The Water Diviner' will I'm sure be a multiplex crowd puller.
Released by eOne 3rd April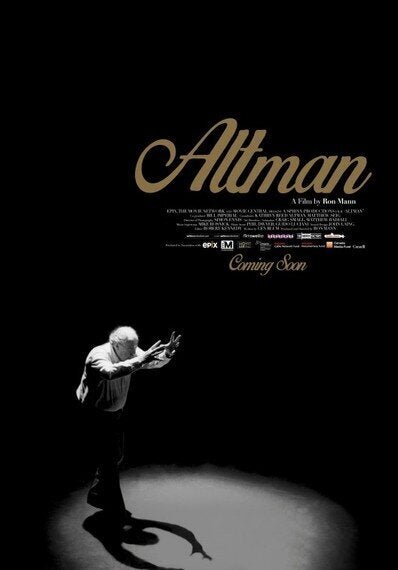 Cast: Julianne Moore, Bruce Willis, Robin Williams
Country of Origin: Canada 2014 96 mins.
Released by Soda Pictures
What can you say about Robert Altman? M*A*S*H, The Player, Short Cuts, Nashville, McCabe and Mrs Miller, Gosford Park. That's a taster. Individual, fiercely independent, a unique cinematic style, dark humour, chaotic choreography, overlapping dialogue, multi-layered story lines, memorable characters that made for vivid and memorable cinema.
Ron Mann's new documentary 'Altman' looks at the life and times of filmmaker Robert Altman, one of the most important and influential filmmakers of the twentieth century. Independent of Hollywood's conventions and its executives, Altman's unique style of filmmaking won him friends and enemies, earned him world-wide praise, including the Palme d'Or at Cannes and occasionally scathing criticism, and proved that it's possible to make truly independent films.
With its use of rare interviews, representative film clips, archival images, and musings from his his wife Kathryn, sons Robert and Stephen and most recognizable collaborators, 'Altman' casts an eye on a director whose expression, passion and appetite made great cinema.
Released by Soda Pictures 3rd April
For further Film and Blu-ray/DVD reviews see www.film-reviews-and-news.co.uk