'A Little Chaos', Alan Rickman's wigs and powder self-indulgent costume drama set in a Versaille garden , 'The Salvation', Kristian Levring's revenge westen clings precariously to the coat tails of the Spaghetti westerns, 'Home From Home; Chronicle of a Vision', is a visionary and compelling prequel to 'Heimat' and 'Child 44, a multilayered thriller set in Stalin's Soviet era should be like an all revealing Matryoshka doll but is self-confusing and has been banned by the Russian Ministry of Culture.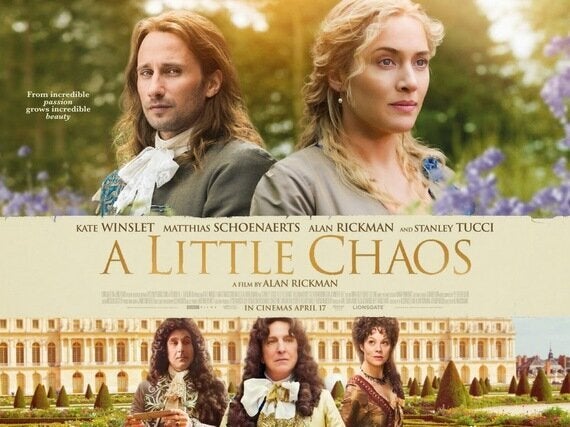 Cast: Alan Rickman, Kate Winslet, Matthias Schoenaerts, Stanley Tucci, Helen McCrory
Country of Origin: UK 2014 116 mins
Alan Rickman's second time behind the camera after 'The Winter Guest' sees him opt for a sly wigs and powder costume drama amongst the flowers of Versaille.
Landscape architect Andre Le Notre (Matthias Schoenaerts), employed by King Louis XIV (Alan Rickman) to transform the gardens of Versailles loves symmetry and scale. Sabine De Barra's (Kate Winslet), a modern woman out of her time who rolls up her sleeves and gets on with it, has flair and spontaneity so it's quite a risk for Le Notre to employ her to design a water feature in a spare corner of Versailles which will thrust her into the heady atmosphere of Louis XIV's OTT Court. Let witty theatrics begin with a majestic and comedic sweep of court gossip, intrigue and sexual antics. Wishful thinking. For that to be forthcoming the script needs revision.
Joan Bergin's rich costumes, Ellen Kuras's excellent cinematography, Stanley Tucci's delightful take on the King's bisexual brother and some witty exchanges between Alan Rickman and Kate Winslet don't make up for the lack of energy in what is a drawn out self -indulgent theatrical work that glides along scene by scene and wildly misses out on all it could be.
Released by Lionsgate 17th April
Director: Kristian Levring
Cast: Mads Mikkelsen, Eva Green, Jeffrey Dean Morgan
Language: English, Danish , Spanish with English subtitles
Country of Origin: Denmark, UK 2014 91 mins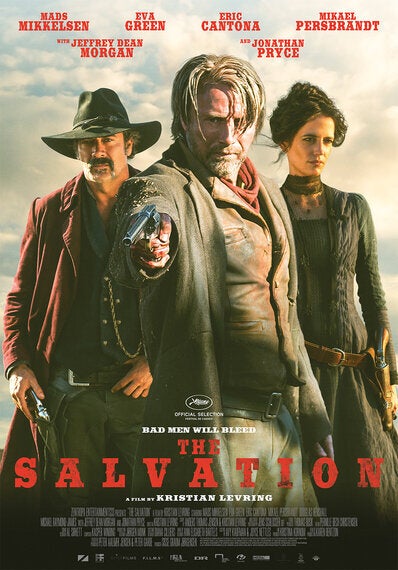 'A revenge story hanging on the coat tails of the Spaghetti westerns.'
It's 1871 and ex-pat Danish soldier Jon (Mads Mikkelsen) with his brother Peter (Mikael Persbrandt) meets his wife Marie (Nanna Oland Fabricius) and son Kresten (Toke Lars Bjarke) off the train. Overjoyed at their reunion the family join the stage coach to journey to the family farm near Black Creek but the rape and murder of Jon's family and Jon's killing of the two perpetrators, one of whom is the brother of Black Creek's once good man but now a baddie, Delarue (Jeffrey Dean Morgen) means all breaks loose and we've got a revenge western. Law and order as expected is nil. Mayor Keane (Jonathan Pryce) bows and wimpers and sheriff Mallick (Douglas Henshall) really should have stayed in Shetland as the local plod. And when Eric Cantona popped up in a bit part I thought he was going to give 'that look' to camera and offer an ice cold K......... It was certainly needed.
It's beautifully filmed by Jens Schlosser with the camera taking in the breathtaking scenery (it was filmed in South Africa) but it hangs on the coat tails of the Spaghetti Westerns and lacks the surreal touch and tongue-in-cheek one-liners unique to the likes of the Sergio Leone trilogy. Perhaps Kristian Levring had visions of High Noon but a High Noon it aint.
Released by Warner Bros 17th April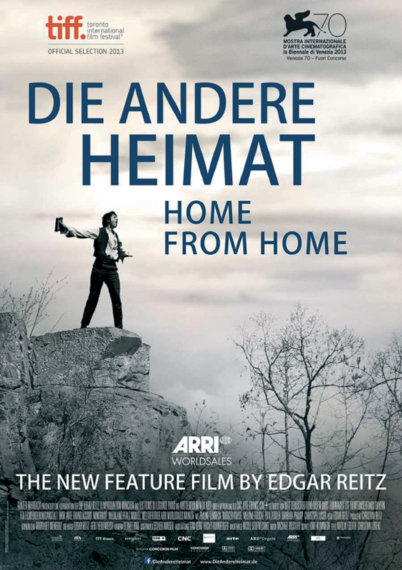 Cast: Jan Dieter Schneider, Antonia Bill, Maximilian Scheidt, Ruediger Kriese, Marita Brewer
Language: German with English subtitles
Country of Origin: Germany 2013 225 mins.
'Hypnotic, compelling and visionary.'
Gernot Roll's majestic black and white wide compositions capture the beauty of an unrelenting landscape that dominates rural Prussian life in the mid 1800s. Edgar Reitz's compelling 'Home From Home: Chronicle of a Vision', the prequel to 'Die Andere Heimat' is a stunning panoramic insight into a family drama and love story set against the background of the fictional village of Schabbech, a time when whole villages emigrated to South America to escape the famine and Prussian feudalism that ruled their lives.
The story centers on the Simon family, blacksmith Johann (Ruediger Kriese), his wife Margarethe (Marita Brewer) and their two sons, Jakob (Jan Pieter Schneider), the intellectual dreamer immersed in his books who yearns for adventures on an unknown continent, studies the languages of the native South Americans and records his attempts to escape the rural drudgery in a diary that reflects the aspirations and philosophies of a whole era. Jakob draws all into his dreams--his parents, his belligerent brother Gustav (Maximilian Scheidt) who's recently returned from the Napoleonic Wars and Henriette (Antonia Bill), the daughter of a gem cutter who's drawn to Jakob's dream of a world where the sun never sets and its people talk in fascinating tongues. Dreams can be shattered, revolt's in the air against the baronial laws and Gustav's return will shatter Jakob's world and his love for Henrietta.
Some may criticise Jakob's voice-over from his diary as a guide to the audience, the odd blob of colour, a mistaken gesture which doesn't work and Jakob's miraculous multi-linguistic talent without tutelage but that doesn't detract from Edgar Reitz's compelling and majestic panoramic view of Prussian rural discontent with naturalistic lead performances whose characters believe that 'any fate is better than death'.
Released by Artificial Eye/Curzon Film Releasing 17th April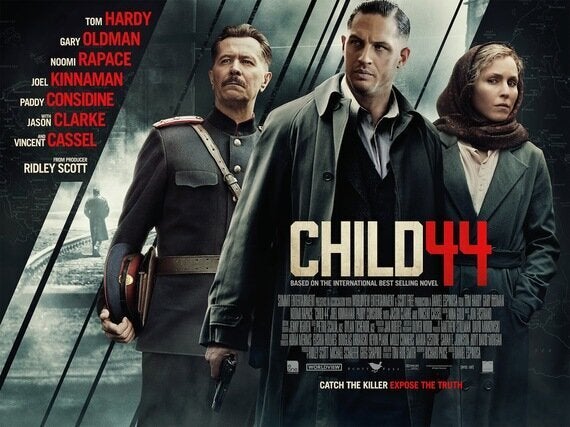 Director: Daniel Espinosa
Cast: Tom Hardy, Joel Kinnaman, Naomi Rapace, gary Oldman, Joel Kinnaman
Country of Origin: Czech Republic, UK 2015 137 mins.
'The Russian Ministry of Culture's not happy with this depiction of the Stalin era. '
Stalin's Soviet Russia, a Bolshevik Utopia is the setting for 'Child 44', Daniel Espinosa's period political thriller. It's 1953 Moscow characterised by an empty GUM store, paranoia and suspicion and military might displayed in Red Square parades overseen by distant rhythmical Politburo applause. There's no crime in paradise, murder's a capitalist disease.
War hero Leo Demidov (Tom Hardy) raised the flag over the Reichstag building in 1945, an honest man with a conscience who's drawn into a murder case when the mutilated naked body of a boy is found by the railway tracks in Moscow and Major Kuzmin (Vincent Cassel) gets Leo Demidov on the case. The party line is that it was an accident which fellow cop and rival Vasili (Joel Kinnaman) enthusiastically endorses. It all kicks off now in Stalin's Utopia. The state accuses Leo's wife Raisa (Noomi Rapace) of being a traitor and they're exiled to a god forsaken provincial town and link up with General Mikhail Nesterov (Gary Oldman) to catch the serial killer.
With a fabulous cast, strong performances and a link to Andrei Chikatilo, the Butcher of Rostov, you'd expect the Matryoshka doll touch gradually wetting the appetite as plot within plot within plot is revealed. Tom Hardy excels and gets into the character but Richard Price's multilayered script based on Tom Rob Smith's 2008 first book of a trilogy is muddled and lacks tension, intrigue and suspense. It doesn't grip and how do you do a convincing Russian accent?
Ironically Russian Culture Minister, Vladimir Medinsky has banned 'Child 44' as it distorts Soviet history.
Released by eOne 17th April