Ian Gabriel's Four Corners is stylish, powerful, disturbing and brutally realistic cinema with echoes of City of God and Amores Perros, Melissa McCarthy's on top manic comedic form in Paul Feig's Spy, Listen Up Philip is an hilarious acidic take on artistic ambition, James McTeiguer's timid Survivor clings precariously to the coat tails of world terrorism, Black Coal, Thin Ice, Diao Yinan's oddly absurdist homage to Raymond Chandler film noir leaves a lasting impression, Queen and Country, John Boorman's follow up to his 1987 Hope and Glory jumps to the 1950s and the rigid absurdities of National Service and Shooting for Socrates looks at a brief moment of World Cup glory for Northern Ireland.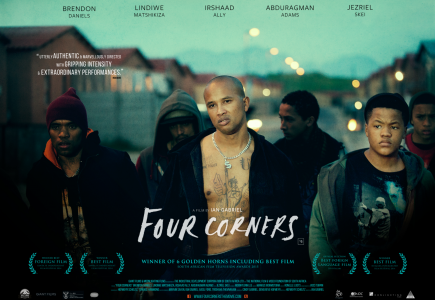 Cast: Brendan Daniels, Lindiwe Matshikiza, Irshaad Ally, Jezriel Skei, Abdurahmon Adams
Language: Afrikaans, English
Country of Origin: South Africa
6 Golden Horn Awards Wins - Best Film, Best Actor, Best Supporting Actor, Cinematography, Original Score, Sound, SAFTAs (South African Film Television Awards), Winner Best Film, Niagara Integrated Film Festival 2014, Winner Best International Feature, Santa Fe Independent Film Festival 2014, Winner Best Feature (US & International), Santa Fe Independent Film Festival 2014, Official South African Selection, Best Foreign Language Film, 86th Academy Awards, Official Selection, Cambridge 2014 Film Festival
With echoes of City of God and Amores Perros, Four Corners is compelling and powerful cinema. Stylish, authentic, disturbing and brutally realistic, it's an impressive coming-of age drama that weaves together the story of four lives in South Africa's Cape Flats.
Perhaps, just perhaps there's a future for Farakhan (Brendon Daniels), a general in the Century old Numbers Gang. Just released after serving 13 years in Pollsmoor maximum security prison he's met London trained doctor Leila Domingo (Lindiwe Matshikiza) a face from the past, who's recently returned to Cape Flats to sort out her late father's estate. Farakhan wants peace and to find his son but the ghetto only offers violence. 13 year-old Ricardo's (Jezriel Skei) in love with chess and has a rapport with career cop Captain Tito Hanekom (Abduragman Adams) but his time's taken up with tracking down the serial killer of young boys and Americans gang leader Gasant (Irshaad Ally) has plans for the young boy.
Visually stunning with a spot-on street life sound track by Marcus Wormstorm that mixes classic compositions with hip hop and mesmerising performances, particularly from Jezriel Skei that capture the destructive intensity and realism of an all consuming world of violence.
Released by Munro Films 5th June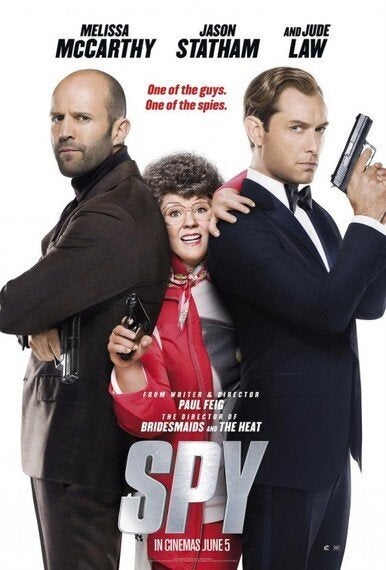 Cast: Jude Law, Melissa McCarthy, Rose Byrne, Jason Statham, Bobby Cannavale
Country of Origin: USA 2015 120 mins.
A slap stick funny OTT physical comedy with comic star Melissa McCarthy more at home with innovative espionage tech gadgets that homemade cakes.
Melissa McCarthy with the energy of a stick of TNT plays desk bound, passed over CIA analyst Susan Cooper desperate to get out into the field and sort 'em out. She's the lynchpin for hero agent Bradley Fine (Jude Law) with a flair for high tech gadgets. Her chance to show that she's tough and smart comes, after a bit of pleading with CIA Director Elaine Crocker (Allison Janney), when ace number one hero agent Bradley goes missing and it's into the field with an assortment of aliases and high tech weapons disguised as haemorrhoid wipes and stool softening tablets amongst other things. Beat that Q. Move over Bond and lead on Susan Cooper, tough, smart CIA agent in pursuit of hair of the year Raina Boyanov (Rosa Byrne) who's lugging around (not literally) a nuclear device and Sergio de Luca's (Bobby Cannavale) in the market to buy. Miranda Hart plays herself as Susan's best pal Nancy Artingstall and muscle man, sock 'em hard Jason Statham reveals an unseen comedic streak and sends himself up beautifully as not too bright rogue agent Rick Ford but it's Melissa McCarthy who saves the world.
The plots nothing but it's OTT funny with chases and fights and belly laughs and Melissa McCarthy hits manic top comedic form.
Released by 20th Century Fox 5th June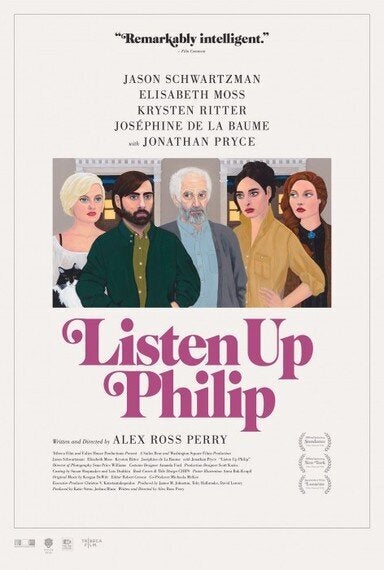 Director: Alex Ross Perry
Cast: Jason Schwartzman, Elisabeth Moss, Krysten Ritter, Jonathan Pryce
Country of Origin: USA 2014 mins.
Sundance - Official Selection 2014, New York Film Festival - Official Selection 2014, Locarno Film Festival - Special Jury Prize, London Film Festival 2014, Jameson Dublin International Film Festival 2015
Following his critically acclaimed The Colour Wheel, Alex Ross Perry peels away the layers in a smart and darkly humorous portrait of literary ambition.
Indifferent, self-absorbed, arrogant and angry, Philip Lewis Friedman (Jason Schwartzman) awaits the publication of his second novel that those in the know are certain will be a critical success. New York, his adopted city's proving claustrophobic and his relationship with his girlfriend Ashley (Elizabeth Moss), a rising freelance photographer is more off than on. If he follows form, it won't be long before he walks out and when the great American novelist Ike Zimmerman (Jonathan Pryce), suggests his country retreat as a refuge from the city, it's the chance for Philip to focus on what he loves most in life, himself.
The cast are terrific. Philip, callous, arrogant and self-absorbed, good at dishing out the s... but unable to take it, his mentor, the solitary egomaniac Ike Zimmerman with a touch of the writer's block and an tetchy relationship with his daughter Melanie (Krysten Ritter) 'a pain in the ass. Eric Bogosian wry voice-over links it all together, Sean Price William's hand held camera frames the characters as they reveal themselves and the layers are peeled away. Artistic ambition at the expense of relationships. Idiosyncratic, quick witted dialogue and very funny. Philip Roth in film.
Released by Eureka Entertainment 5th June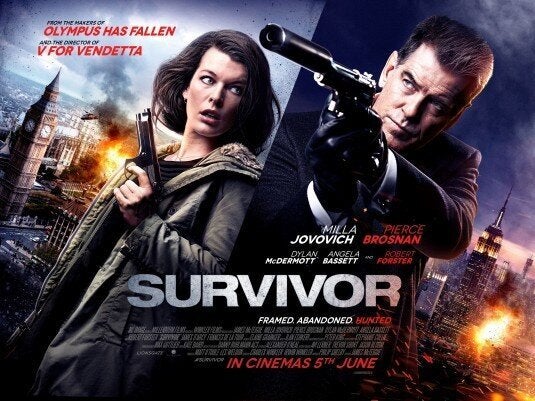 Cast: Pierce Brosnan, Milla Jorovich,Dylan McDermitt, James D'Arcy
Country of Origin: USA, UK 2015 96 mins.
Survivor clings precariously onto the coat tails of world terrorism in a timid cat and mouse game that lacks suspence and hangs by its finger tips to a wafer thin script in the hope that a quality cast and 9/11 type finale will carry the day.
Kate Abbott (Milla Jovovich), a State Department employee newly posted to the US embassy in London screens visa applicants going to the US. Alarm bells ring when Romanian Scientist Emil Balan (Roger Rees) who specialises in gases applies to attend a medical conference in the States but Kate's concern is overridden by her superior Bill Talbot (Robert Forster). Link in with contract killer 'The Watchmaker' (Pierce Brosnan) who's hired to take out Kate and Inspector Paul Anderson (James D'Arcy) who wants to nab her as a suspect in a restaurant bombing and it's run and keep running Kate because we can all see you while The Watchmaker slips between CCTV cameras with the ease of an invisible man as the chase goes State side to a 9/11 type attack in Times Square on New Year's Eve.
Released by Lionsgate 5th June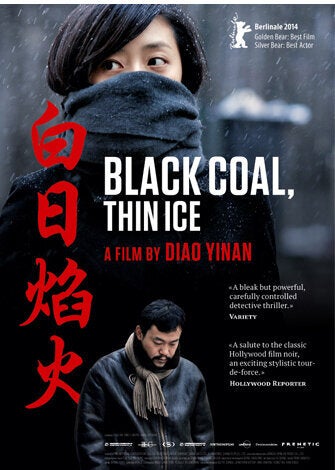 Cast: Fan Liao, Lun Mei Gwei, Xuebing Wang
Genre: Crime, Drama, Mystery
Language: Mandarin with English subtitles
Country of Origin: China 2014 110 mins.
Golden Bear 2014 Berlin International Film Festival
A slowly unfolding oddly absurdist film noir homage to Raymond Chandler Diao Yinan style held in a bleak gaudy neon lit, snow covered industrial gloom that carries unease and danger, reaches for reality but clings to a dream and concludes with an absurdist firework drenched ending that baffles. Whatever said, it leaves an impression and the shoot out in a hair salon is pure Keystone Cops Chinese style.
Disgraced cop Zhang (Liao Fan) seriously injured in a hair salon shoot out while working on the coal plant murder case and now a security guard with a liking for the bottle links up with his former partner when a murder case links in with the case that caused his downfall. If it's a homage to Chandler Hollywood style, there's got to be a femme fatale and laundry worker Wu Zhizhen (Lun Mei Gwei) fits the bill and her charm turns Zhang on.
There's an odd and curious appeal to the Chandleresque take with cinematographer Doug Jinsong's striking visuals and an odd ball absurdist touch.
Released by StudioCanal 5th June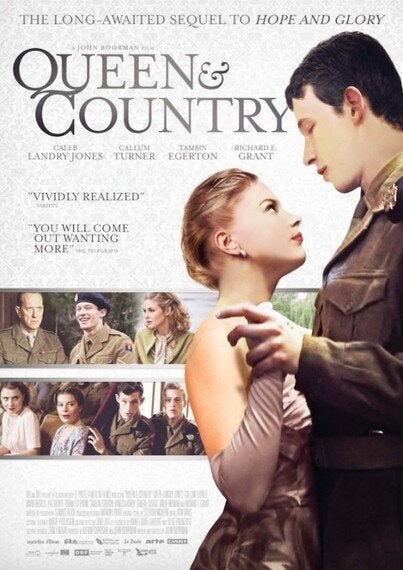 Cast: Callum Turner, Caleb Landry Jones, Pat Shortt. David Thewlis, Tamsin Egerton, Vanessa Kirby
Country of Origin: UK 2014 114 mins.
A personal, humorous and nostalgic follow up to John Boorman's 1987 semi-autobiographical Hope and Glory, an account of a boy growing up in and around London during World War II. Fast forward to the 1950s, Boorman's alter ego Bill Rowan (Callum Turner) is 19 and has been called up for National Service, there are rumbles in the Empire and the strictures of the past are being loosened. Boorman offers a witty insight into the regimented absurdity of peacetime conscription as seen with Company Sergeant Major Bradby who's diet is the rule book and who's played with hilarious accuracy by David Thewlis, the pompous RSM Digby (Brian F. O'Byrne) and Major Cross (Richard E Grant) who's just had enough of it all. The Korean War looms in the background but Bill dreams of the beautiful Ophelia (Tamsin Egerton), rebel Percy Hopgood played by the somewhat miscast Caleb Landry Jones falls for Bill's sister Dawn (Vanessa Kirby) who's returned from Canada with bottled blond hair, a twinkle in her eye and two kids and continues with his one-man war against Company Sergeant Major Bradby aided by camp skiver Redmond (Pat Shortt).
The director's love of cinema is referenced by Billy Wilder's Sunset Boulevard , Hitchcock's Strangers on a Train and Akira Kurosawa's, Rashomon enthusiastically dissected by Bill but brought back to reality by Ophelia - 'the woman's always raped.'
Released by Artificial Eye/Curzon Film Releasing 5th June London 12th June Nationwide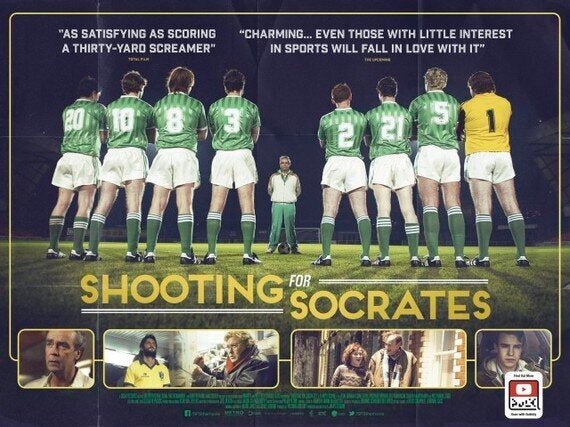 Cast: Conleth Hill, John Hannah, Art Parkinson
Country of Origin: UK 2014 91 mins.
Archive footage is weaved into a slight comedy set during the Troubles in Northern Ireland. Billy Bingham (John Hannah) manager of the 1986 rag tag Northern Ireland World Cup team made it through and faced the Brazilians captained by Socrates. The outcome maybe inevitable but it lifts people away from the Troubles if only for a short time and one Belfast father, Arthur (Richard Dormer) uses the 'beautiful game' to inspire his son Tommy (Art Parlkinson) to resist the scourge of sectarianism.
Released by Soda Pictures 5th June