'Bastille Day' hangs it's hat on action sequences and clings to the Bourne-Bond coat tails - Joachim Trier's English language debut 'Louder Than Bombs' is a superbly acted family drama with a distant abstract feel - The documentary 'Mapplethorpe:Look At The Pictures,' offers a fascinating insight into the life and work of the controversial photographer Robert Mapplethorpe - Miguel Gormes's audacious and ambitious 'Arabian Nights' is a personal response to political reality - 'The Divide' debates the ever present belief that money buys happiness.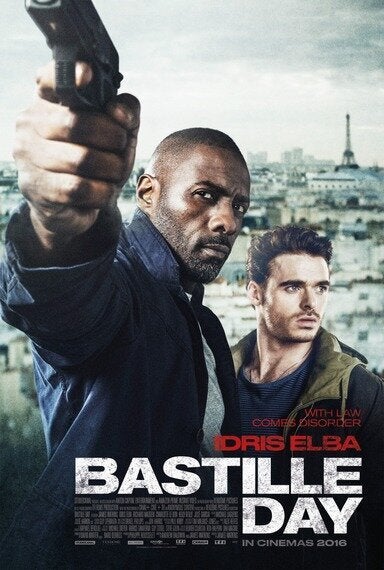 Director: James Watkins. Idris Elba, Richard Madden, Charlotte Le Bon, Jose Garcia, Kelly Reilly. Action Thriller. France, USA 2016 90 mins. (15) ***
Reckless, subordinate and irresponsible, the pre-requisites for a maverick CIA field operative storming through Paris in pursuit of the baddies is OK but Idris Elba taking on an American accent is a bit too much.
Pickpocket Michael Mason (Richards Madden) works the tourist crowds but lifting political activist Zoe Neville's (Charlotte Le Bon) bag is a lift too many and he's in the frame for an Islamist terrorist atrocity. Of course Mason's a pawn in a bigger game and when he teams up with CIA agent Sean Brier (Idris Elba) it's a bash 'em, shoot 'em and beat 'em run through Paris. Chuck in you've got 'one last chance' station chief Karen (Kelly Reilly), corrupt cops and a large-scale conspiracy and it's set for off.
James Watkins' ambitious low budget action-filled thriller clings onto the Bourne-Bond coat tails, fits in social media and hash tags, drops a few humorous line and hangs it's hat on the action sequences. Idris Elba's American accent is a bit much but it's an easy 90 minute watch. I can't see that James Bond's in danger of a takeover.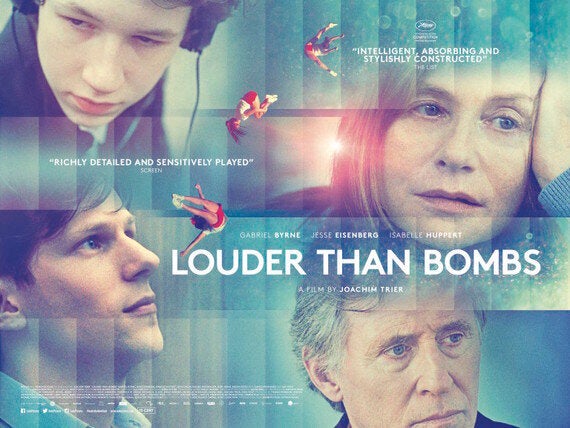 Director: Joachim Trier. Rachel Brosnahan, Jesse Eisenberg, Amy Ryan. Drama. Norway, France, Denmark 2015 99 mins. (15) ***
It's three years since acclaimed war photographer Isabelle (Isabelle Huppert) survived the battle field only to die in a head-on car crash that maybe suicide and her colleague Richard (Davis Strathairn) is submitting a lengthy profile to the New York Times. Isabelle's eldest son Jonah (Jesse Eisenberg), strangely distant from his wife who's just given birth, rekindles the flame with ex-girlfriend, Erin (Rachel Brosnahan) whom he meets in the hospital corridor.
So opens Joachim Trier's English language debut with an hilarious cast perfect set for Jesse Eisenberg that offers an insight into a family drama that echoes the past and trawls the difficulties of managing grief.
A retrospective exhibition of Isabelle's work brings Jonah back to the family home and his younger angst ridden and socially withdrawn brother Conrad (Devin Druid) with whom he bonds but their father Gene (Gabriel Byrne) struggles to connect with either.
Superbly acted with a distant abstract feel, Isabelle's ghost haunts the family as they struggle to reconcile their memories of a woman they thought they knew, who placed career before family. Intense and stylish, but at times too restrained, it retreads old ground seen in 'A Thousand Times Goodnight' with Juliette Binoche.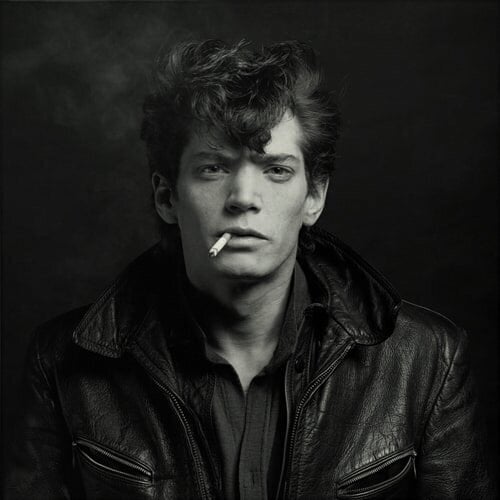 Dogwoof/Robert Mapplethorpe Foundation
Director: Fenton Bailey, Randy Barbato. Debbie Harry, Fran Leibowitz, Brooke Shields, Edward Mapplethorpe. Documentary. USA, Germany 2015 80 mins. (18) ****
'Self-Portrait With Whip' and preparations for the Getty and LACM joint exhibition open Fenton Bailey and Randy Barbato's documentary on the provocative and controversial photographer, Robert Mapplethorpe, the artist with an all consuming desire for sex, fame and money.
Born into a Catholic family in Floral Park, Queens 'a good place to come from, and a good place to leave,' he met Patti Smith, perhaps the greatest influence in his life at Brooklyn's Pratt Institute and they moved into the Chelsea Hotel where Mapplethorpe began to experiment with abstract expression, gay porn collages and polaroids eventually leading to classically framed images.
It was 70s New York, underground gay clubs, the notorious Mineshaft and the unassuming Robert Mapplethorpe, ever controversial and provocative, pushed the boundaries with brutally honest homoerotic and sadomasochistic images as seen in the X Portfolio and 'Man in Polyester Suit.'
Superbly edited with archive footage and stills, Robert Mapplethorpe acts as narrator thanks to rediscovered interviews. Friends and lovers contribute, including collector Sam Wagstaff, Debbie Harry, his older sister Nancy and brother Edward, himself an artist and photographer who was Robert's studio assistant for many years.
Ironically Robert Mapplethorpe landed a major exhibition 'The Perfect Moment' at the Whitney Museum just before he died of AIDS aged 42 in 1989. Fran Lebowitz laughs when she reflects on the images Mapplethorpe gifted her which she threw away at a time when photography wasn't considered real art. Robert Mapplethorpe, a legend after death, the artist Senator Jesse Helms in 1989 denounced in Congress - 'look at the pictures.' That's what you do in this documentary.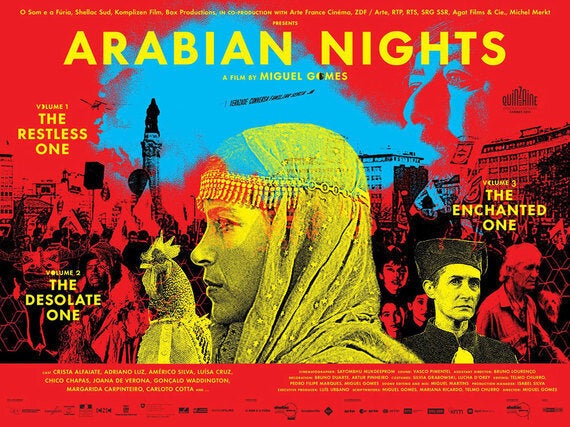 Director: Miguel Gomes. Crista Alfaiate, Adriana Luz, America Silva. Drama. Portugese with English subtitles. Portugal, France, Germany 2015 125 mins. (PG) ****
Audacious, ambitious, imaginative, unique and radical, Miguel Gomes's 'Arabian Nights' takes the classic Arabian Nights and adapts the beautiful young Scheherazade's tale after tale to keep her murderous husband from killing her, with real life stories that reflect Portugal's politics and the hardships suffered by ordinary people during the years of economic chaos. Shot between 2013 and 2014 and filmed as three separate volumes over 6 hours,'Arabian Nights' stems from Miguel Gomes' anger at seeing the collapse of Portuguese society and opens with 'The Restless One,' a portrait of a shipyard and a wasp-exterminator, a satirical tale of a rooster and a local election and sobering interviews with the unemployed.
Original and powerful, a mixture of fact, fiction, fantasy and the surreal, 'Arabian Nights' is a unique, personal cinematic response to political reality.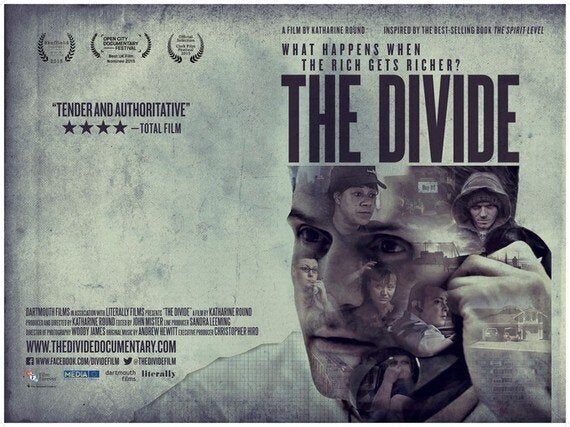 Director: Katharine Round. Documentary. USA 2015 74 mins. (12A) ***
Based on Richard Wilkinson's book 'The Spirit Level,' Katharine Round's absorbing documentary reflects on the ever present divide between those who have and those who haven't. Weaving Archive footage from 1979 to the present day with the stories of 7 individuals in the UK and USA looking for a better life, suggests that money isn't an automatic pathway to happiness which isn't a great surprise. The ritual of moving up the ladder with the assumed cultural, social and personal tribal assets, the need to 'fit in', social status, look the part, an ever present tragi-comedy whether you're rich or poor. The search for peace, happiness and well being for others isn't an easy path. It's more personal.
For further FILM & BLU RAY/DVD REVIEWS see www.film-reviews-and-news.co.uk
Popular in the Community