Don't miss 'Cosmos,' Andrzej Zulawski's first film in 15 years, an intriguing, wonderfully absurd, surreal cinematic delight - Brady Corbet's interesting but over ambitious debut feature, 'The Childhood of a Leader' is a bit too smart for itself - 'Almost Holy' is a sobering and harrowing documentary that charts a Ukranian priest's mission rescuing drug and abused kids - Zhao Liang's 'Behemoth' is a poetic, tragic and hypnotic view of environmental destruction in Inner Mongolia.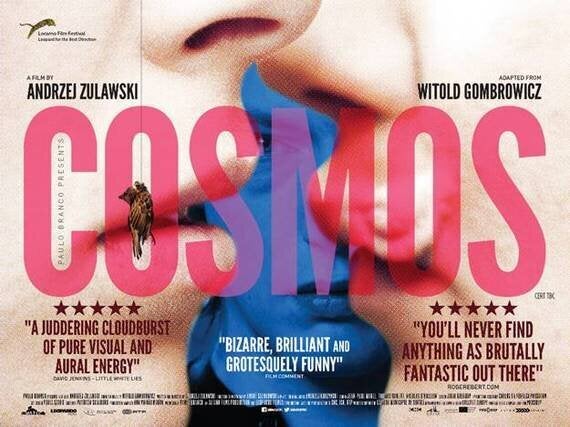 Director: Andrzej Zulawski. Sabine Azema. Jean-Francois Balmer, Jonathan Genet, Johan Libereau. Metaphysical Noir Thriller. French with English subtitles. France, Portugal 2015 103 mins. (15) ****
'Cosmos,' Andrzei Zulawski's first film in 15 years, adapted from Witold Grombowicz's 1965 novel of the same name defies classification but offers an intriguing, bizarre, wonderfully absurd, hilarious, surreal, reference littered and visually gorgeous cinematic feast wrapped in Andrzej Korznski's romantic score - a crazy expressionist cinematic delight.
Mdm. Woytis (Sabine Azema) welcomes law student drop out Witold (Jonathan Genet) who's determined to write a literary masterpiece and his anti-intellectual friend Fuchs (Johan Libereau) to her guest house in rural France which she runs with with her partner retired banker Leon (Jean-Francois Balmer) who's vocabulary has a madcap personal touch. Fuchs likes a bit of rough trade at night and Witold's fixated by a sparrow with it's neck in a noose, the maid Catherette's (Clementine Pons) harelip and Leon's daughter Lena (Victoria Guerra) who has a beautiful mouth and is married to the dull architect Lucien (Andy Gillet). Colourful characters, chaos and the lunacy of the bourgeoisie at its manic best.
Off-the-wall, narrative driven, mystifying and wonderfully mad, 'Cosmos' throws up 'The savage power of a stupid thought.' it's quite something for Andrzej Zulawski's goodbye film. Don't miss it.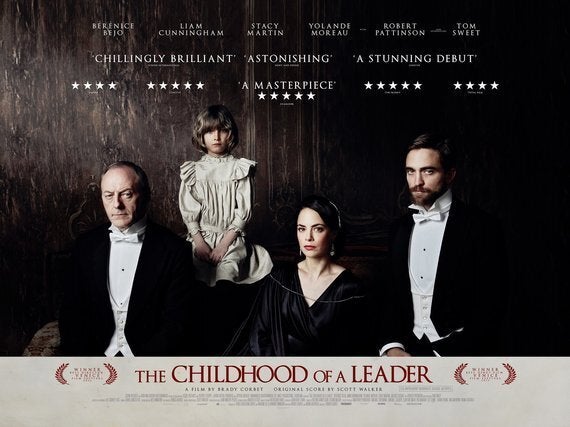 Director: Brady Corbet. Liam Cunningham, Robert Pattinson, Stacy Martin. Drama, Horror, Mystery. UK, Hungary, France 2015 115 mins. (12A) ***
What makes a fascist leader? Brady Corbet's interesting, enigmatic, but over ambitious debut feature 'The Childhood of a Leader,' is too long, tries too hard and is too smart for itself.
An unnamed American diplomat (Liam Cunningham), who is part of President Wilson's post-1918 negotiations at the time of the Versaille Treaty, is in France with his unnamed religiously devout German born wife (Berenice Bejo) and their mysterious and troubled son, no pals Prescott (Tom Sweet). Told as three chapters or 'tantrums,' offering emotional repression and a touch of Freudian psychology against a background of European chaos.
Scripted by Brady Corbet and Mona Fastvold with a hint of Jean-Paul Satre's 1939 short story of the same name, Scott Walker's score, a full volume blast mix of classical and the avant-garde may push you out of the room. But it's stunningly shot by Lol Crawley, with camera angles and shadows that make the house a character in itself and Tom Sweet's impressive as the budding evil incarnate.
The final tantrum, 'New Era' pushes it OTT and over the edge.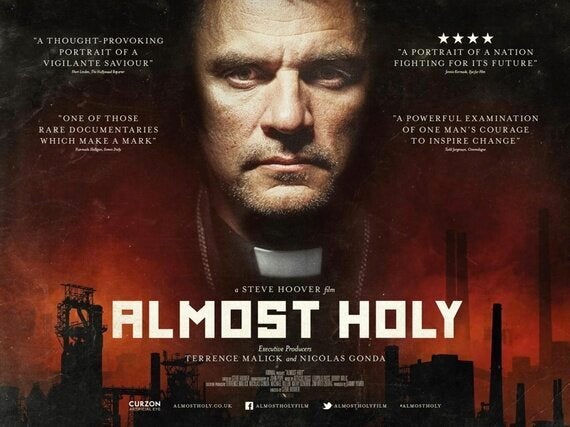 Director: Steve Hooper. Documentary. English & Russian with English subtitles. Ukraine, USA 2016 100 mins. (15) ****
Steve Hooper's sobering and harrowing documentary follows Gennadiy Mokhnenko, the saviour of Mariupol's dispossessed. Mokhnenko, a Ukranian priest known as 'Crocodile Gennadiy' after the popular Russian TV character, forcibly abducts drug addicted kids and cares for them in the state funded Pilgrim Republic rehabilitation centre. Folk hero or vigilante? Whatever, he's the last hope for the dispossessed.
Backed by Bobby Krlic, Atticus Ross and Leopold Ross's eclectic score, John Pope's hand held camera follows this maverick priest as he sweeps the decaying streets offering hope to the dispossessed. Tragic stories emerge - imprisoned in squalor, a deaf teenager's beaten, raped, and after giving birth, her child is taken away, a young girl found her father hanged from a TV cord, a 40-year-old woman thrown naked onto the street, drug and alcohol abused bodies, pharmacies selling codeine laced narcotics to addicts. Lenin's shadow hangs over a decaying infrastructure of corruption and governmental impotence.
Mokhnenko points the finger at the changing economic, political and social scene in Ukraine since the collapse of the USSR with a wishful hope that Ukraine will join the European Union. His joy at eating a hotdog, is comical in its irony, as Vladimir Putin's forces and pro-Russian rebels emerge in early 2015.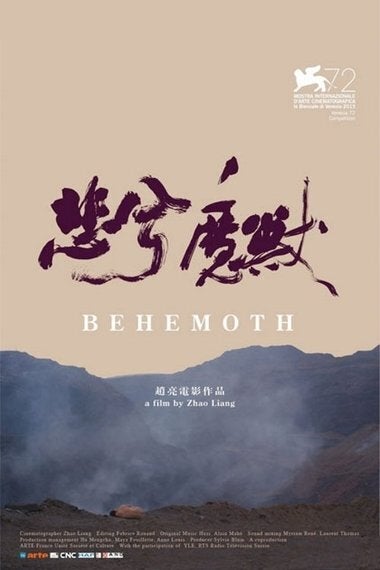 Director: Zhau Liang. Documentary. Mandarin with English subtitles. China, France 2015 95 mins. Official Selection, Competition, Venice Film Festival 2015. Winner of the environmental Green Drop Award, 2015 Venice Film Festival (PG) ****
'Behemoth' - a poetic, tragic and hypnotic view of a dark and desolate place, a land of deathly silence. Zhao Liang draws inspiration from Dante's Divine Comedy, in a nightmarish glimpse into Inner Mongolia's coal mines and its iron works. Filmed over two years, Zhao Liang's visually captivating, masterful documentary paints a tragic picture of the ravages of the environment and the once lush vegetation now a paradise lost.
And was it all worth it? The camera moves through the deserted streets of the Kanabashi district in Ordos City, a workers paradise, a 'ghost city', a surreal graveyard to the greed bubble that's burst and migrant workers with no aid from the Government succumb to terminal lung disease.
Quietly forceful in its anger, 'Behemoth' is a mesmerizing glimpse at Dante's Inferno.
For further FILM & BLU RAY/DVD REVIEWS go to www.film-reviews-and-news.co.uk
Popular in the Community