'Floating Skyscrapers' - A blossoming gay relationship and its effect on the families in an unsympathetic environment.
'Exposed' - the world of alternative burlesque, a new comedic art form that thrives in after-hours cult venues.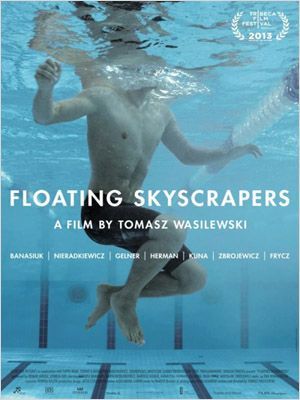 Director: Tomasz Wasilewski Cast: Mateusz Banasiuk, Marta Nieradkiewicz, Barosz Gelner, Katarzyna Herman, Olga Frycz, Aza Kuna, Miroslaw Zbrojewicz Genre: Drama First Prize East of the West Competiriin Karlov vary Country of Origin: Poland Language: Polish with English subtitles Rating:***
Kuba (Mateusz Banasiuk), an aspiring champion swimmer and romantic character has a normal uneventful life living at home with his mother, Ewa (Katarzyna Herman) and his girlfriend Sylwia (Marta Nieradkiewicz). Invited to an art gallery opening, Kuba meets Michal (Bartosz Gelner) and their magnetic attraction is immediate.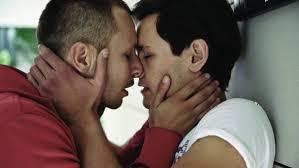 Kuba's world changes - he drops his training programme to the consternation of this mother and the film follows his evolving sexuality and its effect on Sylwia and his family in an ever increasing claustrophobic environment. Whilst Kuba dreams of a life with Michal, the latter takes on the task of convincing his concerned mother and distant father that his lifestyle isn't just a passing fancy.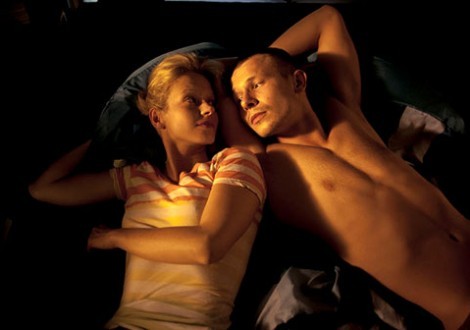 'Floating Skyscrapers' is an accomplished second feature and is a touching story of denial and desire that addresses themes of loneliness, love that's different and its social acceptance in contemporary Polish society.
Tomasz Wasilewski says: 'It is about love, or the lack of it,and about the consequences of seeking out its substitutes. It is about wasted opportunities and lost dreams - about the contemporary world and its pitfalls'. There are sound performances and the film has visual style but the sparse dialogue and clinical approach offers a style magazine presentation of two middle class Polish families with little attempt to elicit audience interest in the characters - we're looking at a series of photo shots whereas we want to know what makes Kuba tick. What makes him a romantic character, destroying all those who love him ? And what of the power and influence of the conservative Catholic Church in contemporary Polish society?
The essence is the family in the context of a gay relationship and its powerful influence on Kuba and Michal. Explore the characters in depth and we may then begin to see the complexities that are the background to this relationship.
'Floating Skyscrapers' is released by Matchbox Films and will open in selected cinemas 6th December 2013

Director: Beth B Cast: Julie Atlas Muz, Mat Fraser, James Habacker, Bunny Love, Dirty Martini, Bambi Mermaid, Tigger, Rose Wood, 'World Famous' Bob Genre : Documentary Country of Origin: USA 2013 Language: English 78 mins.
A fly-on-the-wall documentary that takes you into the 21st century underground world of neo-burlesque that challenges traditional notions of body, disability, gender and sexuality. The camera follows eight performers over several years as they rehearse, perform and talk with candour about their outrageous burlesque show as an alternative to the circus freak show - 'imperfection on stage'. It's OTT and the audience are enthusiastically entertained by the outrageous.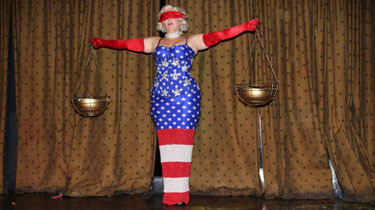 This alternative comedic art form, and it's certainly an alternative thrives in the after-dark hours and cult venues of major metropolitan renowned spots such as The Box, Coney Island Sideshow, Casa Mezcal and the Slipper Room, founded by Bob Habacker, who also appears in the film. It's a populist blend of art and entertainment that gives new meaning to the word 'transgression'.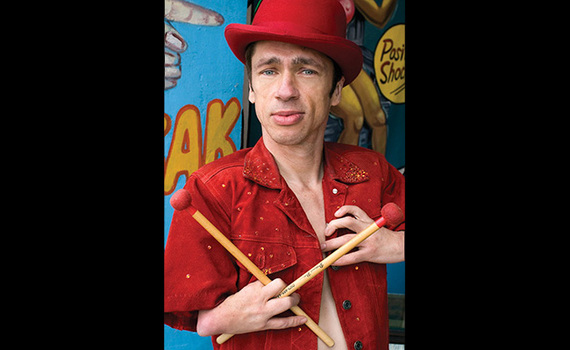 Performers names seem reminiscent of the 60s Warhol Factory and there's a New York underground 'Cabaret' feel. I won't select individual performances except to say that Rose Wood's Hasidic rabbi number has to be seen to be believed.
Yes, alternative and the essence is the body.
'Freedom with vulgarity' is the motto of performer Bunny Love and the other performers enthusiastically adopt the idea.
Exposed is released by Matchbox Films and will open in selected cinemas 13th December and on DVD 30th December 2013