Paul Weitz's 'Grandma' is a gem and Lily Tomlin wows - Guy Maddin's 'The Forbidden Room' is bizarre, inventive, surreal, absurd and hilarious - Lisa Vreela's documentary 'Peggy Guggenheim: Art Addict' offers a tantalising insight into a woman who championed the greats of modern art - 'Ice and the Sky,' Luc Jacquet's film on the French glaciologist Claude Lorius seems adrift from it's presumed plea for a common sense approach to the question of global warming.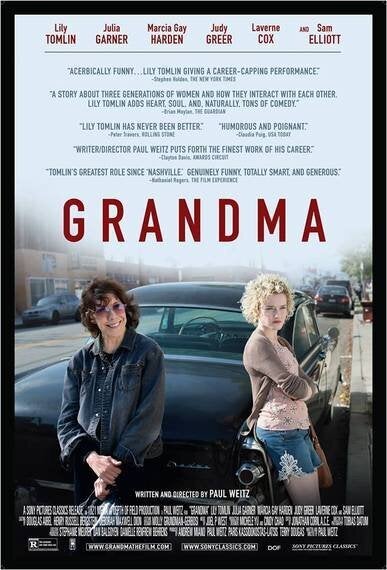 Director: Paul Weitz. Lily Tomlin, Julia Garner, Marcia Gay Harden.Comedy. USA, 2015, 79 mins. (15) *****
Lily Tomlin takes a razor sharp script and offers a whirlwind knock out performance in 'Grandma,' Paul Weitz's witty, insightful, sharp, low budget (estimate 600,000 US dollars) gem that's a timely reminder that a spot on script, terrific character driven performances and an instinctive feel for cinema can give the whole package.
Elle (Lily Tomlin), poet and academic has just broken up with her younger girlfriend Olivia (Judy Greer) - 'you're nothing, you're just a footnote,' when teen granddaughter Sage (Julia Garner) turns up on her doorstep looking for a 600 dollar loan for an abortion scheduled for that afternoon. Problem is Elle's cut up her credit card and doesn't have a dollar to her name so it's let's hope that the ultra cool 1955 Dodge Royal starts and hit LA in search of cash from old friends.
A film largely about moving on from loss through wit and empathy and the ability to say 'screw you,' It's three generations of independent women, Elle, a free spirit, impatient and suspicious of the world, who's lost her partner Vi of 30 years, Sage, adrift and lost 'The Feminine Mystique' against X-Men and Judy (Marcia Gay Harden), the daughter whom Elle and Vi raised, the disciplined and focused business woman. And at the end of the day, it's Sage's decision whether she has the abortion.
Terrific script, terrific performances, terrific cinema that rolls past the Bechdel Test. Lily Tomlin's a wow and shot in 19 days on a 600,000 dollar budget. That's magic.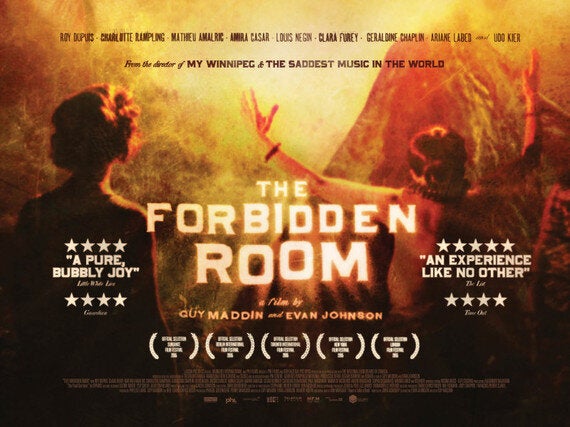 Directors: Guy Maddin, Evan Johns. Roy Dupuis, Clara Furey, Louis Negin. Comedy, Drama, Mystery. Canada 2015 130 mins. (12A) ****
Nonsensical, bizarre, surreal, inventive, absurd and hilarious. Guy Maddin's 'The Forbidden Room,' is like an LSD trip that will have film buffs swooning whilst others perplexed and exhausted make for the exit. An off-shoot of the Seances project, inspired by silent era movies and the early talkies, director Guy Madden presents a collection of mainly disconnected, improvised, hypnotically crazy, absurdist stories with separate casts, filmed in front of a live audience in the Pompidou Centre in Paris and in Montreal's Phi Centre.
A middle aged, pot-bellied letch offers instructions on how to take a bath, a submarine crew stranded on the ocean bed fearful of the 'explosive jelly', live on a pancake diet with it's life saving oxygen bubbles are joined by a novice lumberjack (Roy Dupuis) on his way to rescue the fair maiden Margot (Chara Furey) who's been kidnapped by the wolf men. And there's more of this surreal world.
Experimental with reworked scratched digital footage, it's the silent era with Charlotte Rampling, Udo Kier, Geraldine Chaplin and Mathieu Amalric popping out of an hypnotic bag of crazy wonders. Wonderfully nuts.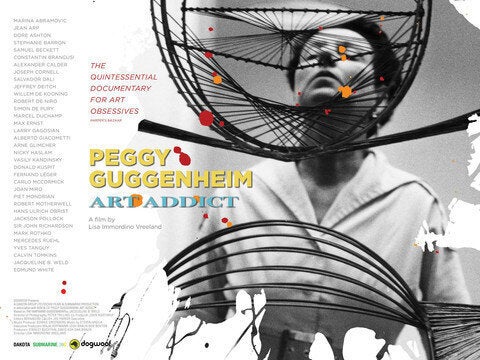 Director: Lisa Immordino Vreela. Documentary. USA, Italy, UK 2015 96 mins. (15) ***
Lisa Vreela's fascinating film about Peggy Guggenheim, the maverick socialite who rejected high society and championed those now counted amongst the greats of 20th Century modern art - Mark Rothko, Alexander Calder, Jackson Pollock, Vasily Kandinsky and Piet Mondrian. Dadiasm, surrealism and abstract expressionism would revolutionise art and Peggy Guggenheim's connections, money and passion for modern art ensured that she and the name Guggenheim would remain ever associated with this revolution.
Background tapes of conversations between Peggy Guggenheim and Jacqueline Bograd Weld for her authorised biography, archive footage and interviews with friends and art critics offer an insight into a colourful life. Marriage, divorce, two children, her move to Paris in 1921, Picasso, Dali, Kandinsky, Ezra Pound and Marcel Duchamp, numerous lovers including Samuel Beckett and marriage to the surrealist Max Ernst. The opening of the Guggenheim Jeune London gallery in 1938 showed works by Miro, Cocteau and Magritte and later the defining New York gallery, Art Of This Century opened the eyes of the world to the new art. In 1947 Peggy Guggenhein moved to Venice with her beloved dogs and her renowned collection housed in her Venetian Palazzo remains a defining legacy. That's quite a life.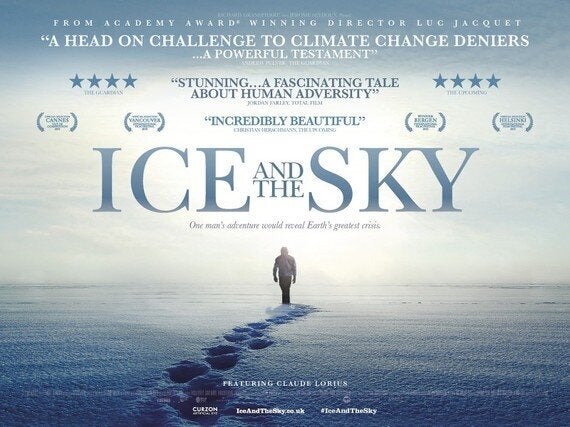 Director: Luc Jacquet. Documentary. French with English subtitles. France 2915 89 mins. (U) ***
Claude Lorius, the 82-year-old renowned French glaciologist's sixty year love affair with Antarctica has yielded ground breaking research on carbon dioxide levels in glacial ice which is used to determine surface air temperature and shed light on man's negative effect on the planet's climate.
Claude Lorius returns to Antarctica and reflects on his work, or rather there's a voice over narration by Michel Papineschi who speaks as though he's Claude Lorius, with archive footage of his many expeditions and aerial shots of the great man in breathtaking landscape.
'Ice and the Sky' seems at times more akin to an Antarctic travel film or a photo shoot for a soft drinks commercial with no shortage of ice rather than a plea for a common sense approach to the vexing question of global warming.
For further review on Films, Blu-Ray/DVDs see www.film-reviews-and-news.co.uk