Two small budget films that ooze quality and illustrate the strength and pleasure that is cinema.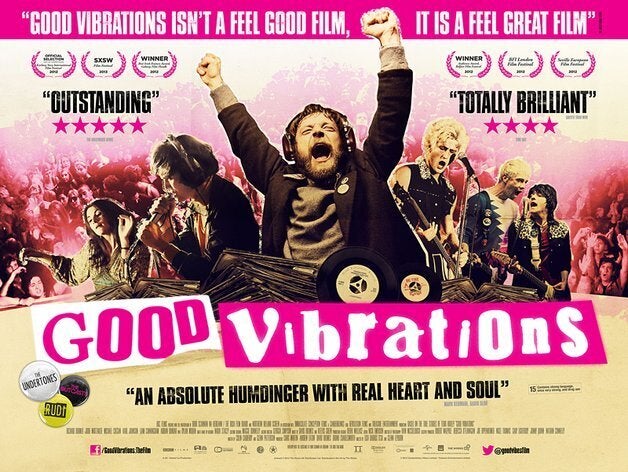 Director: Lisa Barros D'Sa & Glen Leyburn Cast: Richard Dormer, Jodie Whittaker, Liam Cunningham, Dylan Moran Genre: Drama/biography Country of Origin: UK/Ireland 2012 Language: English 103 mins. Rating:*****
'Good Vibrations' is utterly hypnotic. It draws you into an inspirational journey that defies sanity. All this on a small budget that wouldn't buy hamburgers for a Hollywood cast.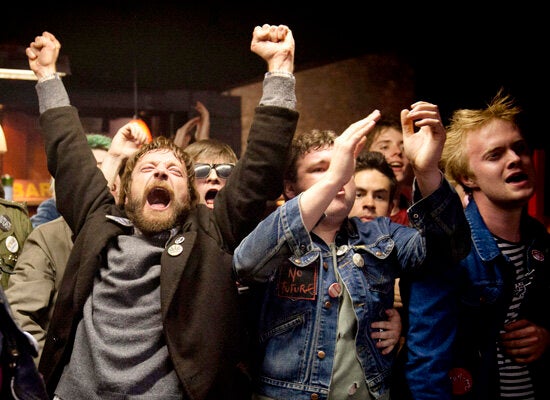 Filmed in Belfast, County Antrim, Northern Ireland 'Good Vibrations' is a biopic of Terri Hooley (Richard Dormer), a radical, rebel music lover who sets up a record shop called Good Vibrations in 1970's Belfast. It's the time of The Troubles but it's not guns and bombs for Terri, it's music, music,music and the moment he discovers punk is really something to behold.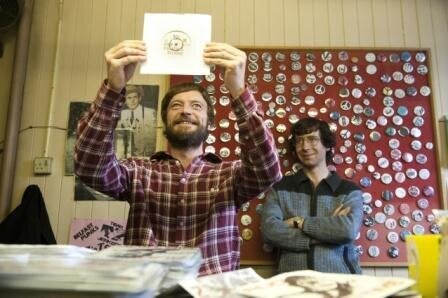 Referred to as the Godfather of punk during its brief rise in the Northern Ireland punk scene this radical visionary established an indie record label that put out The Undertones 'Teenage Kicks' which became John Peel's favourite song of all time.
What can you say about 'Good Vibrations' ? You need to see it and it will embrace you with a frenetic passion that defied the surrounding madness of The Troubles. Richard Dormer stuns with his hyper energetic portrayal of Terri Hooley, one penny away from bankruptcy with Ruth (Jodie Whittaker) his unbelievably patient and tolerant wife and loving parents, Mavis (Ruth McCabe) and George (Karl Johnson) totally bewildered and bemused by their son. With archive footage and Ivan McCullough's cinematography that captures the atmosphere of Belfast in the 1970's, it's a brilliant piece of cinema. A not-to-be-missed film.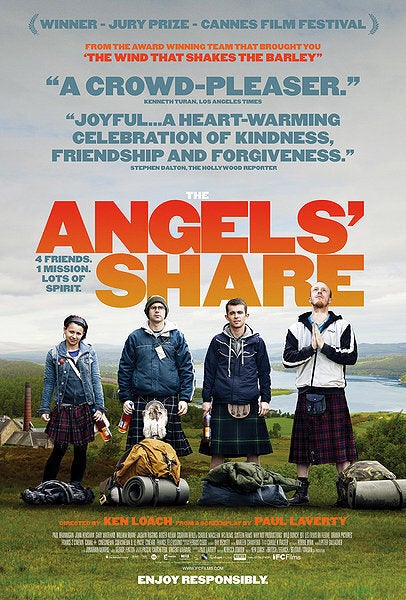 Director: Ken Loach Cast: Paul Brannigan, John Henshaw, Siobhan Reilly, Jasmin Riggins, Gary Maitland, William Ruane Country of Origin: UK 2012 Winner Jury Prize Cannes 2012 Language: English 101 mins. Rating: ****
Mo (Jasmin Riggins), Rhino (William Ruane), Albert (Gary Maitland) and Robbie (Paul Brannigan) a group of young offenders appear in the Glasgow Criminal Court charged with petty offences except for Robbie where it's GBH.
Robbie's in luck - his girlfriend Leonie (Siobhan Reilly) is about to give birth and he walks away with community service. So begins a realistically tragic but joyous and compassionate piece of cinema.
There's little hope for our young offenders - high unemployment, few if any chances, just a cycle of brutal macho violence, easy crime and lingering despair and Robbie's locked in a family feud and at odds with Leonie's brutal father. But it's not all despair because Harry (John Henshaw), their sympathetic middle-aged Mancunian community officer is a malt whiskey connoisseur who takes the motley crew along to a whiskey tasting in Edinburgh. Robbie's chance meeting with a broker (Roger Allam) who deals in rare whiskies, his 'natural nose' for malt whiskies, a visit to a Highland brewery which is to auction a rare cask of malt and the so-called 'angel's share' - the whiskey which evaporates in the cask leads Robbie to consider how he can have his share.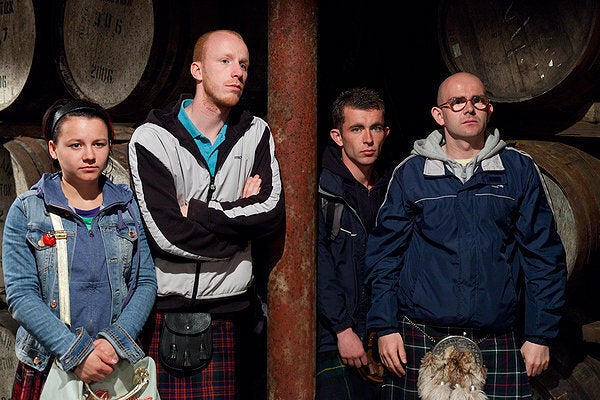 Ken Loach has used non-professionals in his main casting and he's been rewarded with wonderfully realistic portrayals that do great service to Paul Laverty's script. Paul Branningan is a revelation. The realisation of his violent actions when confronted by his victim and his victim's family has a poignancy that echoes a sense of silent despair and shows the incredible quality that the director got from his cast. That's not to forget John Henshaw as Harry who conveys with natural ease an understanding, sympathy and compassion that the young offenders rarely see.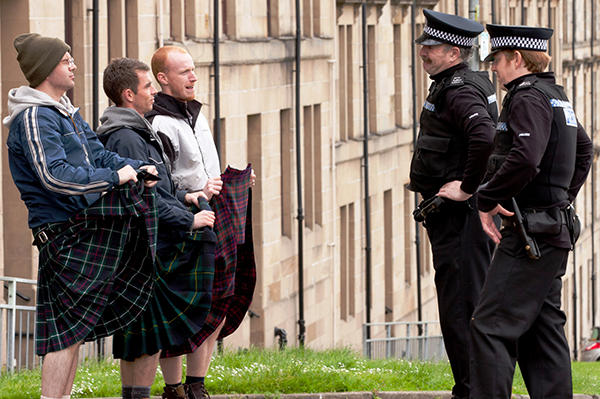 'The Angel's Share' is a joyous, compassionate bittersweet comedy that's realistic and optimistic and it's tragic that the cinema going public don't have greater access to films of this quality. Often recognised and appreciated by Continental Europe but sadly not so much at home.
Related