Sergei Loznitsa's parable of man's moral place and the search for human good in the catastrophe of war was well received at Cannes 2012 and contrasts with Andrey Zvyagintsev's 2011 tale of the corrupting power of money and class resentment in Putin's modern day Moscow.
IN THE FOG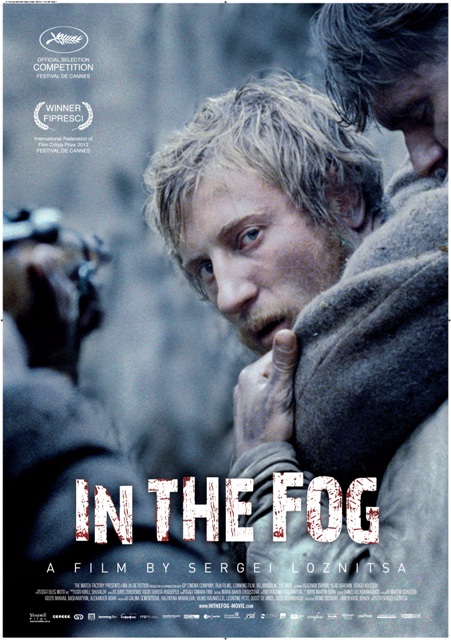 Director: Sergei Loznitsa Cast: Vladimir Svirskiy, Vladislav Abashin, Sergei Kolesove Genre: Drama Country of Origin: Russia 2012 Co-Winner FIPRESCI International Federation of Film Critics Award Cannes 2012 Language: Russian with English subtitles Rating:****
A hand held camera single shot slowly and methodically presents a stunning opening scene - a raised railway line in the background, handcuffed civilians, collaborationist militia in black uniforms, bleached skeletons piled onto a cart and uniformed Germans testing a row of gallows.
It's 1942, the Russian Western frontier and the local partisans are fighting a brutal resistance campaign against the occupying German forces. A train is derailed and Sushenya (Vladimir Svirskiy), a local rail worker is arrested for sabotage with a group of partisans, interrogated and freed. The others are hanged. Rumours of his suspected Nazi collaboration spread and Sushenya aware of his situation awaits his death.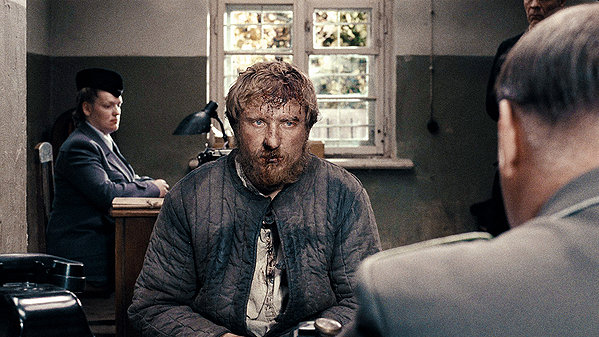 Sushenya's executioners, Burov (Vladislav Abashin) and Voitik (Sergei Kolesove) take him into the forest to dig his own grave but an ambush leaves Burov wounded and the cowardly Voitik runs into the forest. Sustenya remains, tends to Burov's wounds and literally carries him to safety.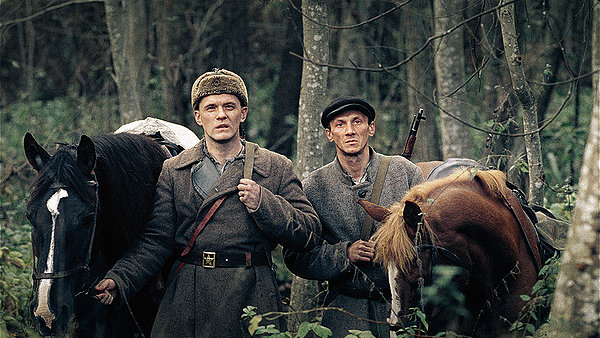 The story is related as three flashbacks which explore Sushenya, Burov and Voitik's personalities and how they became caught up in this drama.
'In the Fog' is based on the novel by the revered Belarussian author,Vasil Bykov, who fought in the Red Army in World war II and is about fate and free will. The unfortunate Sushenya unable to prove his innocence, resigned to his fate is faced with a moral dilemma when his executioner is wounded. It's a meditation on man's moral place and the search for human good in the catastrophe of war. It's a Russian tragedy.
The film is very low key, slow and austere with sparse dialogue and told in a very straight forward manner. It won't have universal appeal but it's rewarding and remarkable cinema.
There's no music. The sound track is the haunting natural sounds of the forest and cinematographer, Oleg Mutu's long takes reveal in masterly form a visually hypnotic panorama of the forest at night, solitary farm houses and frozen fields. In subdued colours, nevertheless it's a rich canvas.
The fog closes in on an ironic and realistic conclusion.
ELENA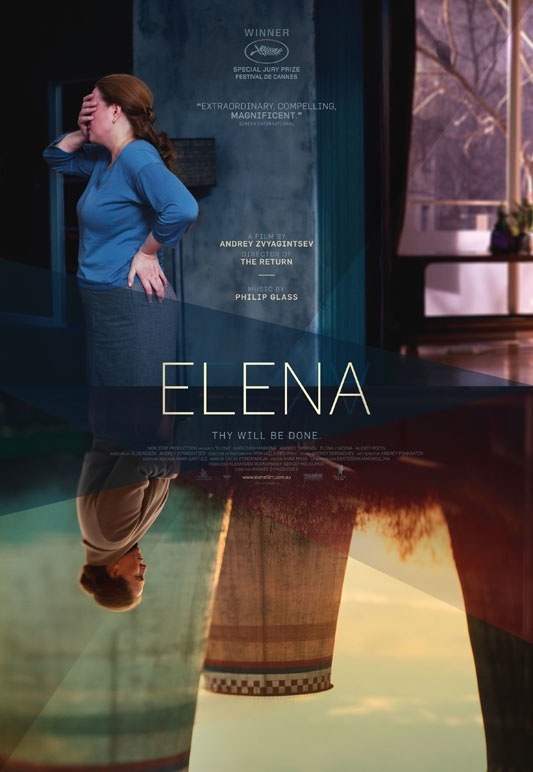 Dir: Andrey Zvyagintsev Cast: Nadezhda Markina, Andrey Smirnov, Elena Lyadova, Alexei Rozin Un Certain Regard Special Jury Prize Cannes 2011 Genre: Drama Country of Origin: Russia 2011 Language: Russian with English subtitles 109 mins. Rating: ****
Elena like many foreign language/subtitled, award winning and critically acclaimed films had limited UK screenings. It's an outstanding, quietly disturbing, exquisitely filmed, brilliantly acted, precisely directed Hitchcock-Chabrol-like drama from the Russian director Andrey Zvyagintsev.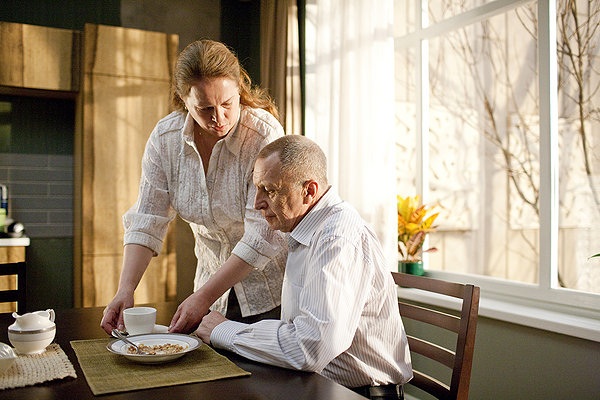 Winner of Un Certain Regard Special Jury Prize Cannes 2011, Elena is gripping cinema with a twist on the classic noir thriller of familial ties, loyalties, the corrupting power of money, class resentment and a coveted inheritance in modern day Moscow. Elena (Nadezhda Markina) is a middle-aged former nurse living in a luxury Moscow apartment with her husband Vladimir (Andrey Smirnov), a retired successful businessman. They met when she cared for him a decade ago when he was recovering from peritonitis. From different walks of Russian society, both have children from previous marriages - Vladimir's wild-child daughter Katya (Elena Lyadova) is childless, has little contact with her father and lives for the moment whilst Elena's son Sergei (Alexei Rozin) despised by Vladimir, is an unemployed wastrel and lives in a run-down black of flats with his wife and two children, the eldest of whom is to be drafted off to Ossetia for army conscription unless the right people can be bribed to get him into university. Vladimir's sudden heart attack whilst swimming triggers an unexpected reunion that threatens Elena's inheritance leading her to hatch a desperate plan.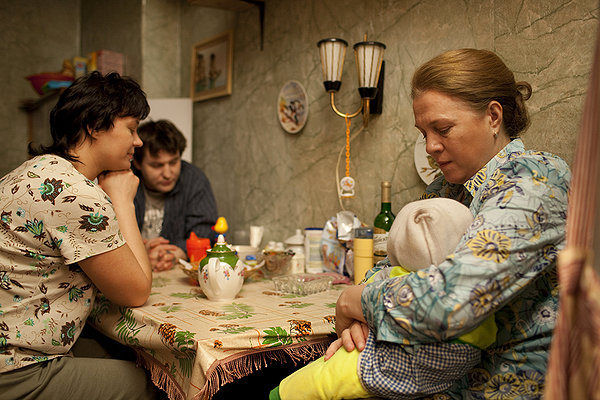 The hypnotic opening long take of the sun rising on a Moscow apartment as we watch the main character begin her morning routine leads into a powerful tale of moral and spiritual corruption where money rules and class resentment simmers. Elena is gripping cinema and Mikhail Krichman's exquisite camera work with fixed precisely composed long takes and Anna Mass's editing heighten the tension to give an eerie, bleak and mysterious atmosphere. Underline that with Michael Glass's striking music score ((Symphonie No. 3), Andrey Zvyagintsev's precise direction and actors so good that even with little dialogue you're drawn into their lives and you have an outstanding Russian drama.
'The Return', Andrey Zvyagintsev's 2003 debut film was greeted with critical acclaim with the suggestion that he could be the heir to Andrei Tarkovsky. 'Elena' places Zvyagintsev as a major force in world cinema.