With another week of 'interesting' headlines I had to revisit Holy Motors, Leos Carax's bizarre and hypnotic 2012 Cannes entry that wowed the critics. Bizarre !! - we're all tucking into horse meat, the unbelievable Chris Huhne and Vicky Price farce continues, Ed Miliband puffs out his chest and gives Gordon Brown a 10p bash, John Galliano steps out as a Hasidic Jew, Wayne LaPierre wants more guns, North Korea celebrates a nuke test, the Libor scandal rumbles on, bankers are slapped on the wrist and Mervyn King smiles and tells us that times are hard.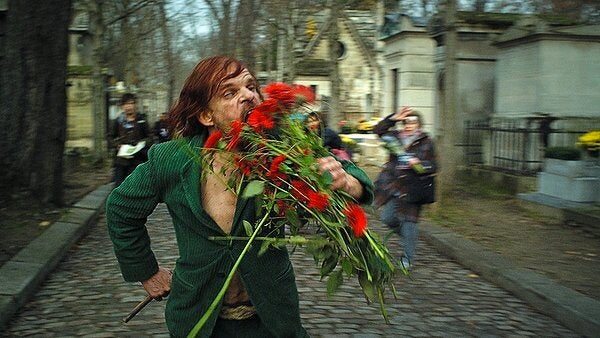 The one-eyed flower-munching Denis Lavant on his way to abduct Kay M (Eva Mendes)
A few hours in the life of Monsieur Oscar (Denis Lavant), a mystery man collected from his home and chauffeured around Paris at night in a white stretch limo by Celine (Edith Scob) emerging nine times to plunge headlong into different prearranged roles - Banker, Beggar Woman, Motion Capture Specialist, Monsieur Merde, Father, Accordianist, Killer Victim, Dying Man, Man in the House journeying from one life to the next like an assassin moving from one hit to the next in pursuit of the purely beautiful act, the mysterious driving force, the women and ghosts of previous lives. But where's his true home, his family, his rest ? Bizarre, dream-like, wonderful and truly surreal with cinematic references to Bunuel, Cocteau and Goddard amongst others. Utterly hypnotic, this imaginative cinematic metaphor for the journey of life is devoid of logic or sanity and propels the audience into a different universe. Leos Carax's longtime collaborator, Denis Lavant hurls himself into the realms of cinematic freedom that captivates and intoxicates treating the audience to a visual feast that etches itself in the memory. Monsieur Merde, a barefoot one-eyed flower-munching troll interrupts a photoshoot, abducts Kay M (Eva Mendes) and in an underground cave strips to reconstruct an image of an Old Master painting, the accordianist, defiant and breathtaking filling the candle lit church with music, the visually stunning motion studio model's weird erotic dance with Yayoi Kusama polka dots hypnotically holding the eye, Michel Piccoli, the man with the birthmark evoking memories of French cinema of the 60s and 70s and a captivating cameo from Kylie Minogue (Eva Grace-Jean), mysterious and Jean Seberg-like singing ' Who Were We ' a song of heartbreak and regret in the shell of the abandoned Samaritaine, the Belle Epoque department store overlooking Pont Neuf that leads us to Les Amants duPont Neuf (1991). To some at times it may seem a bit pretentious but all's forgiven - it's odd, breathtaking, unique, imaginative, playful, surprising, lively, funny, an abandonment of any sense of logic or sanity, a visual cinematic feast.
" It's all about the beauty of the Act " Monsieur Oscar
Merci Monsieur Oscar, merci Celine, merci Leos pour le plaisir d'un voyage Saint Motors limousine.
Director: Leos Carax Cast: Denis Lavant, Edith Scob, Eva Mendes. Official Selection 2012 Cannes Film Festival. Voted Best Film 2012 by Cahiers du Cinema. Genre: Drama, Fantasy.
Country of origin: France 2012. Language: French with English subtitles. 115 mins.