A beautifully observed and sensitive modern love story with faultless performances contrasts with Pierre Dulaine's dream of ballroom dancing bringing Jewish and Palestinian children together.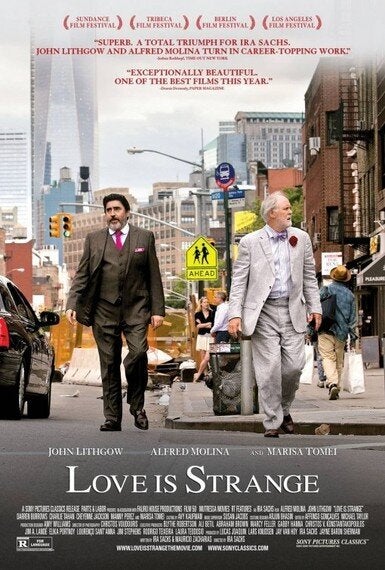 Cast: John Lithgow, Alfred Molina, Marisa Tomei
Country of Origin: USA, France, Brazil, Greece 2014 94 mins.
'A triumph - sensitive, beautifully observed and with wonderful performances'.
Beautiful, charming and sensitive, Ira Sach's Love is Strange, a faultlessly observed modern love story is a triumph with superb performances from the lead cast, John Lithgow and Alfred Molina.
Four decades into their relationship, artist Ben (John Lithgow) and music teacher George (Alfred Molina) finally tie the knot in a joyous garden ceremony in New York's East Village with family and close friends. This opening scenes are magical cinema and the celebratory party sees Ben and George at the piano singing and laughing. Lasagna's served and glasses are raised. Their happiness is short lived. George is fired from his job at a co-ed Catholic school and with few savings they can't afford the mortgage on their Chelsea apartment and are forced to sell and live apart. It's a bunk bed for Ben at his nephew, Elliot's (Darren Burrows) apartment and George takes the settee in a party loving gay cop's flat.
The supporting cast are outstanding. Marisa Tomei excels as novelist Kate whose marriage to Elliott (Darren Burrows) has an edge. Charlie Tahan who plays Joey, her son is quite extraordinary as is this sensitive modern love story. Privacy, intrusion, time and loss faultlessly observed.
Released by Altitude Film Distribution 13th February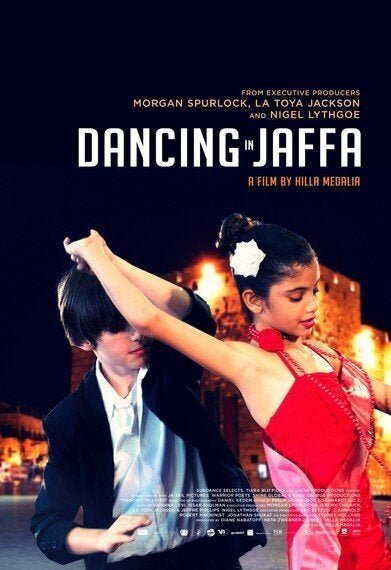 Cast: Pierre Du Laine, Yvonne Marceau, Alaa Bubal, Louis Danai, Noor Gabai
Language: English, Hebrew & Arabic with English subtitles
Country of Origin: USA, 2013 90 mins.
'Emotional, tender and relevant'.
Pierre Dulaine, four-time ballroom dancing world champion who left Jaffa for America aged four is fulfilling a life-long dream when he takes his programme, 'Dancing Classrooms', back to the city of his birth. In 1948 seventy thousand fled the city. For generations, Jaffa, home to Jews and Palestinians since the 19th century has been a city divided by two communities that continue to grow increasingly apart. Over a ten-week period, Pierre teaches Jewish and Palestinian children to dance and compete together. Focusing on three children - Louis Dana, an outgoing Jewish girl, Alaa Bubali, a shy Arab boy and Noor Gabai, an angry, friendless Palestinian girl unable to accept her father's death, whose mother converted to Islam from Judaism but who's lifted from her sadness by dance offers hope.
There's resistance. It's difficult for a Jew to dance with a Palestinian - It's dancing with the enemy and in Islam 'I don't touch women'. Kids get upset and angry. Politics intrudes. Independence Day for Jews is catastrophe for Palestinians and Israeli right wingers march in Jaffa.
We watch Pierre transform their lives, teaching them the etiquette of ballroom dancing - the invitation confirming his belief that dance can overcome hatred and provide the first steps towards change. They learn to trust one another and first and foremost you must be a good person.
Emotional, tender and relevant.
Released by Serenic Films 13th February
For updates on Films, DVD and Blu-rays: www.film-reviews-and-news.co.uk