A low budget indie is chilling and uncomfortable viewing and oozes real horror, an emotionally rewarding coming-of-age movie on the banks of the Mississippi delights and a tongue-in-cheek surreal ballet of violence heralds the fastest gun in the South.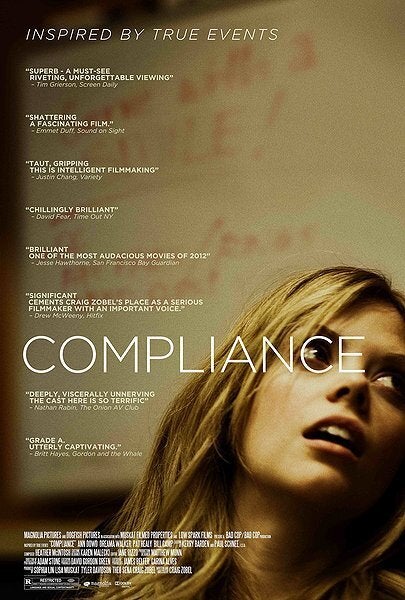 Director: Craig Zobel Cast: Ann Dowd, Dreama Walker, Pat Healy Genre: Drama Country of Origin: USA 2012 Language: English 90 mins. Rating: ****
It's one of those days. Sandra (Ann Dowd), the middle aged Manager of ChickWich, a fast food outlet is feeling pressured. The freezer door was left ajar,1500 dollars worth of bacon has been ruined and a company undercover inspector is expected. They've got to work extra hard to please the bosses. All Sandra needs is a call from the cops.
Police Officer Daniels (Pat Healy) describes Becky (Dreama Walker) as an identified suspect in the theft of cash from a customer. That's not Becky, she's young, honest, hard working, giggly and a great texter but he insists that she's stolen the money and they've got to find it and he can't do that without the help of the ChickWich staff.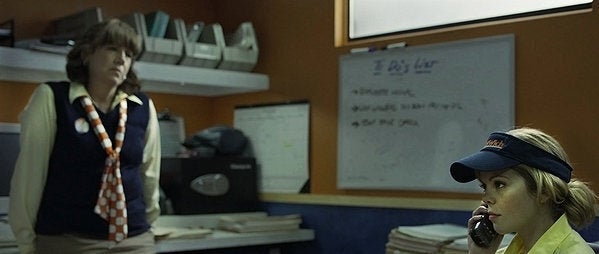 It's not straightforward. Officer Daniels hasn't called into ChickWich to chat with Sandra and sip a refreshing Coke in her cramped make-shift office. Isn't that the normal procedure? The cops always visit if there's a problem. Officer Daniels is an authoritative voice on the phone, a very busy man on the case. It can all be settled over the phone. Deception, flattery and intimidation are his weapons to manipulate Sandra and other members of staff to comply with his wishes. You don't question authority no matter how bizarre Officer Daniels's requests become and they do become horrifically bizarre when Sandra's fiance,Van enters the equation. But there's no Officer Daniels, there's only a sociopath on the phone.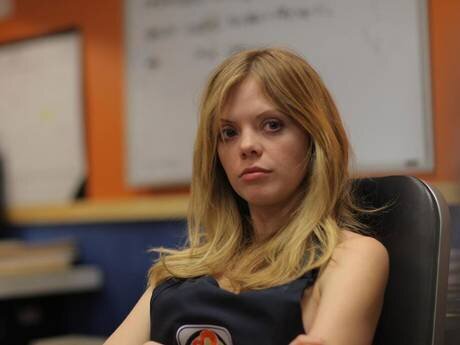 It wouldn't happen in a Bank or in a city office but in a fast food outlet it's easy pickings for a serial phone sociopath - Friday night is manic, it's non-stop pressure, the customer's always right and they've got to please the bosses - they're vulnerable.
A chilling camera's eye view of the weakness and suggestability of human nature that can lead to a slavish collusion with an invisible authority and a total loss of compassion and moral responsibility. It could have been made as a documentary but the excellent cast and tight script, which was based on an incident in a McDonald's fast food outlet in Mount Washington in 2002 portrays the horror to greater effect. Ironically in that case the perpetrator got off.
'Compliance' is a horror movie. Not the studio horror blood and guts slasher movie. This is the real thing. This is what happened. It's chilling and uncomfortable.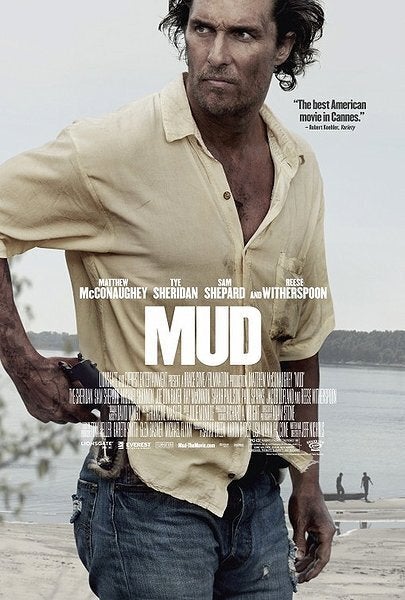 Director: Jeff Nichols Cast: Matthew McConaughey, Tye Sheridan, Jacob Lofland, Reese Witherspoon, Sam Shephard Genre: Drama Country of Origin: USA 2012 In Competition Cannes 2012 Language: English 130 mins. Rating:****
Ellis (Tye Sheridan) and his best pal, Neckbone (Jacob Lofland) live in a small town by the giant Mississippi in the state of Arkansas. They're close to nature with days of sailing, fishing and hunting and a sense of adventure.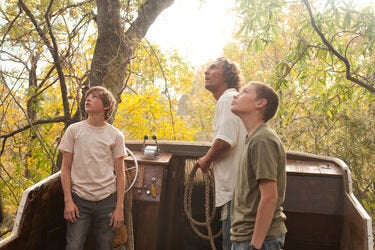 Down river the boys find an old boat marooned in a tree, presumably stranded there during a flood. This will be their boat. Or will it ? Enter Mud (Matthew McConaughey) the charismatic fugitive who murdered a rival for his lover in Texas and is on the run also lays claim to the boat. There's only one thing to do - agree a pact. Ellis and Neckbone will provide Mud with food and help him to rebuild the old motor boat to escape. Weave into that Juniper (Reese Witherspoon) Mud's mysterious lover, Tom (Sam Shephard), a loner former marine who lives on a houseboat and has a key relationship to Mud, the boy's family lives, Neckbone's wild uncle (Michael Shannon), who dives for clams, bounty hunters led by King (Joe Don Baker) and the backdrop of the giant Mississippi and there's the ingredients for a rewarding movie.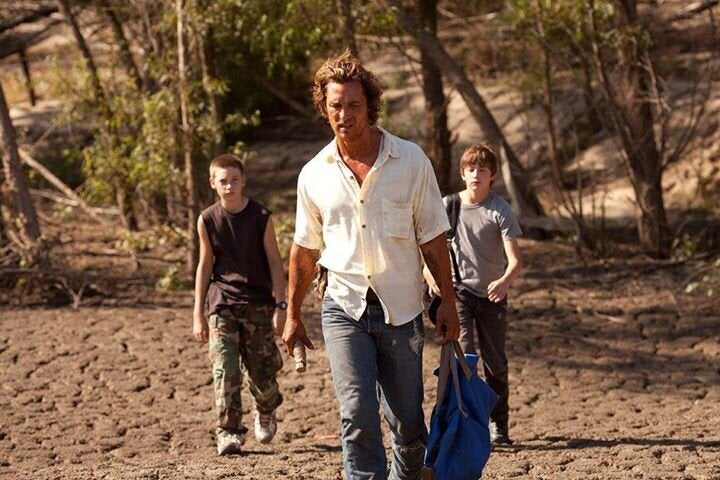 It's too long but I'll forgive that because 'Mud' is an emotionally rewarding and atmospheric coming-of-age movie - a tale of innocence, love, loss, friendship and two boys who belong in their environment. It brings to mind the joy of Huckleberry Finn - the memories have never left me.
Wonderful central performances and memorable images from cinematographer, Adam Stone. Yes, too long but it's a tale that delights.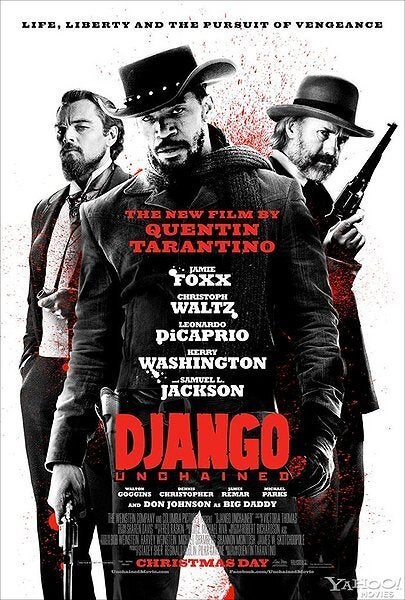 Director: Quentin Tarantino Cast: Jamie Foxx, Christopher Waltz, Leonardo DiCaprio. Samuel L. Jackson Genre: Western Country of Origin USA 2012 Language: English 165 mins. Rating:*****
The opening sequence introducing Django (Jamie Foxx),the manacled black slave to Dr. King Schultz, a German dentist bounty hunter gives him his first taste of freedom and sets the tone for this five star single character's journey through a surreal ballet of violence to a hand clapping wow finale.
Django's beautiful German speaking wife Broomhilda (Kerry Washington) is owned by the sadist and racist, Calvin Candie (Leonardo diCaprio) and held on the Candieland plantation in Mississippi. The link in this fable is a German legend - Broomhildan abducted by a dragon, taken to the top of a mountain and imprisoned by a ring of fire was rescued by the hero, Siegfried.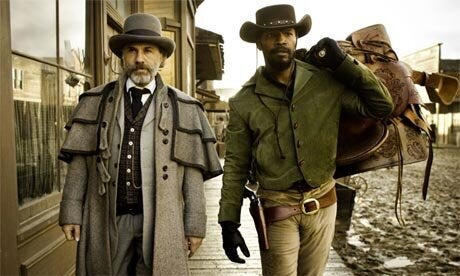 They agree a pact. Django will team up with Dr. Schultz during the winter season and with Schultz's help they'll get Broomhilda out of Candieland - Django is the new Siegfried.
It's an impressive and powerful five star ravishing 165 minutes feast that delights with a witty tongue-in-cheek script and stellar performances from the cast that explodes into a surreal ballet of violence. Sergio Carbucci's cult 1966 'Django', Richard Fleischer's 1975 'Mandingo' and Sergio Leone's spaghetti westerns form reference frames and Franco Nero's guest appearance is delightfully tongue-in-cheek.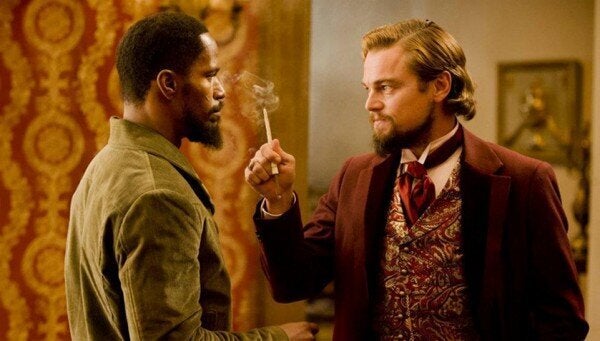 Christopher Waltz plays Dr Schultz to perfection - immaculate, witty, organised, ruthless with a winning smile, the ultimate German bounty hunter dentist. Leonardo diCaprio, the polite southern host un-Hollywood brown teeth lining a sadistic grin but it's Samuel l. Jackson who steals the show as Stephen, Calvin Candie's man in 'charge of the house' with a frightening loyalty to his white master to the bitter end.
And Jamie Foxx - he's the fastest gun in the South.