David Cameron's defeat - Parliament doesn't want to see British military intervention in Syria - No consensus on an international response - Will the US go it alone?
Two films reflect existing dilemmas. Cate Shortland's 'Lore', an errie and memorable portrait of the devastating effects of war and a nation in denial and Pablo Lorrrain's 'NO', a depiction of the cruelty of distorted power and the power of the ballot box.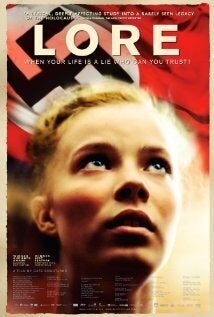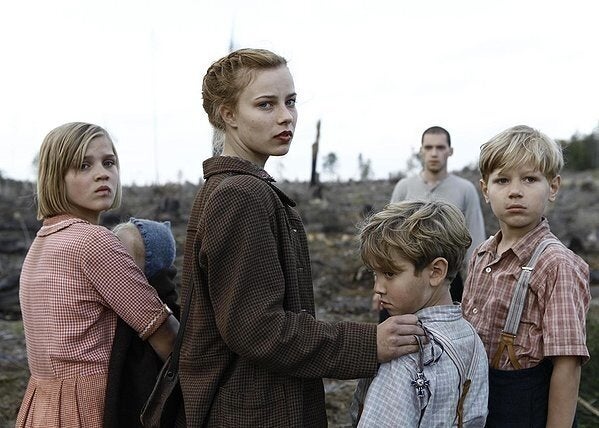 Director : Cate Shortland Cast : Saskia Rosendahl, Nele Trebs, Kai-Peter Malins Genre: Drama Country of Origin : Germany, Australia, UK 2012 Language : German with English subtitles 109 mins. Rating :****
'Lore' is typical of the films that get limited UK cinema and DVD release - foreign language, subtitled and considered 'Art House'.
Based on one of the three parts of 'The Dark Room', Rachel Seifert's Booker short-listed novel which went on to win the Guardian Short Novel Award,'Lore' is a stunning and haunting film.
In 1945 Germany was a devastated country with the Allies closing in. 14 year old Hannelore (Saskia Rosendahl), her younger sister Liesel (Nele Trebs), and her three brothers, Gunther (Mika Seidel), Jurgen (Andre Frid) and Baby Peter (Nick Holaschke) undertake the 500 mile journey across a devastated Germany to their grandmother's home in Hamburg. Their father Vati (Hans-Jochen Wagner), an SS officer involved in the Final Solution and their mother Mutti (Ursina Lardi) also complicit have been interned by the Allies.
Newcomer Saskia Rosendahl is outstanding as the teenager Lore leading her younger sister and three brothers on the hazardous journey experiencing hunger and fear as the occupying forces close in. With a devotion to the Fatherland and Nazism but a dawning awareness of her father's infamous crimes leads her into an inescapable nightmare. Ironically desperation and a gradual realisation of the true nature of the Third Reich brings Lore to accept help from Thomas (Kai Malina), a camp survivor who holds Jewish identity papers and can move with greater ease.
'Lore' is an eerie and memorable portrait of the devastating effects of war, a nation in denial and a side of this conflict that isn't often viewed. I do compare it with 'Come and See', Elem Klomov's 1985 portrayal of a young boy caught up in the German-Russian campaign with powerfully graphic images depicting horror and death making us wonder at the extent of human brutality. There are similarities but 'Lore' is a work with a greater intimacy and portrayal of the destructive effects of total obedience and acceptance. Adam Arkapaw's cinematography captures the loneliness and desolation of Germany at this time and the use of a hand-held camera works well drawing the audience into this self-imposed nightmare. With Saskia Rosendahl's outstanding lead performance this is memorable cinema.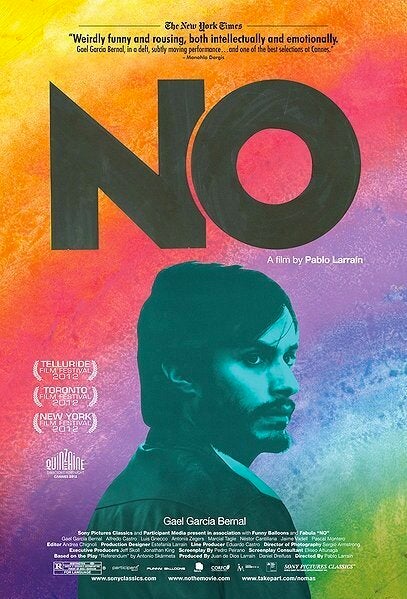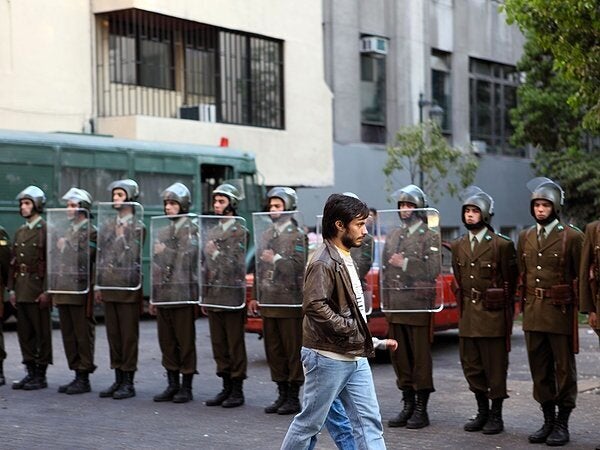 Director: Pablo Lorrain Cast: Gael Garcia, Alfresco Castro, Luis Gnecco Winner Arts Cinema Award Cannes 2012 Genre: Drama Country of origin: Chile 2012 Language: Spanish 118 mins. Rating: ****
Reacting to international pressure to legitimize his government, Generalissimo Augusto Pinochet in 1988 called for a referendum to endorse a further eight years in power confident that the Chilian nation would endorse his permanency in power. The opposition were fragmented and the Chilean middle and upper middle classes were fearful of regime retribution and a return to Allende's Marxism with strikes, spiralling inflation and food queues - they'd vote YES. Pinochet had made a massive miscalculation.
With only fifteen minute late night slots on government controlled TV the opposition persuaded Perval-Rene Saaveda (Gael Garcia), a young advertising executive to lead their campaign and conceive a plan to win the election.
His campaign idea was of an apolitical vision of happiness and the future, simple, heartfelt and shot in a realistic style in the style of a Coca Cola/Pepsi advert. It sounds ludicrous. What of the past, how much to remember, how much to forget? What of the footage of executions, political arrests, police violence ? No, that wouldn't sell the message. And the opposition didn't even have a candidate.
Using achive advertising footage and shot in an 8Os style, 'NO' shows with amazing, almost comic clarity how the campaign inspired a nation to overthrow the brutal Pinochet dictatorship that with CIA backing had swept aside the 1970 democratically elected Allende government. it's captivating political cinema and more's the shame that present day cinema doesn't dig for the stories that pass so easily into the shadows. A depiction of the cruelty of distorted power and a vivid illustration that no one is immune from the power of the ballot box.
Inspiring, a movie with politics in it - a created conscience.
Once again it's sad that films of this quality and interest have such limited UK screenings.