'What Maisie Knew', a must see intelligent, heartfelt and emotional tale of a six year old in the middle of acrimonious divorce - Onata Aprile gives a performance to behold.
'The Taste of Money' the follow up to Im Sang-soo's 'The Housemaid', is a stylised and intriguing bitter and delicious thriller of lust, seduction, decadence and betrayal.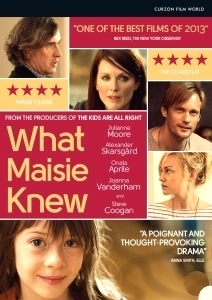 WHAT MAISIE KNEW
Director: Scott McGehee, David Siegel Cast: Julianne Moore, Alexander Skarsgard, Steve Coogan, Onata Aprile, Joanna Vanderham Genre: Drama Country of Origin: USA 2012 Language: English 99 mins. Rating:****
' An intelligent, thought provoking and emotional drama that dissects the complexities of family life with a stunning performance from Onata Aprile'.
The 1897 Henry James novel 'What Maisie Knew' set in Victorian England tells the story of a middle class couple's broken marriage and the effects their divorce has on their child. Transport that to modern day New York's SoHo and slot in Susanna (Julianne Moore) an ageing neurotic rock star and Beale (Steve Coogan), her English art dealer husband and their six-year-old daughter Maisie (Onata Aprile) who's stuck in the middle of the acrimonious divorce and you've the essence of a captivating and poignant drama.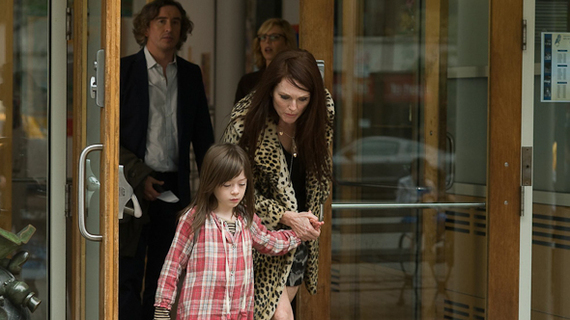 Susanna, selfish and shallow and Beale are too busy and self-centred to care for Maisie - they're hard working 21st Century people,the mobile phone's the God, life's got to be busy, always something to do, live life to the full. There isn't time for Maisie - it's swing from one parent's apartment to the other for fleeting expressions of love. And of course, she's their weapon in their divorce.
In the meantime Margo (Joanna Vanderham), Maisie's much loved nanny in a moment of insanity has married Beale and Susanna, not to be outdone, marries Lincoln (Alexander Skarsgard), an easy-going-laid-back barman. 'I married him for you', she tells Maisie so Maisie tells her classmates 'My daddy married my nanny, so the court made my mummy marry Lincoln.'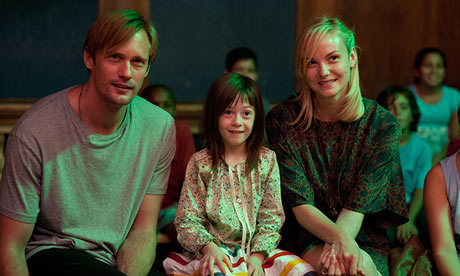 Maisie bonds with Margo and Lincoln who are easy going, kind and fun - they have time for her. Will this make Susanna and Beale question themselves?
And while Susanna and Beale fight in the courts Maisie observes it all with a six-year-old's wide-eyed innocence, sensitivity and charm.
The opening scene with Julianne Moore made my think that this was going to be a saccharine riddled drama. How wrong I was. 'What Maisie Knew' won me over with ease. The cast were outstanding with Onata Aprile giving a performance to behold that conveyed the turmoil of a child in the midst of a custody battle. Intelligent, sharply scripted, heartfelt, emotional - don't miss it, it's a must see film.
Remember Philip Larkin's comment -'They f... you up, your mum and dad.'
'What Maisie Knew' is released on DVD by Curzon Films 6th January 2014
THE TASTE OF MONEY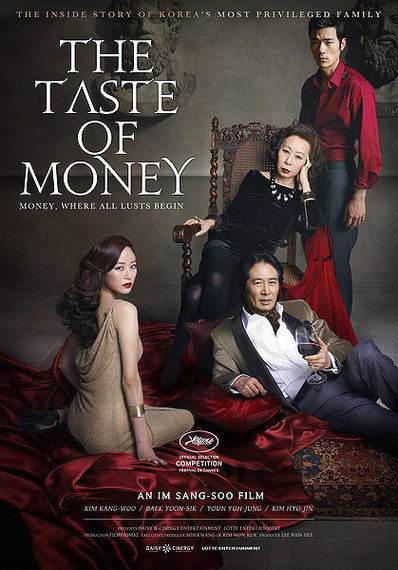 Director:Sang-soo Im Cast: Yun-shik Baek, Hyo-jin Kim, Kang-woo Kim Genre: Drama Country of Origin: South Korea 2012 In competition Cannes International Film Festival 2012 Language: Korean, English, Tagalog with English subtitles 115 mins. Rating:***
'Lust, seduction, greed, decadence and betrayal is the norm in the pursuit of money and power.'
One of South Korea's richest families, controlled by the family's matriarch Geum-ok (Youn Yeo-jeong), wife of the prominent CEO Yoon (Baek Yun-shik), is in the throes of a crisis. Her newly appointed personal secretary, Joo (Kim Kang-woo), deals with the family's immoral and illegal activities whilst patiently waiting for his own opportunity to get rich is witness to events that bring about a shift in the balance of power - tax evasion, Company President Yoon is in love with Eva (Maui Taylor), the Philippino maid and Robert Altman (Darcy Paquet), an American business associate lurks on the sidelines as he negotiates a dodgy deal.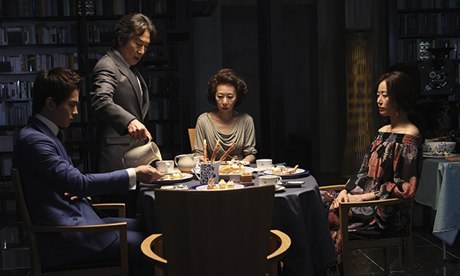 As their personal and professional empire built on bribary and corruption begins to unravel Joo is drawn closer to Na-mi the family's young daughter who's the only one averse to the family's corrupt dealings. With events threatening to expose the family's unsavoury secrets, Geum-ok seeks revenge and Joo has to decide between his moral soul and the taste of money.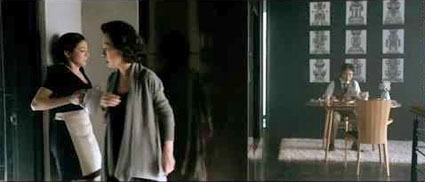 From the director of 'The Housemaid', this tale of the corrupting lust for money and power is played against a backdrop of a soulless marble and chrome mansion that typifies the emptiness and fragility of an imploding empire that wields unlimited power due to wealth. It's slow, sleek, stylised, gorgeously filmed and intriguing with a theatrical feel with the monstrous Geum-ok, murder in mind refusing to contemplate the thought of her husband Yoon seeking a new life with Eva the Philippino maid. Is this tale of lust and corruption a satire, drama or a soap-opera? I'm not sure, but whatever, it remains memorable.
'A Taste of Money' is released on DVD by New Wave Films 6th January 2014