Premiered at Cannes 2013 and nominated for Outstanding British Picture at the BAFTA 2014 Awards,'The Selfish Giant' is moving, compassionate and with astonishing lead performances, is a should-see-must-see film that places Clio Barnard as a major talent in UK cinema.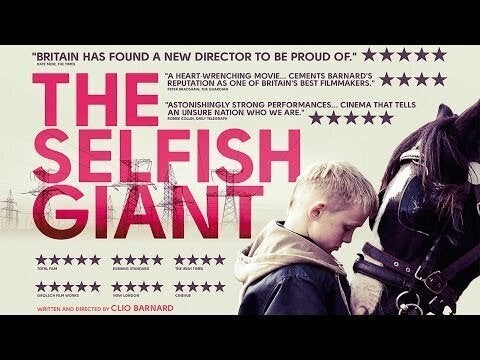 Director: Clio Barnard Cast: Conner Chapman, Shaun Thomas, Sean Gilder Genre: Drama Country of Origin: UK 2013 Language: English Premiered Cannes International Film Festival 2013, BAFTA 2014 Nomination Outstanding British Picture 91 mins. Rating:*****
'An uncompromising, moving and compassionate film that holds you with astonishing lead performances. One of the great films of 2013.'
Two thirteen year old lads, Arbor (Conner Chapman) and Swifty (Shaun Thomas) live in a desolate council estate on the outskirts of Bradford. Theirs isn't the carefree childhood of laughter, seaside holidays and the comfort of family life. It's a day-to-day survival, a life of deprivation, a constant battle and nothing more.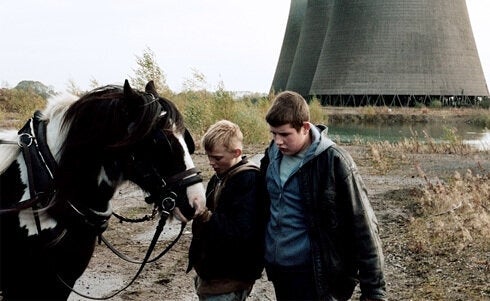 School offers little. Swifty, gentle and easily bullied is set upon but Arbor comes to his rescue, fists flying and pent up aggression visible for all to see. That's what friends do, they look out for one another, there's loyalty and solidarity in a world where family life is fractured and violence can be the norm - predictably they're both excluded from school. There's little to do but roam the streets as rag-and-bone boys collecting scrap metal which they sell to Kitten (Sean Gilder), a brutal and manipulative scrap metal dealer - as Arbor says 'a bastard' but he's the only one to give the boys a chance. It's not just old washing machines and pot and pans that are scavanged, this is the dangerous world of stealing power cables from railway lines coupled with Kitten's love of the drag racing scene on public roads with heavy bets won and lost. Arbor opts for the cables, that's the way to make big money to help his mother while Swifty, with a natural love and feel for horses is seen as Kitten's star rider. This is a film with scenes of unspoken emotion in a harsh world and you sense that the small, aggressive and defiant Arbor could one day emerge as an entrepreneur or a gangster.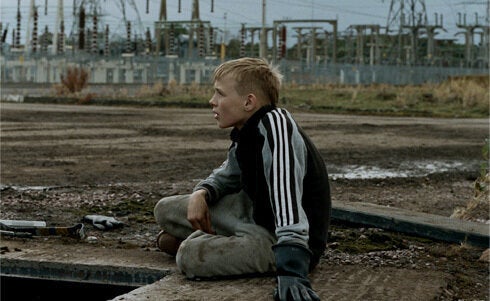 Clio Barnard has produced a compelling should-see-must-see film loosely adapted from Oscar Wilde's short story, 'Eden' where the giant walls off the garden so that children can't enter until he realises that without them the garden withers and is blighted by winter.
'The Selfish Giant' is a moving neorealist gem of a film superbly told with sympathy, compassion and a feel for this 'other world'. Conner Chapman and Shaun Thomas are astonishing in the lead performances and it's no surprise that it's been compared to the work of Ken Loach - that's quite a compliment. This is cinema from the head and the heart and I applaud Clio Barnard - she's clearly a major talent in UK cinema.
As I've said many times, cinema of this quality is limited to the major cities and seen by few. I hope that I'm wrong and that it will reach a wide Home Entertainment audience - it deserves it, it's wonderful cinema.
'The Selfish Giant' is released on DVD by Curzon Films 27th January 2014
Related