Vile thugs have attacked the home of a UKIP Kent county councillor, smearing obscene political hate slogans all over the walls of his garage last weekend. The attack occured in the Thanet South parliamentary constituency where Nigel Farage is standing, and may be part of a cowardly attempt to intimidate political campaigners in advance of the May elections.
Slogans painted onto the garage and property walls of Trevor Shonk's home in Ramsgate include "f**k UKIP", "UKIP Twats", "UKIP Bigots" and "racist scum".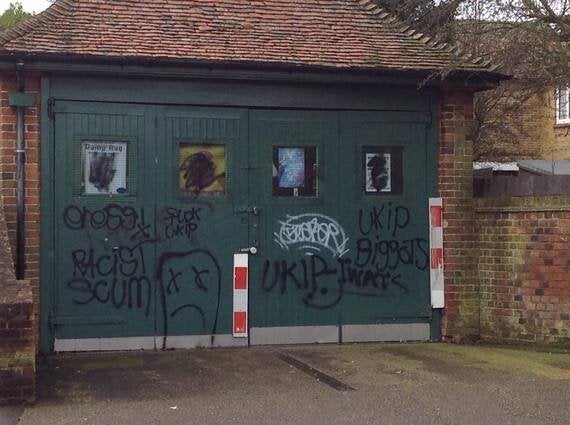 (Source: Trevor Shonk/With Permission)
Trevor Shonk, who also sits on Ramsgate town council, confirmed on Monday that his garage had been vandalised over the weekend, and that the crime had been reported to police and remarked
""I've been down to the police station and I said to the police officer today 'Is anybody going to come out, take any photographs?', no, 'take one yourself.'"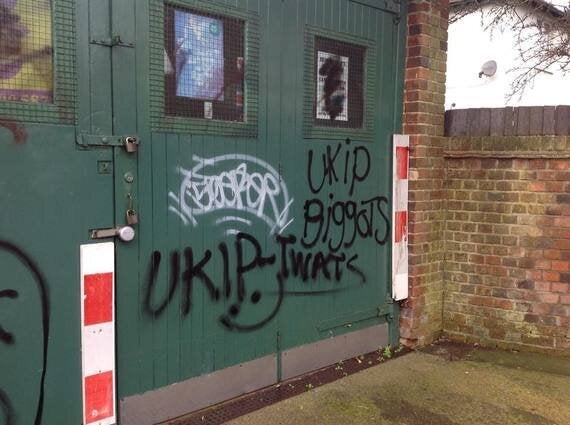 (Source: Trevor Shonk/With Permission)
"Its upsetting because all I have ever done in my life is worked in the community. I've never harmed anybody. With all these Anti-Nigel people I am respectful to them, they've got their own rights but then it comes to blatant vandalism, because that's what it is, it is not on.""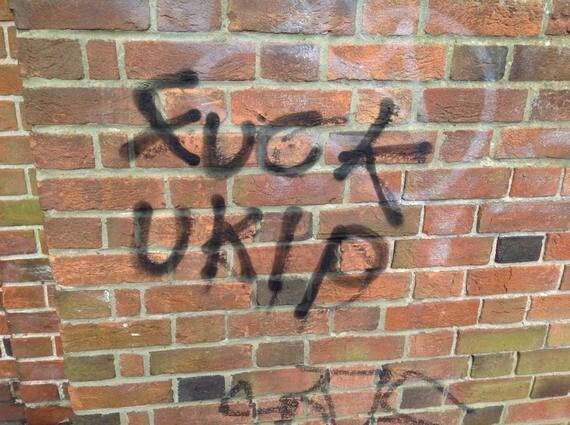 (Source: Trevor Shonk/With Permission)
Disturbingly, he added "exactly the same" had "happened last year". He commented that it was
"so awful that I had to get it fixed quickly. Because it was on a school route and I didn't want mums and their children walking past my garage with that on it, I had to get it fixed... It cost me 500 pounds to get it sorted out last time"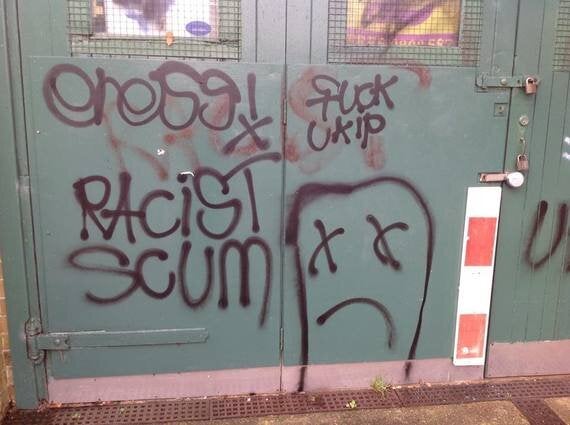 (Source: Trevor Shonk/With Permission)
Shonk felt the attack was part of a wider campaign of harassment by thugs who wished to interfere with the general election and intimidate UKIP supporters
"they want to pick us off one by one".
Nonetheless Shonk struck a note of defiance
"All did is getting me votes. The more they do it, the more we come back ... these people trying to harm us, they can't do much, I am elected."
It is understood that the garage has now been repainted and the smeared slogans are no longer visible.
A spokesman for Kent Police commented
"Kent Police has recorded an incident of criminal damage, after a man reported that his garage door had been vandalised on 23 March.No arrests have been made, but further enquiries will be carried out if any new lines of enquiry come to light.

Anyone with information about the incident is asked to contact 101 quoting crime number ZY/8623/15.

For some less serious crimes, attendance by a police officer will not be required if all the relevant details can be obtained at the point of initial contact. The details are recorded on a crime report, which is filed pending any further information coming to light.

This incident was reported to a public enquiries officer at Thanet Police Station. The public enquiries officer did not request the victim take photos, but anticipated that the victim may volunteer to do so at a later date.

Kent Police has structures in place to ensure the safety of all those involved in election-related activity in the run-up to, during and after the event.

Kent Police will maintain positive engagement with those involved in the General Election, and all communities throughout Kent. Any incidents of crime and disorder will be appropriately investigated."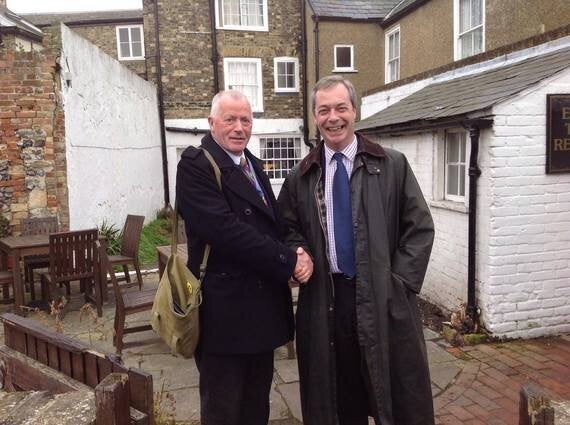 Trevor Shonk standing with UKIP leader Nigel Farage (Source: Trevor Shonk/Facebook)
Trevor Shonk is a well known UKIP figure, and was subject to national media attention late last year after reportedly suggesting that an immigration "overload" had "made the country racist". He was elected to represent the two-seat Ramsgate division on Kent County Council in 2013. Martyn Heale, who was a member of the neo-fascist National Front in the 1970s but now says he regrets this past, was the second councillor elected in the Ramsgate division, also under a UKIP banner.