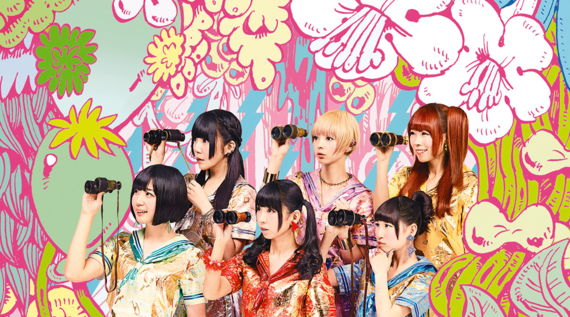 "Can you see the Death Star from The Big Dipper constellation?" asks Eimi from Dempagumi.inc (or simply Dempagumi). She is (of course) referring to a comic named North Star: "In the first of the North Star comic there is a faint star in the Big Dipper and if you can see it with the naked eye, death is upon you".
I'm chatting with one of the fastest rising stars in Jpop, the hyperactive and visually dazzling Dempagumi, and I've just asked the six girls of the band if they know any fascinating, ultra-geeky facts and because they are all devoted 'Otaku' (self-confessed stay-at-home nerds) they are falling over themselves in an effort to out-geek each other: "I buy the first and second edition of a comic to check for mistakes! " exclaims Eimi "what the hell?" "why would you even bother?" laugh other band members as I try to get to grips with the information overload I'm being subjected to. "When we worked in Akihabara [a district of Tokyo famed for video games, anime and manga] we didn't know anyone's names because we all used our screen names!" says Risa.
Dempagumi are an interesting bunch. Formed in 2008 after all suffering bullying at school, they sought solace in video games, comics and cosplay and were apparently so shy that when they first formed wouldn't even talk to each other so it's enormously empowering to see them overcome their tribulations and rise to considerable fame (they sold out the legendary Budokan arena in Tokyo last year) in their home country.
The group's music is hard to explain. "It's very fast with intense lyrics" say the girls. But when asked if they could compare it to any Western acts, the confusion sets in "Pop...pop...pop? We don't know any pop acts". It appears they like the harder side of music and cite bands such as The Prodigy and Babymetal among their favourites and this is why Dempagumi's music is a little baffling and extreme on first listen; an all-out assault on the senses and to our ears may sound a little bit like driving a car too fast. "I get that!" say the band when I tell them.
The band is probably best known over here for their totally bonkers cover of The Beastie Boys 'Sabotage', which I shall leave here for your, erm, puzzlement:
But scratch a little deeper and Dempagumi's music is pretty complex and the girls have even performed with legendary indie outfit Bo Ningen. "I learned to improvise" says Eimi, obviously delighted with the chance to experiment outside the usual confines of an idol unit "we learned to infuse our soul into our music" she continues.
Although the girls first met auditioning as voice actresses they all identified with each other's social anxiety and I ask the band if they get nervous before a performance "there are six of us and if there are other members that are nervous [before a show] we form a circle and lay hands on top of each other" they say.
It's now nearing the end of our conversation and the girls are laughing heartily at each other's obsessions as another of the girls, Pinky, explains the technicalities of making costumes "for anime characters, even if things don't exist, I like creating them from nothing, so I would look at things and go 'how would I fabricate this?', so things like weapons and accessories, I even match the scale to my height. There is only one in the world!" she beams. And I think I'm on fairly safe ground when I say there is only one Dempagumi.inc too.
Dempagumi's album W.W.D.D. is out now.
Image copyright Toys Factory, Japan