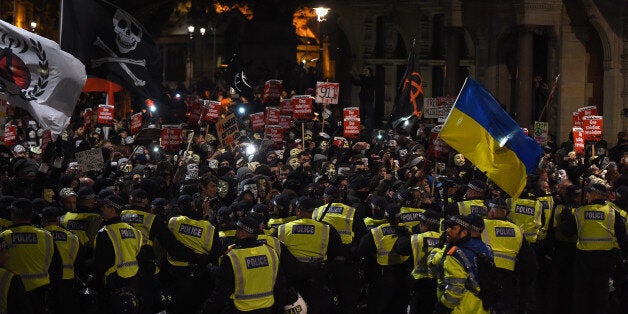 London is a great global city with a rich cultural mix, attracting millions of visitors every year alongside those who work and live here. One of the most desirable aspects of a city like London is the welcoming and tolerant society we live in.
Open to visitors, residents and businesses alike; a fantastic place to live, visit and explore without fear of intimidation or persecution. Underpinning this, and one of the cornerstones of our democracy, is freedom of expression and the right to peaceful protest.
Hundreds of public events and protests take place in central London every year, and we work closely with organisers. We have an established and respected reputation around the world for supporting safe and peaceful protest, balancing the needs of those taking part with the rights of Londoners and visitors to our city who might be impacted by an event.
It is an incredibly rare occurrence when the police need to take action, or to make an arrest, at any of these numerous events throughout the year. This is a testament to the thousands of participants who choose to express themselves and exercise their democratic right in a fair and responsible way.
Over recent years this event, Million Mask March, has caused significant disruption to Londoners with increasing amounts of anti-social behaviour, violence, damage to public property and businesses. It's apparent to anyone who has attended the event that there are people who come along intent on criminality.
Last year we saw participants causing criminal damage to public property, smashing the windows of businesses and attacking police officers all whilst harassing and intimidating families as they visited theatres, dined out or shopped in the West End.
The public found this completely unacceptable. This was not peaceful protest by any measure. Those who chose to behave like this are not protestors, they are criminals, and they undermine the thousands of people who protest responsibly and safely in London every year.
Last year, more than 2,000 officers had to be taken off local duties to deal with this event. These are your local police officers, dedicated and based in communities throughout London. We know the public would much rather have police officers on the streets in your neighbourhood rather than dealing with masked criminals seeking to run amok in central London.
Instead, they had to stand and endure violence as missiles and fireworks were thrown at them as four officers were hospitalised, six police horses were injured and a police car was set on fire. Arrests were made as people were found in possession of offensive weapons, committing criminal damage and assaulting police officers. Again, this is not peaceful protest. Any claim that somehow the police are 'responsible' for this violence is simply not borne out by the facts.
I'm proud of my colleagues who had to face this, and I praise the professionalism and restraint that they show in the face of hostile provocation. I'm also proud of the public, genuine Londoners, for their patience and tolerance whilst anti-social and intimidating behaviour was happening, and the support they offered the police during and after this event.
As we look ahead to this weekend, my message is simple: if you want to protest peacefully, that is your right and we want to work with you. If you commit criminal acts - that is not peaceful protest - and you are liable to be arrested.
The public would expect no less.
Commander BJ Harrington is a commander at the Metropolitan Police Service
Related