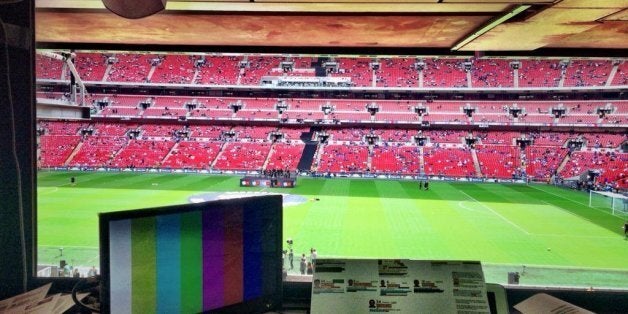 The right place at the right time. Like so much else involving the FA Cup Final, my first involvement with the showpiece was laced with good fortune.
On the pitch it could be a hopeful run towards the back post that gets you on the end of a cross... It could be a player who plays the same position as you picking up an injury and therefore opening the door for you to play... Whatever the circumstance, realising your dream in the FA Cup Final can often come down to "being in the right place at the right time."
My big break in broadcasting came in the days leading up to the 1997 FA Cup Final. I was a student who had recently started providing reports on football games for a newly formed Irish national radio station, now called Today FM.
Due to a deal with one of their sponsors the radio station discovered that they had acquired the rights to broadcast the FA Cup Final in Ireland. The only problem was they had never broadcast a commentary before. They had just done a general sports programme. Crucially, they didn't have a commentator.
I had only turned 20 the month previously but I think they thought I was a little bit older. I remember getting a phone call on the Tuesday before the game from the producer Robbie Irwin: "I know you have only done reports up until now, but do you think you would be able to commentate on the FA Cup Final between Chelsea and Middlesbrough on Saturday?"
As questions go, I've not been asked many better ones in my life. Of course I wasn't going to say "no". Who passes up an opportunity like that?
So I found myself on the morning of the game taking a train to London. I had never been to Wembley before. I had to look up maps at the station to work out how to get the stadium.
I remember arriving at the press centre at the old Wembley Stadium to collect my accreditation and being very excited to eat my lunch sitting alongside established commentators and journalists. I didn't know anyone there.
An engineer had been sent by the Irish Radio Station to set up the broadcast equipment. However, with half an hour to kick-off the line went down. With panic beginning to creep in an engineer who was working for BBC Radio came over to ask if we were alright?
I'll never forget how he solved the problem in seconds. My awe and respect for how BBC Sport does things went up several notches. Something that would surface again 4 years later when they would offer me a job.
Back in 1997, these were the days before widespread internet use. My research for the final was cobbled together from football magazines and newspaper pull-outs.
I had handwritten a "spiel" of two foolscap pages with what I thought was the kind of thing a commentator would say. My idea was that reading out this opening passage would ease me into the game.
The game kicked-off and suddenly Roberto Di Matteo smashed in a goal after just 42 seconds. Quite frankly it was the best thing that could have happened to me...
The two pages of "script" went out the window. The game was suddenly alive. None of the "preview material" mattered anymore. We had a real game on our hands right from the kick-off. No slow burning start. It was a perfect scenario for a rookie commentator who had no idea what he was doing.
That FA Cup Final set me on my way. I walked into Wembley as a "wannabe commentator", a complete novice. Later that day I walked out as "a commentator".
There are no exams to pass, no certificate to receive. The hardest part of becoming a sports commentator is getting the opportunity. You can practice skills at home, but you'll never know if you are any good or not until you actually start speaking into the microphone on-air with the game unfolding live in front of you.
You begin sentences with no idea how they are going to end. You start in a level voice but then quickly find that the noise of the crowd forces you to ride the soundwaves. You get swept along by the ebb and flow of the game.
Radio commentary is all about painting a picture for the listeners.
It's a wonderfully privileged position to sit overlooking the half-way line with a perfect view. Commentary is all about bringing that excitement to those at home. To make them feel like they are there alongside you.
The FA Cup Final will always have a special place in my affections for the springboard it provided me. I just can't believe that it is now 20 years ago!
Radio 5 live will provide extensive build-up followed by live commentary of Chelsea v Arsenal in the FA Cup 2017 Final from midday on Saturday 27th May.