The rather unconventional, early morning Eurostar commute from London to Frankfurt for my first Buchmesse was not without incident. Things began promisingly with a continuous and complementary showering of various French patisserie, fresh juices and high-brow periodicals, but started to take a turn for the worse after a series of unprecedented technical delays and breakdowns - in German territories of all places. The journey was somewhat rescued after the final round of Deutsche Bahn musical chairs, landed me a seat in the company of a prominent Germanised, Chilean actress en-route to the same port of call. From the little she divulged in our brief encounter, our first Frankfurt Book Fair experiences sounded likely to be somewhat different.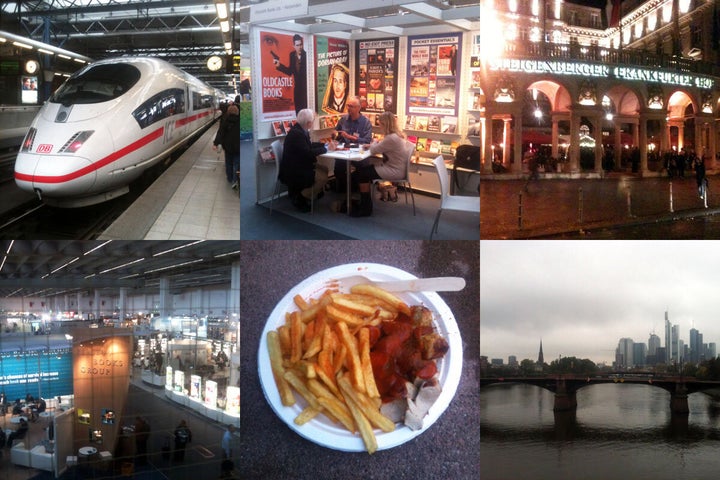 Frankfurt Book Fair - (Pictures by Conor Mills)
It's a strange sensation, stepping of a train after such an effortless cross-border voyage. In contrast to flying, it feels like you've hardly left your place of origin. But exiting to the unfamiliarities of a new locality, in this case Frankfurt's main Hauptbahnhof station, it doesn't take long for the acclimatisation process to commence.
A short metro ride spat me out, along with several hundred other passengers, into the gargantuan Messe complex, and it soon dawned on me that making it this far had been the easy part, it was finding out where I was supposed to get to next which would prove to be the real test.
I'm a big fan of Germany. Despite the grey-on-grey skyline that dominates its landscapes, there is an order; amicableness and a feeling of security present everywhere, even with the contrasting gloom, fog and austerity of autumn doing its best to take charge.
The five-day event is the biggest of its kind within the book trade and attracts publishers, distributors, buyers, sellers, techies, agents, writers, illustrators, you name it from every corner of the industry and the globe. But I came to think of it more as the biggest, brashest, most eclectic, multi-cultural bookshop in the world.
Unsurprisingly, the majority of people who make this annual pilgrimage to the home of the world's most famous smoked sausage do so to talk business and it's something they all do rather well. One of the publishers I met described it to me as the ultimate speed-dating convention for book people. "It's like a never-ending series of dates" she explained, "it's exhausting, you feel like all of your time is spent either hosting dates or travelling to your next date".
The Messe's endless corridors and gangways are no place to feel sorry for yourself though. Whether you've just messed up a recent encounter, are in the process of messing one up or maybe even on the rebound from a run of bad dates, the best thing to do, I'm told, is to brush yourself off and get straight back in the saddle, otherwise these people will eat you alive. Actually, I made the last bit up, everyone seemed even nicer than I had expected so I doubt they would go that far, but it's clear these endless meetings have a huge bearing on how the following 12 months will pan out.
The Fair also provides an excellent opportunity to learn about new publishers, find out who is the next big thing and also to meet some of the people behind your favourite books and publications. Two of the most interesting ventures I came across whilst getting lost wandering Hall 8's maze of boulevards and side streets were Oldcastle Books and Zed Books. Both smallish Independents, the former is an outfit doing their best to bring some the world's best underground crime fiction to the forefront. They also have a recently released series of quirky, eye-catching, retro pulp takes on the classics. Zed is a London-based co-operative focused more on international economic, political and social issues. A soon to be released book on the enigmatic affairs of North Korea by Paul French sounded particularly interesting.
I quickly learnt that breaks during show hours are both rare and short-lived and if you're lucky enough to get one, the best advice I can give you is to make a dash for one of the outdoor grills as quickly as possible and replenish your energy levels with some good old currywurst. To the untrained stomach this might not sound particularly appetising, but rest assured this is the pinnacle of German fast food and in my opinion one of the country's finest culinary creations.
With some much need spring back in your step, it's also well worth taking the time to check out some of the other halls. With so many to choose from it's hard to know where to start but Hall 6 is as good a place as any, with a particularly multifarious array of companies and countries exhibiting. Ranging from Kurdistan, Syria and Vietnam to Finland, Turkey, Iran and Georgia it feels like the publishing equivalent of the United Nations.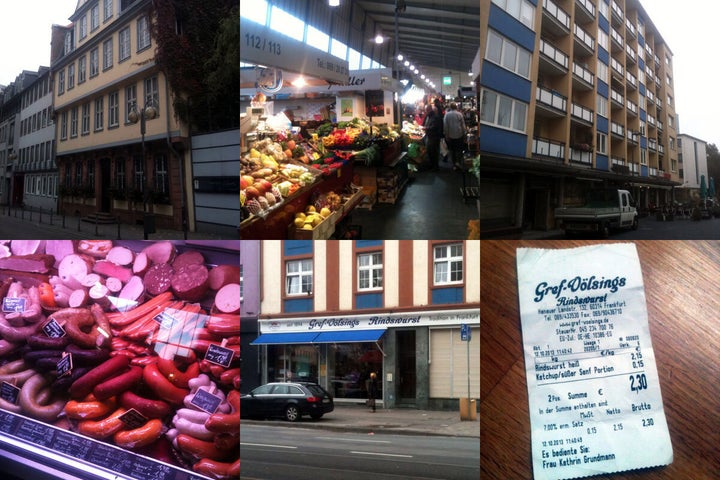 Frankfurt's Cultural and Culinary Wonders - (Pictures by Conor Mills)
For the more astute it's also worth trying to time this visit towards the end of the day as a lot of stands offer parties and you can expect some rather generous spreads. With nourishment such as typically hard-to-find, but excellent Georgian wines, Thai buffets or perhaps Arabian baklava just some of the many treats on offer, the fair also provides a great opportunity to sample many of these countries' other exports.
With the doors closing punctually at seven each night, the denizens of the fair have no choice but to spill out onto the streets of Frankfurt and it's fair to say this is where a lot of the real business takes place. With invites to exclusive parties like gold dust, the popular alternative is to head to the old town district of Sachsenhausen. Home to an abundance of Apfelwine halls, specialising in homemade cider and excellent, traditional German food, it's the best place to experience Frankfurt like a local. You can't go far wrong at Kanonesteppel, a typical wooden cladded banquet style room with long tables, huge portions and a very worthy personal favourite of recently deceased writer Jakob Arjouni, and his private-eye creation, Kemal Kayankaya.
With most business concluded by Friday, Saturday and Sunday are predominately aimed at the public. These are the only two days they are allowed into the fair so it's the perfect time for you to make your well-planned escape and explore the city. Despite a universally poor reputation amongst Germans, I found Frankfurt to be quite the dark horse and with plenty in the way of food and culture, it's the perfect antidote to post book fair blues.
The centre is small enough that you can walk pretty much everywhere but beware nothing opens before ten. Once you're out and about, a great place to start and somewhere that's in the heart of everything is the pedestrianised Zeil, located between the Konstablerwache and Hauptwache metro stops. At the Konstablerwache end there is a traditional outdoor market, open on Thursdays and Saturdays it specialises in all things local and German. With a huge array of fruit, vegetables, meats, pastries, cakes and wines, it's easy to lose track of time in and amongst the various stalls.If and when you manage to pull yourself away, the Frankfurt Stock Exchange, also known as the Bull and Bear, is at the other end of the Zeil and is a site to behold. They run free tours during the week from a viewing booth above the trading floor, giving you an amazing view and insight into the world of trading, but you need to book ahead.
Heading towards the river, there's the Goethe Haus museum, which gives you the opportunity to nose around the actual house where arguably Frankfurt's most famous mind grew up. Continuing down the Berliner Straße you come to the incredible indoor covered Kleinmarkthalle. Probably my favourite place in the city, it is a real feast for the senses and with every type of food you can imagine on display it is the perfect place to pick up some local souvenirs.
With a full stomach, it's only a short walk to the area known as Römerberg. One of Frankfurt's most historical districts, it gets its name from the Haus Römer, now the town hall, which used to be the place where the holy Roman Emporers were crowned. Unfortunately, like most of the city it was destroyed during the war, so everything you see now is reconstructed, but it's still well worth visiting.
Historically, the main square in these quarters also used to be home to large trade fairs, attracting merchants and traders from all over Europe. Growing each year, it eventually became the original Messe before it had to move to it's current location after it became too big for its surroundings. Another must visit landmark in the area is the stunning Frankfurt Cathedral. Towering over the city, it is possible to climb to it's summit and take in some of the very best panoramas of the city.
From here you can take one of the numerous bridges across to the other side of the river and head for the Schaumainkai. Lined with the city's best museums, there is something for everyone, with buildings dedicated to architecture, film and if you like art the Städel Museum houses one of Germany's greatest and most important art collections. The Schaumainkai also plays host to a second-hand vintage market on Saturdays, but be prepared for big crowds as this is a particular favourite with the locals.
If mainstream museums aren't your thing, don't miss the Dialog Museum. Located at the other end of town on the Hanauer Landstraße, inside you are lead around the building in total darkness by blind guides through specially designed dark rooms in which scent, sound, wind, temperature and textures give you an insight into what it feels like to be without sight. A truly memorable experience.
Last but certainly not least, no trip to Frankfurt would be complete without a visit to the birthplace of the city's most famous export. Head to Gref-Völsings Rindswurst just across the street from the Dialog, and sample the freshest, most authentic Frankfurter you will ever eat in your life. Served simply on a paper plate with mustard and ketchup, prepare yourself for the godfather of sausages.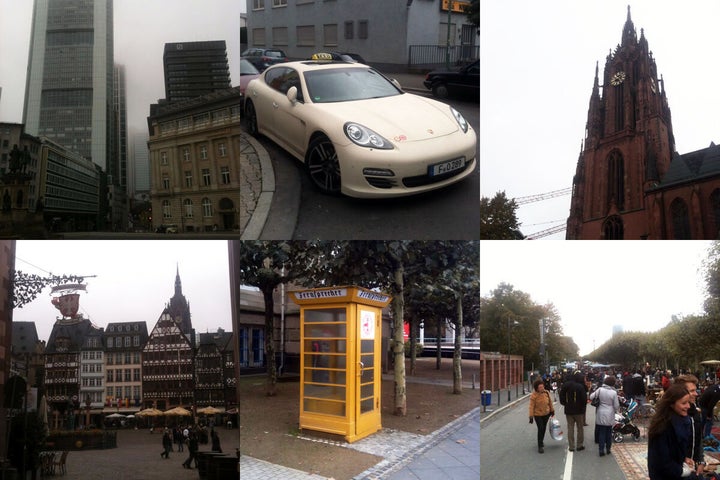 Frankfurt's Museum Way - (Pictures by Conor Mills)
Exhausted but enthralled by the early mornings, late nights, the crash course in professional biblio speed-dating, too much apfelwine and enough currywurst to keep me going for the next 12 months, Frankfurt I'm not ashamed to admit, I'm going to miss you.