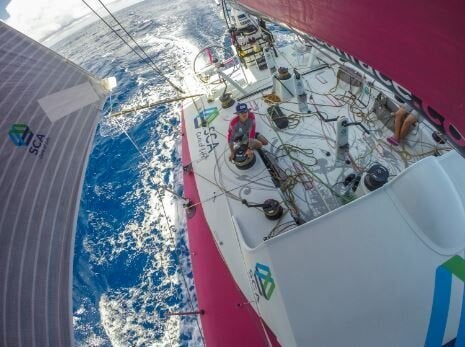 How has it seriously been two weeks since we left Alicante!? I've always known your life can change drastically in ten days, but this is bringing it to another level!
Out here we are in our bubble--it is magenta in colour and can be quite wet sometimes. There are 12 of us living in our bubble--sometimes, especially at night, it doesn't feel like there's so many adults in such a small place but during a watch change it feels like there's so many bodies that I'm shocked our bubble doesn't burst!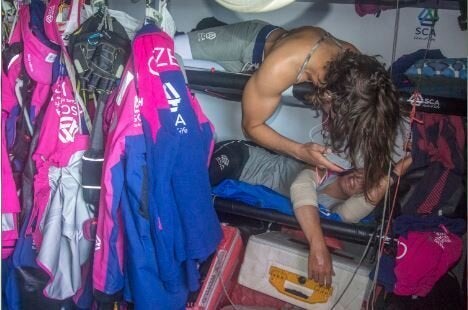 But it's a lovely little bubble nonetheless. Life is simple out here: no phones, no bills, no nagging "to do" lists. The bizarre thing about our bubble though is that it's quite visible to the world, we just can't see it. Nonetheless, each day we received hundreds of fan mail from women (and men), young and old, who are following us, cheering for us, and daring to dream big because of us. It's incredibly surreal and humbling.
To us, we are a group of women who never stopped daring to dream big; our goal to be one of the top sailors in the world, never seemed unfathomable nor unobtainable. So over the years we pushed ourselves, did our homework, checked the boxes off twice, all so we could keep up with the boys. All so we could one day sail against the boys and never think twice. This is something that has been championed by our sponsor SCA, who wholeheartedly supports female empowerment and their freedom to participate fully in society - socially, educationally and professionally.
That's what's happening now, except it's something more. We're not just sailing against the boys, we're actually sailing with the boys! We're proving that offshore, out here in the ocean, it doesn't matter if you're male or female: an offshore sailor is an offshore sailor. They're cut from a different cloth, so to speak.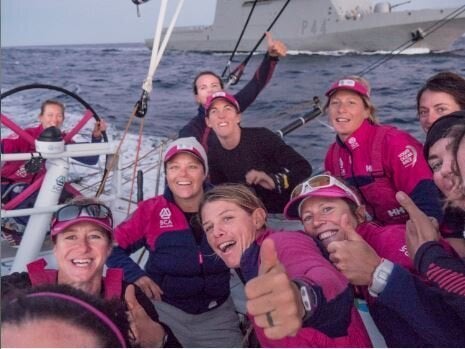 They say we "lack" experience of Volvo Ocean Races; some teams have twenty races between their team where as we only have three. However we must remember that before this, there were only a very small handful of women's teams. Therefore it's simply we didn't have the opportunity. More importantly to remember, we do not lack offshore experience.
Our Skipper Sam talks about the "endurance factor", meaning our experience level is not our sailing skill set as we have plenty of women who have some great offshore experience, but rather we don't know what it's like to sail leg after leg for nine months.
13 days in and we're not half way yet?! Sure it's hard to wrap your head around--another 12-13 days.... 26 days in total. But see that's the best part, we all love it out here in our bubble. To race on Team SCA is what we've always wanted, it's what we've trained for, and it's what we're going to sail faster than the boys for!
Popular in the Community