Since 1977, International Women's Day has been celebrated on 8 March. While its political origins stretch way back to before the First World War, where the movement was used to highlight a demand for women's rights and equality, today we use International Women's Day to celebrate the many wonderful achievements undertaken by women all over the world.
Crewed offshore sail racing has long been a closed sports arena for women, though Team SCA is on a journey to change this perception. It's a huge challenge though.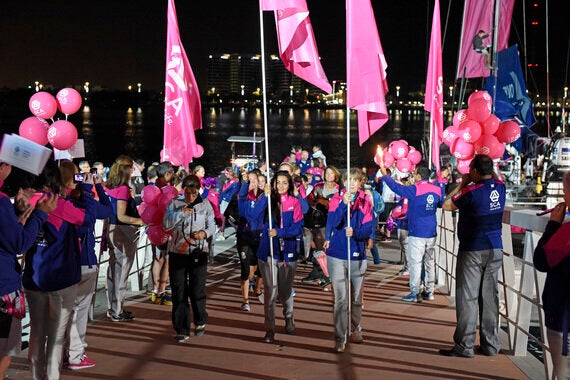 Though on the surface our journey simply seems to be about sport, I would say that each and every member of Team SCA fights for something more profound than that - women's empowerment. By demonstrating that we, with a strong will, hard work and persistence, can use this to change and develop a situation, we hope to use our efforts as inspiration for women who also aspire to make a difference.
Today is 'day-bag-preparation-day' at base, where we are to pack all of the food that is coming with us on leg five from Auckland to Itaja. As we carefully counted and loaded meals into cases, I took the opportunity to catch up with Team SCA sailors Sara Hastreiter, Dee Caffari, Sally Barkow and Sophie Ciszek to find out what International Women's Day means to them.
Sara comes from Wyoming in the USA, known as 'The Equality State' as it is the first state in America that granted women the right to vote:
"Being from Wyoming, where we have such a rich heritage when it comes to women's rights, I often think about how this differs for women around the world. Even though we still think equality is a struggle within our own sport, there are bigger challenges for women in parts of the world where they are not even considered equals within their society. It brings to point that we are lucky to live in societies that allow us equal opportunities. For me, right now, this means having the opportunity to be involved in a male-dominated sport where we can endeavour to empower women who are in a less privileged position. As the only all-female team in the race for over a decade, we need to keep pushing boundaries to set a new standard for women's involvement in crewed offshore sail racing."
Indeed, empowering women is one of the main reasons that our sponsor, SCA, decided to get involved in our important project. Speaking with Sara reminded me of the words of Sally Barker, SCA's managing director in the UK & ROI, who explains, "with 80% of the retail products that we produce being purchased by women, SCA supports women's empowerment and their freedom to participate fully in society - socially, educationally and professionally - across the world by giving them access to and education about hygiene products and solutions."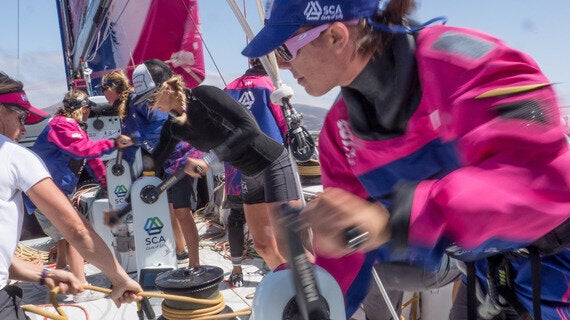 Sara's view is shared by Dee Caffari who, as the first woman to sail single-handedly and non-stop around the world in both directions, doesn't feel that being a woman has ever held her back:
"I forged my sailing career on being fiercely independent and I know how lucky I am to be able to do this unrestricted. Stopping in different countries around the world and observing how different cultures operate reminds you that not everyone is treated equally. If International Women's Day shines a light on inequality then it is certainly worthwhile, I just hope the actions I take as part of Team SCA can help encourage more women to take on challenges and live their dreams."
For Sally Barkow, her first thought as we began to discuss International Women's Day was her mum, who has been instrumental in supporting her career choice and inspiring her to do more:
"My mum has always been someone who really stuck with whatever she did and has been one of the most supportive influences in my life. She's always been there, not just to say that everything is going be okay, but to offer direction on how get exactly where I wanted to be. I admire how she's been able to push through a lot of tough life experiences, and that's definitely something worth celebrating and following her lead on."
Speaking to Sally reminded me of my own experiences. For me, I've never felt as if I've had fewer possibilities than my little brother, male friends or colleagues. I feel respected for who I am as an individual and judged for my actions, which has nothing to do with my gender. I'm fortunate to live in a part of the world where I have the right to a free will, education and the chance to follow my aspirations.
I also have the luxury to think about International Women's Day as a day to celebrate mutual respect amongst human beings, no matter whether you are a man or a woman, young or old, black or white. We all have a responsibility to inspire and empower all those women who have just started their journey towards equal rights and justice and lead by example.
Sophie concluded our discussion perfectly:
"International Women's Day is pretty cool. Not only does it recognise women from all over the world for what they have achieved - no matter how big or small - but it also makes you think about what you can do to support a new generation of go-getting women. It's a really important day, especially for Team SCA as an all-female team. It feels as if we are doing something special in the Volvo Ocean Race, and we hope we can use this to inspire women from every corner of the world."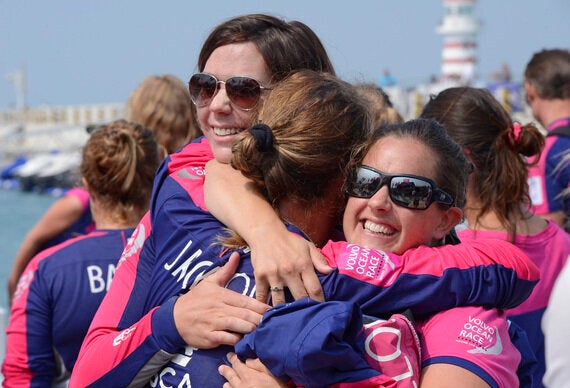 Thank you for following us, and make sure you come and say hello on Twitter using the hash-tag #teamsca!
All photos copyright Team SCA