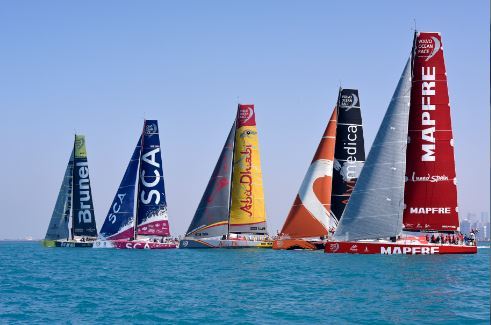 And so it begins again! Yesterday, Team SCA, plus five other sailboats, set off for the 4,600 mile race to Sanya, China, in leg three of the Volvo Ocean Race. It was a day of mixed emotions including excitement, stress, happiness, and a twinge of sadness (it's really hard to say goodbye!).
For a few of us, we will not see our loved ones for a few months - until the Itaji (Brazil) or Newport (USA) stopovers. The entire team will most likely not see our fellow team member, Sophie Ciszek, until Auckland. In the last leg, Sophie herniated one of her lower back discs; on Christmas Eve she received back surgery in Dhabi. The results were immediate and Sophie is currently undergoing rehab at home so she can join us in New Zealand for leg 5.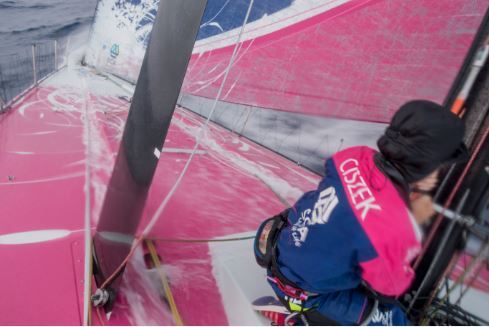 Yesterday's send-off was long. It felt like all morning we were saying goodbye. First there was the goodbye in the hotel, then the base, then at the base again, and the walk to the boat before the sailors' parade, then after the parade, then one from the boat. You know what's coming, you've known for weeks, nonetheless it's still emotional to say goodbye to a husband, child, or parent you won't see for at least three weeks. After a while, you just want to go and start racing!
Over the morning, the adrenaline slowly built up and up, and the excitement and anticipation of a successful Leg Three mounted. For all of the teams, Leg Three in the Volvo Ocean Race will be one of the most challenging legs as we navigate some of the world's busiest water ways including the Mallaca and Singapore Straits. At the end of the Singapore Straits we will begin sailing upwind in the short choppy seas of South China. For days on end it will feel like we are running up a 'down' escalator with a hose pointed on us.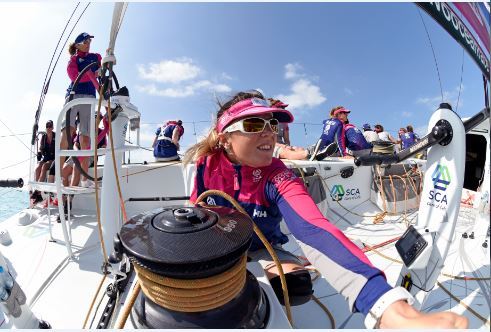 As we waited on the dock yesterday, Knut Frostad, the CEO of the Volvo Ocean Race, explained to one of the Abu Dhabi dignitaries that Team SCA had won the Abu Dhabi In-Port race. "For Team SCA, there was the race before Abu Dhabi and the race after," he said. Let's just hope he is right! This is something echoed by SCA's UK managing director, Sally Barker, who has always maintained that "For SCA, this race is about building a high-performance team, cooperation and striving towards a common goal."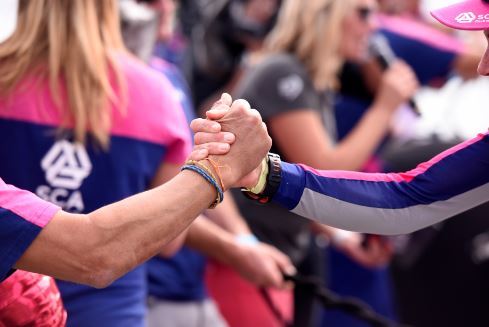 We have to remain aggressive with the rest of the fleet, and not let one opportunity slip us by. Sometimes this will mean we take an extra risk. For example, this morning Team SCA decided to take a risky shortcut and not follow Mapfre and Alvimedica. Despite the lack of wind, we did beat the wind and came out on the other side only slightly bruised. The weather Gods are finally smiling down on Team SCA! And, I must add they are making a massive difference for all of us on board. To be actually sailing against the other boats and holding our own is not only exciting but also intensely rewarding!