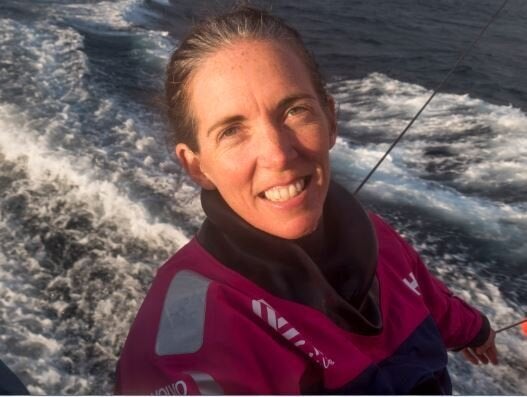 With a CV that boasts working with the British Olympic sailing team, Libby Greenhalgh is Team SCA's navigator, meteorologist and weather forecaster. An important job, considering that even a slight dip in the wind can massively impact the speed of our Volvo 65 racing boat.
While being a navigator merits making big decisions on behalf of the team, it can also be quite lonely and often involves very little sleep. Though Libby is on board with 11 other people, she is not part of a 'watch' (referring to the groups we use for our four-hour shifts on deck) and does not have any 'watch buddies', meaning she is constantly bouncing in-between the groups.
This means that Libby is often working intensely for extended periods of time, so intensely that she barely has time to wolf down her breakfast, however there are also times where she can sit back, relax and drink some well-earned hot chocolate.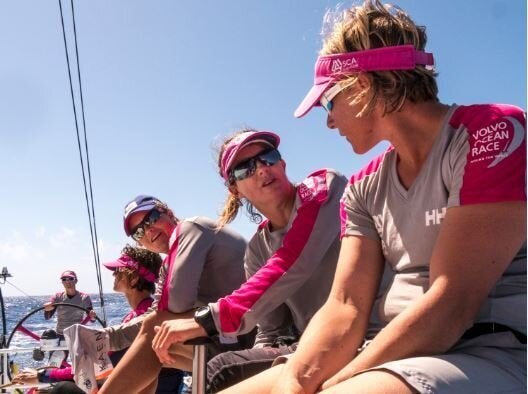 Once a choice has been made, and the boat is heading in the right direction, there is not much that Libby can do except see how it all pans out. Compared to the rest of the team who are part of a regular 'watch', this can appear like a bit of a luxury. After four gruelling hours on deck, all the other girls want to do is to get changed, eat and sleep.
So far, the most challenging part of the Volvo Ocean Race for Libby has been coming to terms with her role and a lack of experience and she has learnt some tough lessons since Team SCA set of from Alicante in October last year.
Like me, Libby also came quite late into the team, so we have both been in a similar position where we have tried to get to know everyone in the team as quickly as possible, in addition to working out the best way to communicate with each individual. We are all unique and it merits a little bit of time to figure out how you should work and interact with different people, but this is the same in any job, and we are all still learning!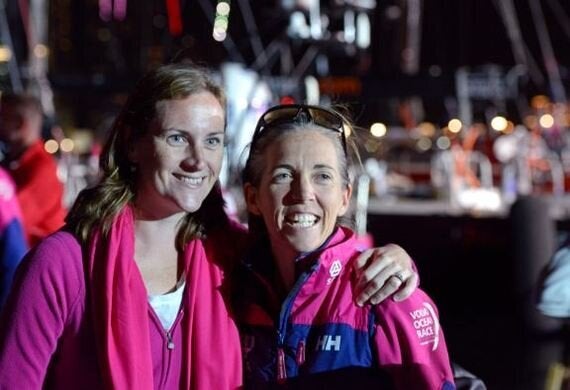 While being navigator comes with a lot of responsibility, it also comes with a number of rewards. For instance, the split from the fleet in the beginning of this leg was a quite big decision for Libby and Sam, and it did work. Moments like leading the fleet out of Cape Town, coming third out of Abu Dhabi and being able to stay so long with the rest of the fleet are good ones, and ones that the whole team will remember in legs to come.
For the whole team, I think that everyone would agree the best thing about the Volvo Ocean Race has been to see us steadily improve. While other teams have been together for other competitive Volvo Ocean Races, Team SCA has only been together as a full team since June 2014. It's great to see us come together, learn to live together, work together and how to take on the more advanced teams.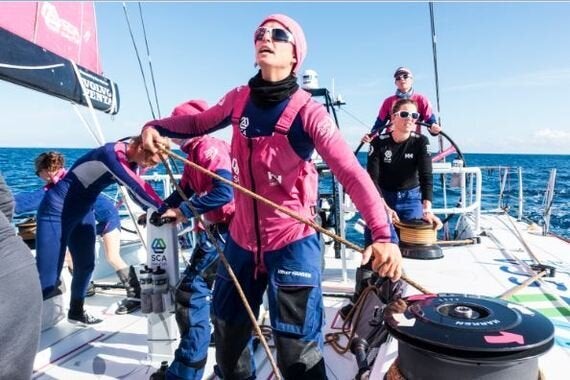 I think we've shown that we can make decisions and take them in the right moment, perhaps we haven't yet executed them quite as well as we could have, but we've shown that we have got the skills, and that's something worth celebrating.
Thank you for following us, and make sure you come and say hello on Twitter using the hash-tag #teamsca!