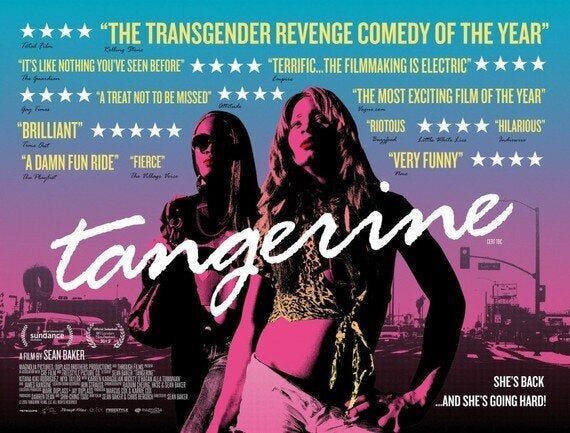 In the repetitive whitewashed sea of worthy, epic and cocksure movies of 2015 (aka #OscarsSoWhiteII), Sean Baker's Tangerine would have offered a winking, badass beacon of hope that the grubby glass ceiling could eventually cave in. Let's daydream for a moment on the Oscar nods Tangerine could have legitimately garnered and what this could have meant for the milky world of the film industry.
Tangerine is about two black trans sex workers which refreshingly, is not about the existential crisis of being transgender or how this blots society. Nor is it about 'blackness' or interracial relations as Sin-Dee's boyfriend just happens to be white. The depth is in the characters, not the issues, as we're gifted a thunderous yet tender story of two best friends Sin-Dee (Kitana Kiki Rodriguez) and Alexandra (Mya Taylor) and their mission to find and whoop a 'fish's' ass (Dinah) after she was caught with Sin-Dee's boyfriend Chester (James Ransone). Cab driver Razmik (Karren Karagulian) also provides rare realism of someone caged by their sexual orientation towards trans people which says more about us than it does about him.
The performances are as fresh as the actors' screen careers as they were street cast by indie director Sean Baker who after scouting them at their local trans community centre, soon inspired his film.
Sincere, feisty and evocative, these novice actors take to the screen like hot butter on freshly popped toast and display a range of emotions that have us clutching our bellies with laughter or reaching for tissues with tears. Forget Eddie Redmayne's Best Actor nomination for batting his eyelashes and tucking in his frikadellers - these were the performances to note.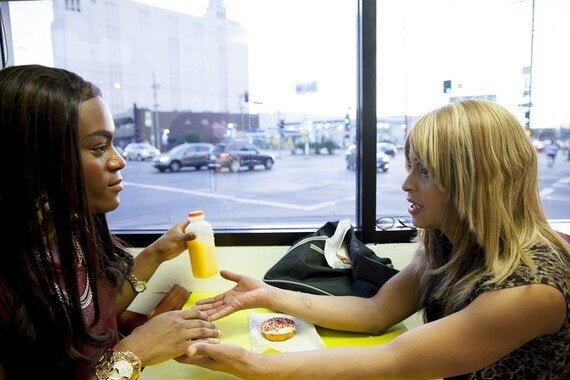 But imagine. Awarding these performances at Oscar level would have been a sticky consideration for those casting the votes, and had they had the balls to do so, would have inspired some progressive questions on the future of the ceremony's categorization. Mya Taylor and Kitana Kiki Rodriguez classify themselves as women and should be respected as such, but would the Academy, with the average demographic of being a 62 year-old white man, be open-minded enough to disregard the binaries of sex?
If Tangerine was in the running for a performance related gong, one can imagine the 'lolz' as Chris Rock braves cheap jokes over which category to place a trans character. But after the mocking wears thin, we'd be left with an issue that if handled appropriately, would be a revolution for the highest bar of film industry. This is the Oscars, not the Olympics, and as the genders begin to blur, it's time to wrinkle our noses at how necessary it is to have a male and female category at all.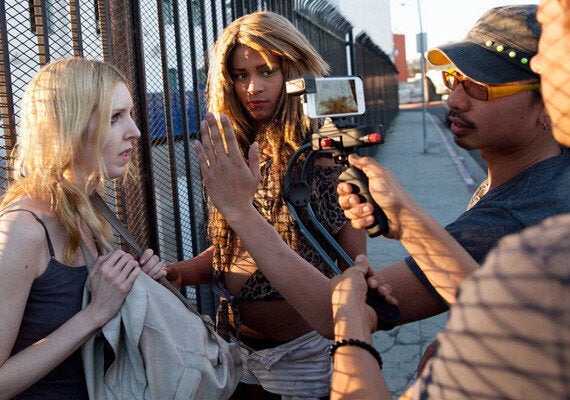 The first peeps of Tangerine came from the talk of the technical execution. It was that film shot entirely on an iPhone and guess what? It looked gorgeous and perhaps even the better for it.
Baker, a celluloid fan but compromised by costs, emancipated himself along with the entire filmmaking community, from the necessity of huge budgets to produce dazzling results. Baker is a testament to our human instinct to bend rules and with Tangerine, he's proved himself a relentless artist and pumped zest to modern filmmaking.
For the success of dishing up a glorious sun soaked world of dusty LA with a mere iPhone, Baker and cinematographer Radium Cheung should be given props for technical wizardry in Best Cinematography and while we're at it Baker for Best Director for coaxing these new actors to deliver such memorable performances.
Sure, Alejandro Gonzalez Iñárritu can spend $135 million shooting Leonardo Di Caprio using a dead horse as a sleeping bag in the Canadian Rockies, but if Tangerine is what Baker can do on the price of a ski trip to The Alps, imagine what he could do with the wallets of Mr Birdman. This guy sets an example of the possibilities of the thriftier filmmaker and will be exciting to see how this inspires his proteges.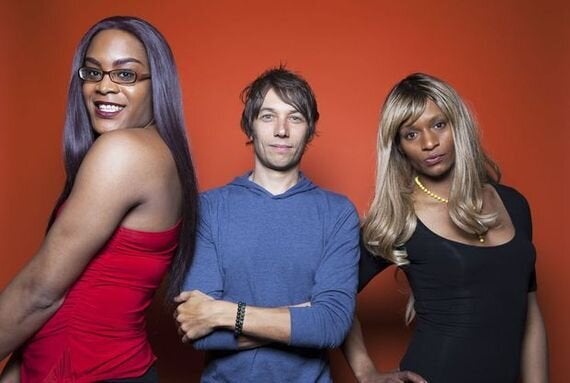 We won't be hearing Tangerine's name called out on Oscar night but it wasn't through lack of trying. Film distributor Magnolia and the film's producers Mark and Jay Duplass launched a campaign to woo votes which, if succeeded, would have made history.
With no big budgets for the traditional 'For Your Consideration' method of attracting Oscar voters usually racking up $10m, their guerilla campaign saw Magnolia send screeners to the actors and cinematographers branch of the Academy and saw the brothers screen clips of the movie during Academy conversations. In addition to flagging Sean Baker for screenplay and cinematography, this was also in the hope of flagging Kitana for Best Actress and Mya for Best Supporting Actress.
Claiming 'we are in the middle of a civil rights movement' the brothers state that the time is ripe to recognise trans characters (not cisgenders parading as such), yet despite Tangerine's snub, the brothers are content with how their scrappy campaign managed to peel more eyes on Tangerine; 'We've laid so much track. We've shown so many people that with elbow grease and not a lot of money and a really interesting film, we've come so far'.
OK. So an Oscar for Tangerine would have been far from an #OscarsSoWhite bandaid but it could have provided a tiny hope for more female, trans, black and working class stories for future ceremonies. We'll need far more gutsy film producers and distributors to be inspired by the efforts of The Duplass brothers to acquire and then support their Oscar drives in order to see a more eclectic array of Oscar nods in 2017 and beyond.
Corrina is the founder of The Bechdel Test Fest - an ongoing celebration of positive roles for women in film. Their next event is 'The Friend Zone' - a special late night screening of Frances Ha at Everyman Cinema Baker St on March 5th and Speed Sisters - an International Women's Day preview screening & Q&A at BFI Southbank on March 8th.
Related