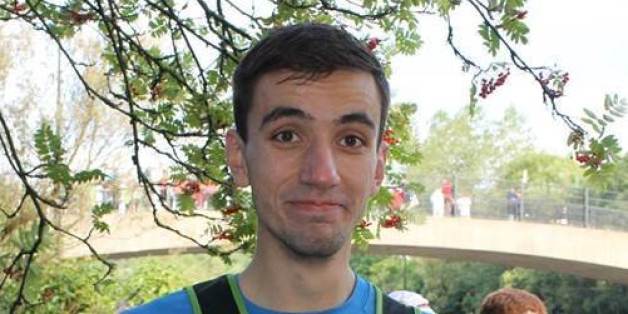 I'm a gay man. As a consequence, I am not allowed to donate blood. I share the frustration that many gay men have, while at the same time appreciating that any change in the rules must be grounded in evidence.
It was this frustration that led me to find out more about Anthony Nolan. I'd been casually aware of Anthony Nolan for a while without learning more about them. I think I assumed that, since I could not donate blood, I probably could not donate stem cells either.
As Michael Fabricant MP and others helped the gay blood ban become an issue of public interest again in 2014, I looked again at stem cell donation and the Anthony Nolan register. I signed straight up, sent back my 'spit sample', and that was that.
The following year, I went on to run the Great North Run. I'm a keen runner, but a half-marathon is quite a physically humbling experience. My personal highlight at the nine-mile point, when I noticed a lot of excited children screaming and cheering in my direction. I was so heartened by their support, until I noted a giant imitation of Peppa Pig gliding past my tired body.
At first, I struggled to choose a charity to run for. I wanted to raise money for a charity with which I had personal connections. However, at the time I'd been very fortunate in my life that I had no health issue that had personally affected me, or close family.
In light of that, I thought about social campaigns that I wanted to support, and I returned to my frustration with the gay blood ban. I decided that instead of merely being in perpetual protest, I should do something positive instead. I raised over £600 for Anthony Nolan, and raised awareness to the extent that a good number of friends signed up for the stem cell register.
I do not write this blog to pass judgement on the gay blood ban, or to question those who continue to campaign for changing the rules. I support those campaigns, and I support discussions about the practicalities of change. I'm delighted too that the All Party Parliamentary Group on blood donation is looking into maintaining the safety and integrity of blood donation while encouraging new people to safely donate.
I'm writing to encourage gay men, angry at not being able to do blood, that there is something similarly altruistic and life-saving that you can do in the meantime. Anthony Nolan particularly needs men between the age of 16 and 30 to sign up. Young men make up just 16% of the Anthony Nolan register, but provide over 50% of all donations. Your sexuality does not matter.
You might never be needed. I haven't, as of yet. But if you are, you can do something fantastic, which is presumably the reason you want to donate blood. So check out Anthony Nolan's campaign, Not Your Average Man, and do something extraordinary.