The sheer beauty and practicality of Sophie Hulme's structured leather tote will forever play on my mind but there's no denying that ugly flats are the new statement handbag this season.
On my watch they're the kale of footwear, the trophy item, 2014's show piece. The paradoxical pairings that work with everything, especially sports socks of the ribbed sports variety. I know, but just roll with it.
The kookier the better too. Think OTT detailing, fringing and clashy colour ways. And then there's the German heritage brand which has been producing ugly two-strap shoes for a cool 230 years - Birkenstock. Those cork soles are back, baby. In a very big way.
Functionality is everything and if Phoebe Philo (along with Marni, Marc Jacobs and Lanvin) has gone all out on Birkenstock-inspired treads, they're a sure thing.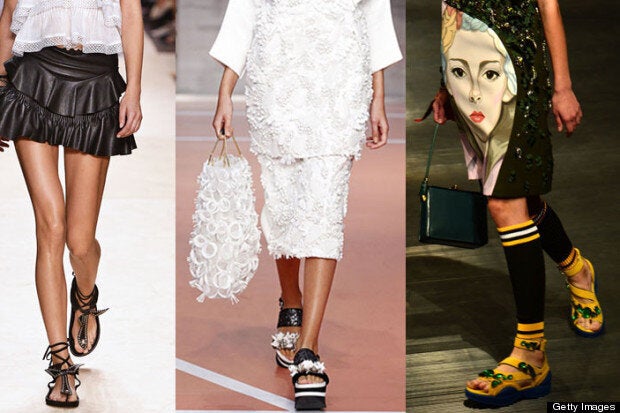 Where the Alexa Mulberry or the quilted cross body Chanel is classic and completely chic, ugly flats are garish and gasp-worthy. And with a far more doable price tag. Ok, so Marni's runway fussbett sling-backs are a hefty £550, but they're guaranteed to last a lifetime.
The Spring/Summer 2014 catwalks all embraced ugly, easy-on, androgynous flats and there was barely a sky-high stiletto to be seen. Yes, fashion kicks are the champion trend (flatforms too) but my eyes are on the regular flat revamped into quirky wonderfulness.
The logic behind the look? Good old fashioned comfort. Remember comfort, that thing before mind-numbing pain, blisters and actual foot indentation? Comfort is for keeps and fashion's finest have given into it.
There's no shame either. Who needs to add inches to their look when there's bells, beads, whistles, print, patent and feathers to style out?
Besides, after Emma Thompson kicked off her bloodthirsty Louboutins ONSTAGE at the 2014 Golden Globes (total heroine), there's even more reason to give up the heels game and just keep your look on the horizontal low.