There's no denying the fact my obsession with having instant, 24/7 access to social media has turned me into a bit of a moron. When I sent my iPhone in for a screen repair last week, I was in total meltdown.
That term "always-on" is massively cringeworthy, but working in media means being exactly that. I also blame that FOMO factor. If I don't dip in and out my Twitter/ Facebook/ Instagram/ Google+/ Pinterest accounts constantly how can I possibly be down with the latest?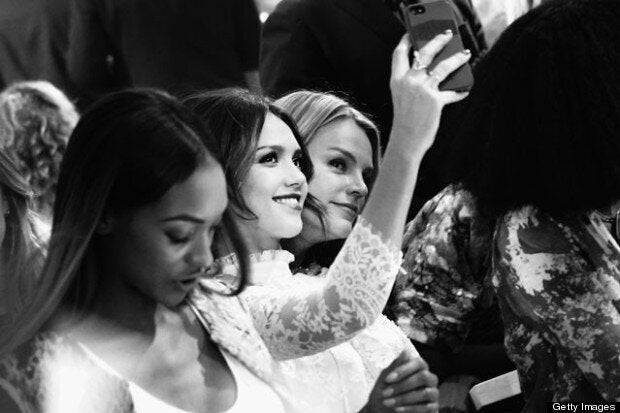 I need to know it all. Now. I want to see who's wearing Balmain on the FRow, where RiRi is getting her after-party on, be able to regram the best "Bishes be like..." meme (complete with endless emojis), see what's trending on Twitter. I just do.
So far, so smug. And it gets worse, here's seven ways social media is making a monster out of me...
1. I've become one of those people who gets off the overground/ tube/ bus, head down lost in their iPhone/Smart Phone/tablet. The kind of people you want to RAGE at when you're stuck behind them.
2. When my mum calls, I put her on speaker phone so I can continue scouring through my Instagram feed. In short, I've become sh*t at listening.
3. I haven't picked up a book in months. My hardback of The Goldfinch is gathering actual dust, but it's cool because I've Instagrammed the cover to jump on the #Obssessed #DontLetItEnd bandwagon.
4. I can walk into Cafe Nero, order my skinny Americano, pay for it and murmur a thank you without raising my head or a smile. (Spoiler: some major fitspiration, #nofilter, necessary upload takes priority, obvs.)
5. I'm a Facebook lurker. I watch, intently browse my newsfeed, click through albums but rarely engage and never post myself. What's that about?
6. A casual, no-thrills rendevous with a friend will be interrupted by a Twitter update/ Tinder match and on occasion *winces hard* a selfie.
7. The whole self-promoting, share-every-experience, designer-outfit-reveal tendencies of Generation Y evokes envy, greed and a whole lot of natchy-ness in me.
My game plan to turn this around? Pipe down. Keep my social media face on, but don't exhaust it. Live in the moment and be cool with not sharing it. Read books, converse aloud - in person - and just be real.