I'm all for this whole heat wave situation, because man it's good to have some consistency on the weather front. And I like it hot.
There is the not being able to sleep thing though, the sweaty commute into work - let's not even go there - and the massive inconvenience of having a full fringe.
Otherwise, having an actual British summertime is amazing. On the matter of style, it's all too easy to throw everything up in the air and opt for something cool and comfortable - I get this, I really do - but in the last few weeks I've seen some real no-nos.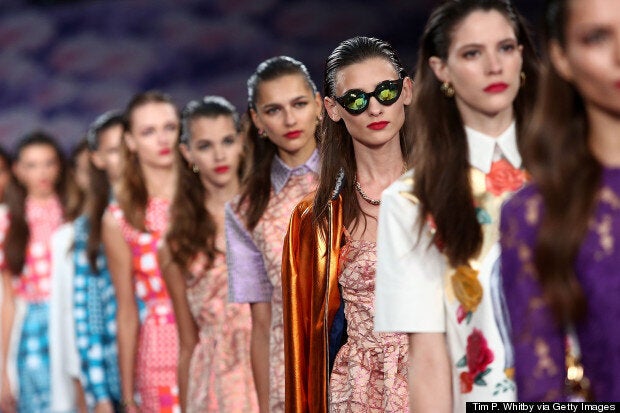 Crocs, aka THE most hideous design of footwear, are being worn by adults. This is just too much, they may be slip-on and lightweight (blah) but they will never be fashion. If you can't bear proper shoes right now then buy a pair of strap sliders, Topshop and Asos have some killer styles, or a kooky-but-lovable sandal.
Beauty note: the chipped nail polish? We can do better than that.
While most are embracing the heat wave by wearing maxis, cami tops, oversized tees and bermuda shorts, there are those still sweating in denial. I've spotted a number of women in chunky knitwear, scarves, parkas, an unimaginable amount of lycra, corduroy jackets and black woollen tights - all casually smug at their readiness should the weather suddenly change.
If you refuse to leave the house without an item of outerwear, "I just feel naked otherwise" my friend tells my raised eyebrows, then go for a stylish dust coat or plastic mac. Jesus, an umbrella even.
And can we talk about those cool bag lunchbox things? This is the total undoing of that had-to-have-it handbag you've just splurged on.
Then there's the wearing of sunglasses inside - I wore mine on the tube without even realising it this week, the whole way - and I thought it was just the pretentious who did that. Actually, for most it's a case of genuinely forgetting or hiding the fact that your face is literally melting.
Standout heat wave style? Racer-back tanks (nothing is sexier), off-the-shoulder tops, laser-cut midi skirts, denim pinafores, flat cut-out suede ankle boots. To the ladies doing the nude lipstick thing, insanely intricate plaited updos, ponyskin espadrilles, Beats Studio headphones (the real trendsters are styling out the new Champagne shade, yours for a cool £269.95) - I salute you.
When it comes to investing summer wardrobe staples, the pieces that will take you from the office to any after work scene, I'd recommend a double-breasted sleeveless jacket first off. A classic colour like black, navy or white can be paired with anything and the vibe is edgy-smart. Worn with nothing underneath? Pure siren.
A jumpsuit over a crisp white shirt with a statement collar is also an instant head-turner. And a good Breton stripe with ripped boyfriend jeans and a mid-block heel is just classic.
Sure, the heat can make us all a little crazy *fans self with ponytail* but avoiding fashion faux pas territory is key to keeping cool.