eCommerce is big business. Earlier this year, eMarketer forecast that global the business-to-consumer (B2C) market would grow by 20.1% this year to become a $1.500 trillion business.
And if that sounds like a lot (and it clearly is), then consider the fact that by 2017 they predict that this will have grown further to $2.357 trillion B2C sales a year.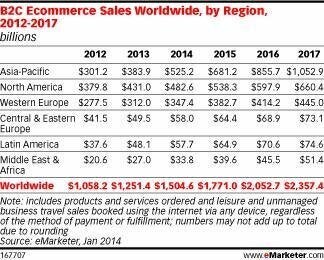 As the chart above shows, much of this growth will stem from emerging markets, with the populous Asia-Pacific region storming ahead. So it should come as no surprise if future eCommerce innovations stem from these regions, rather than more established areas like North America and Western Europe.
With that in mind, attention is inevitably focused on the forthcoming IPO for the Chinese e-commerce firm Alibaba. Analysts predict that it will be the biggest ever Tech IPO. CBC reported recently that "the projected stock price already values Alibaba at $162 billion".
Part of the reason for this, as the BBC observes, is that "China is now the biggest online market in the world. It has 600 million internet users - twice as many as the US - and half of these Chinese users already shop online."
Moreover, "China is also the world's biggest smartphone market." As eCommerce increasingly merges into mCommerce (that is eCommerce activity undertaken via your phone) Alibaba would seem to be well positioned for growth in this space.
Don't forget the old guard
It is against this mobile backdrop that Apple last week announced the introduction of its own mobile payment service named "Apple Pay" - a contactless payment technology for iPhone 6 owners.
Meanwhile, Twitter also announced last week that it was "beginning to test a new way for you to discover and buy products", with their official blog stating that "a small percentage of U.S. users (that will grow over time), some Tweets from our test partners will feature a "Buy" button, letting you buy directly from the Tweet."
With new products in this space emerging thick and fast, the Rassed team at ictQATAR have produced a round-up showcasing different ways in which this market is evolving.
From Bitcoin ATMs to regional payment platforms, here are ten examples of eCommerce uses you may have missed.