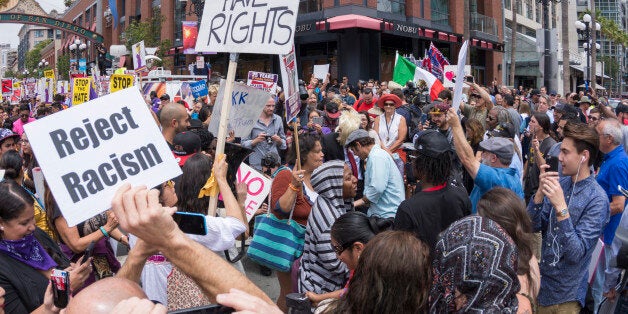 12 days. As I write this article, President Trump has been in office for 12 days. In this time, he has already affected the landscape for international students, how many countries view the United States and how many people perceive visiting or studying abroad there. As a company that helps many international students travel to the U.S. for leisure and study, StudentUniverse wanted to connect with our user base to get a pulse on how the events of the last 12 days have affected their perceptions and travel plans.
How do UK students feel about a Trump-Led America?
We conducted a poll of some of our UK followers to see if a Trump-led America would impact their interest in visiting or studying abroad in the U.S. The results were alarming: 82.15% of respondents either expressed that they were less interested in just studying abroad in the U.S. or in both studying abroad or visiting the U.S.
Breaking this down further, we learned:
64% of respondents were less interested in studying or travelling to the U.S. as a result of a Trump-led America.
17% stated that they would travel to the U.S., but they wouldn't be interested in studying abroad there.
A mere 18% of respondents said that a Trump-led America would have no impact on their plans to visit or study in the U.S.
How do the travel bans impact international students and travellers to the U.S.?
If you are a citizen of Iran, Iraq, Syria, Somalia, Libya, Sudan or Yemen, regardless of your religious affiliation or legal status in the USA, the travel ban will have a serious impact on your travel plans. Specifically:
Citizens from these seven nations who:
Hold a U.S. green card will only be permitted to enter the US on a case-by-case basis over the next 90 days.
Are also US citizens or permanent residents will be permitted to enter the U.S.
Hold citizenship and a valid passport for the United Kingdom, Australia, Canada or New Zealand WITH a valid visitor visa, will be permitted to enter the U.S.
Leave the U.S. for ANY reason may not be allowed to re-enter for 90-120 days (or longer).
Here are additional details that students with upcoming international travel plans to the U.S. need to know:
For the next 120 days, refugees from any nation cannot enter the U.S.
Citizens of visa waiver countries holding a valid ESTA can enter the U.S.
If you have upcoming travel plans that require a visa, visa applications will likely take longer to process than normal, so allow as much time as you can for processing. You will also likely want to obtain a five year visa instead of a one year visa, if possible.
If the changes to immigration rulings affect you, confirm your status with the closest US embassy or consulate (in writing if possible).
If you do not hold dual citizenship and your travel plans get disrupted, contact the airline for re-accommodation and refunding.
StudentUniverse exists to make global experiences possible. We wholeheartedly support the world being an open book for travel, adventure and exploration. While it's easy to see why travelling to a nation that appears to be shutting out outsiders can be logical (even if it doesn't directly impact your ability to travel there), this negativity can not be overshadowed by the blatant rejection of this ban by so many. The protesters at 30 airports across the U.S. helping detained travelers walk through the thresholds of the airport, or the U.S. college that started scholarship funds for refugees are two great examples. According to Skift, less than 30% of Americans actually support the ban.
While you should stay apprised on the legalities around the ban to ensure that your travel plans are not affected, we hope that your sense of adventure is not. According to WYSE, global youth travel accounts for 23% of international arrivals each year - it would be a shame for that to change. Travel opens your eyes, makes you more tolerant, helps you celebrate diversity and work with people who are different than you - the world could use all of that right now. Travel on.
Related