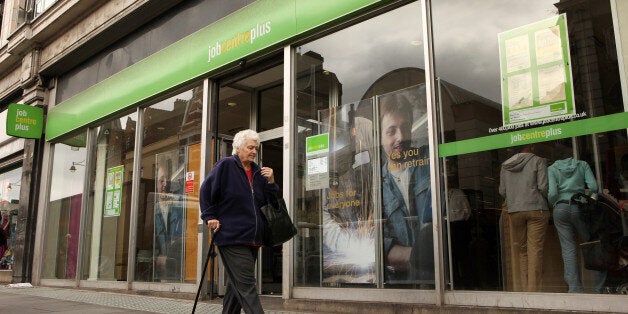 Next year the country marks seventy years since the abolition of the Poor Laws and the introduction of social security provision.
In doing so, this country took massive, progressive steps away from the centuries-long institutional punishment of people for the crime of being poor.
But under Theresa May's government we are about to be hurtled even further and faster backwards to the bygone dark days.
Because joining the immoral rise in foodbank dependency and the obscenity of sanctioning people on the lowest of incomes to worsen their despair still further, the Tories will now make it even harder for those seeking work to access the very job centres meant to assist them in their task.
Yes, the Tories are closing job centres. That is right - they are shutting the very facilities established to help the jobless into work. From the nasty party of `on your bike' we now have the door to help slammed hard in the faces of those doing their best to access this help.
Of course the measure is claimed as another cost-saver from the geniuses that brought us the austerity economics that have broken our public services and depressed our economy.
First announced in January this year, the closures were planned for next March but now they are being rushed through with some closures to hit Liverpool this September.
Labour has been opposed to the closures from the start. They are not just senseless - they have not even been tested. When one DWP official told me they hadn't received a 'large response' to one public consultation, I had to ask in utter disbelief who exactly he had expected would be engaging with the DWP's officialdom. The truth is that the government did not bother looking too hard to see who would be hurt by this latest set of cuts. They knew already - they just don't care.
In Liverpool Walton, the constituency I represent, working age unemployment and incapacity claimant rates are more than twice the national average. Over 40 per cent of adults have no formal qualifications and illiteracy rates are quite simply the worst in the UK. That job centres are at least based in the communities they serve and staff understand the lives of the people they are seeking to support is fundamental.
My constituents depend upon them for support into employment or receiving the welfare they need while they can't work. Closing job centres in north Liverpool makes about as much sense as a busy restaurant shutting down the kitchen to cut costs.
Having to travel further and more complicated routes to access job centres will disproportionately affect the disabled and those with mental health issues or caring responsibilities​​. For some of the most vulnerable people this will mean finding another fiver per appointment for bus fares - quite literally taking the food out of people's mouths. The result will be more sanctions, more hardship, and even fewer people finding a way into secure, well-paid jobs.
Jobcentre 'customers', as they're known, need the support of their local jobcentre staff, access to computers and other facilities to meet the demands government places on them. Norris Green Job Centre works closely with the Bridge Community centre down the road ensuring that our most vulnerable are not cut off from vital benefits they need to live. All this is at risk if closure plans proceed.
These closures aren't based in economics. They're cruel and they are ideological, pulling the plug on community facilities where people's need to access them is highest.
That's why these closures are a national scandal, not a local inconvenience. They are taking place at the same time as the rolling out of Universal Credit and as the welfare system is moving online, which for some people is akin to taking it out of the community and putting it into the ether.
Where on earth is the sense, let alone the humanity, in this? Surely if we want people out of work to be aided into work, we remove the obstacles in their way. We do not close the very facility on which they most greatly depend for work-related news and information. As some of my constituents have observed, it is as if the Tories will not be happy until the workhouse is back.
So I'm calling on the Commons' Work and Pensions Select Committee to hold an urgent inquiry and call on government to stop closures until a full inquiry has taken places. Please, come to constituencies like mine and hear first-hand from those directly affected about the anguish these closures will cause them.
The Conservatives are inflicting a monstrous misery on those with no power or voice. Their actions owe more to those bygone days when the poor were to be loathed, not assisted.
Theresa May's talk about taking the 'tough decisions' is hollow. Time and time again the Tories take the easy option and kick the poor instead of standing up to the abuses of those of the top.
In 1995 my dad, one of 500 Liverpool dockers sacked for refusing to cross a picket line, spent seven years out of work. At the age of eight, I learned that the state has a vital role to play in placing itself between its people and pauperism, and that sometimes people had to fight for their jobs and for decent employment and livelihoods. I never dreamt that 22 years we be fighting to hold onto a basic facility that supports people into work.
This government has given us the bedroom tax. It has put the disabled and the dying through disgraceful indignities as they seek an income. It has super-charged food poverty, seen wages fall to historic low levels and illegally priced working people out of justice through now defunct tribunal fees.
So much of what this government has done is a disgrace to the values held by decent people. They have been a traitor to our forefathers and mothers who said never again would poverty ravage our people.
We have only a matter of weeks to stave off these cold-hearted closures. I know that there are MPs across the house, including on the Conservative benches, who see these closures as simply a step too far. Today, I appeal to them: join me, stand up for your constituents and let's work together to stop this rotten policy.
Dan Carden is the Labour MP for Liverpool Walton