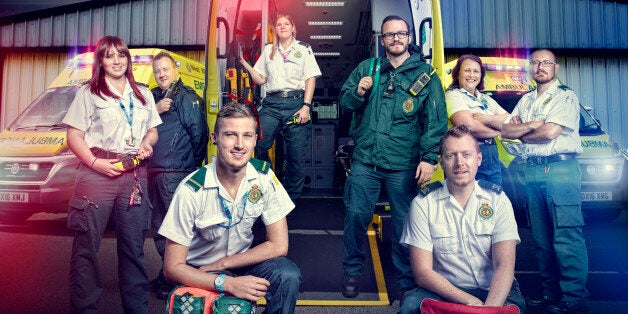 Anyone watching Casualty - as my wife does religiously - would come away thinking that ambulance staff go from helicopter crashes to road traffic accidents to explosions and then meet in a pub for a pint after a 12 hour shift.
But as a paramedic myself I know it's just not like that and I can't watch it on TV. So when I got the chance to take part in Inside The Ambulance, a new ten-part documentary series for digital TV channel W, I jumped at the opportunity. I'm proud to work for the ambulance service, but I want to show people what the job is really like - the highs as well as the lows.
The series aims to get closer than ever before to the work that ambulance staff do every day. A lot of the footage is actually shot by us, the ambulance crews, as the ambulance and each of us as individuals were rigged from top to bottom with GoPro cameras - so viewers see everything that we do. It was an amazing process to be part of!
The reality, as people watching the series will see, is pretty different from the drama version. We do get to save lives and that in itself is an amazing feeling. We meet and help some wonderful people, however we are also at the stage of having to pick up the pieces left by cuts in care that have left vulnerable people with no-one else to turn to for help.
The other great thing about the job is the ambulance staff. A big chunk of the TV series is us just chatting away in the ambulance cab between jobs - when you're working 12 hour shifts in pretty stressful situations you end up talking away about everything from onesies and favourite TV shows to previous patients, our families and what's had or being had for dinner.
But sadly it's not all like that. We do have people who give us grief - I've been shouted at, I've been spat at and even punched and that's just not on.
Then there's the unnecessary callouts that really don't need an ambulance - conditions that people could go and see their GP or attend a walk in centre with such as flu-like symptoms, aches and pains or feeling generally unwell; it makes me really angry.
People need to understand that we're an emergency service for life-threatening injuries and illnesses. When we're stuck on scene with someone who hasn't got a life-threatening injury or illness, that ambulance is taken away from someone who really does need us. When time can be of the essence it could be the difference between life and death for someone else. We should be the last port of call for people, not the first.
Like the NHS as a whole, the ambulance service is under a huge amount of strain. Emergency calls to West Midlands Ambulance Service are going up by 5% a year, which puts pressure on stretched resources. In fact WMAS are currently recruiting 300 new trainee paramedics.
I hope people will come away from watching Inside The Ambulance appreciating the reality of the job, seeing that it's not just drama and life saving. I want them to appreciate what makes it worthwhile and see what drives us all to do this extraordinary and vital job every day.
I'm hopeful that some of those people who call an ambulance when they don't really need one or give hard-working ambulance staff a hard time might think twice in future.
Monday-Friday at 8pm from November 28th on W
(Sky 109/245, Virgin 124/191, BT & TalkTalk 407)