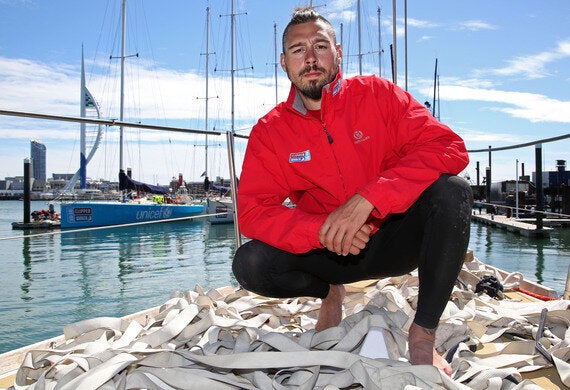 For the first time in my life I will be taking part in an ocean race, after I was asked earlier this year to help represent Team Great Britain and Northern Ireland in the Clipper Round the World race.
I've always wanted to try my hand at a challenge like this but I never really knew how to get into it. So when the opportunity presented itself, I jumped at it.
Before I began my training, I had never even stepped foot on a sail boat. So I was relieved to hear that there would be four intensive weeks of training before we began the challenge.
There were four levels of training, and levels one and three were really intense. I had a lot of information to remember and I had to build a lot of knowledge, so that's been hard work for me. There was a lot of new terminology to take on board, which I hadn't necessarily expected to have to learn. In mixed martial arts - the sport I know so well - there is a lot of sport-specific terminology to learn but in sailing there are so many words I've never even heard before.
Levels 2 and 4 of the training were really physically and mentally exhausting - sleeping and working in shifts, with four hours on, and four hours off, six hours on, six hours off. The boat has to be manned 24 hours a day, so these shift patterns have to be implemented constantly. Usually in a day you'll sleep two or three times over a couple of hours so that was something I had to get used to. I like my sleep and I'm not a lover of being woken up. During this part of the training it was more about learning how to live at sea and how to adapt to the conditions. It's one of the most exhausting things I've ever done. You're never quite sure what day or time it is!
Over the past couple of months, there have been some humbling experiences and I'm sure there are many more to come. I've now experienced sea sickness - which is debilitating. It's not something that you can compare to the fatigue or pain I've experienced before.
I am extremely competitive person and this experience is certainly encouraging me to help manage that. Since the beginning or training, I've wanted to be the best crew member in our team. I'm also a bit of a control freak at times, so it's difficult for me to have to learn to rely on teammates to work as hard as I do. I already know that, throughout this experience, I'll learn a lot about how to work well as a team but it will certainly be a challenge for me and my competitive nature.
The diet is also going to be a huge challenge during this experience. I have quite a strict diet, so learning to live with freeze dried food and the limited fresh food that we will have during the first couple of weeks will be difficult. I've also learned not to eat too much on-board the boat. A full stomach is not a pleasant thing when you're moving at high speeds and at strange angles!
I have already learned that this experience is not for the fainthearted. Ocean racing is just so unpredictable. Sometimes you have to make a sail change in really, really bad weather. It tests your physicality all the time, in a way that mixed martial arts can't compare. In MMA you fight for 15-25 minutes and you have to sustain your energy for that period. But with ocean racing, you have to sustain your energy and focus for 16-20 hours at a time, sometimes more. You have to mentally prepared, often for weeks, sometimes months, on end.
On the boat, you have to have your wits about you and you have to be prepared; you have to keep yourself safe. You can't trade punches with nature; you have to always give it respect.
The Clipper Race lasts for 11 months in total and is divided into eight legs. I will be doing just the first leg of the race, which is from London to Rio. This should take around one month, and it will involve us covering 5,000 miles, across the Atlantic Ocean. I've no doubt it will be an exciting adventure and that I'll learn a great deal.
When I return in October, I have a feeling that I'll immediately be looking to re-join the race again next year on a later leg. I'm sure that this is the beginning or a life-long addiction to sailing for me!