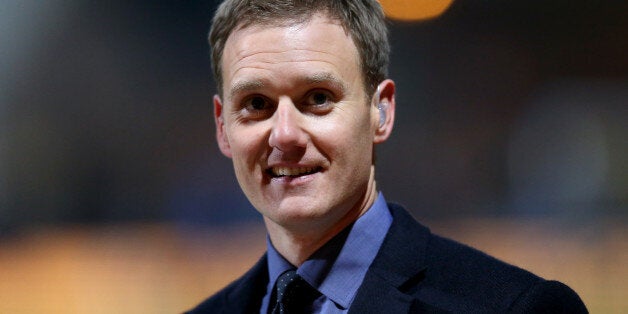 I love the FA Cup... always have, always will. As a boy I sat mesmerised as Des Lynam talked over a packed team bus taking about half-a-day to reach Wembley. Now I get to cover it. I've got a lot of time for the early rounds and we've had some magic moments in recent seasons. Warrington Town, Blyth Spartans, Salford City and Eastleigh have all produced the goods and I can't wait to see what Macclesfield Town can do against Oxford United in Round 2 and Football Focus comes live the plastic pitch of Sutton United on Saturday. Don't tell Coventry fans - I think their famous defeat as holders still hurts a little.
Talking of pain, I still miss Rio de Janeiro. It was wonderful to be there as Brazil hosted the World Cup in 2014 but this summer's Olympics were a real treat. I was presenting the BBC's coverage from a busy little slice of Copacabana beach and, as well all the sporty stuff, we had celebrity binmen, Anthony Worrall-Thompson lookalikes, hen parties and golden coconuts to keep us entertained. The beautiful Maria De Cezar wandered into our lives with her wedding pals and within 24 hours the video of our interview had been watched by over 16 million people around the world!
It was wonderful to speak to so many Brazilians who were going about their normal day in addition to the athletes. That seems to be what people enjoyed about the coverage. When I got back from the Olympics the first phone call I got was from the Brazilian ambassador inviting me to go and speak to 50,000 people in Trafalgar Square as part of 'Brazil Day'... it was bonkers. Good news: I got to go to the ambassadors reception. Bad news: there were no Ferrero Rocher.
All that seems a long way away from where I started out as a news reader, DJ and and commentator in local radio. I got a job at ITV, moved to the BBC and then doors began to open from there. Growing up I dreamed of being a professional sport star but I always thought I would be a teacher. My teachers inspired me and I felt I could have the same impact on the next generation.
My life took a slightly different path and the broadcasting world has given me some amazing opportunities. I've been to major sporting events all over the world, interviewed prime ministers, presidents, royalty, played golf with major champions and met all sorts of famous people but if you ask me for highlights two things really shine out.
The first was making a documentary about Auschwitz with Avram Grant. The former Chelsea boss lost up to 15 members of his family in the concentration camp and going back there with him and watching how gut-wrenchingly emotional it was is something that will live with me forever. I studied history at university but that visit was a history lesson like no other.
The second was spending Christmas in Afghanistan with some of the British troops stationed there. David Cameron turned up and it was an amazing trip. We were filming a special Football Focus out there and I was also putting together a documentary called 'Christmas In Camp Bastion'. I interviewed eight members of our armed forces; some there for the first time and some who were just coming to the end of nine months away from their family. It was an inspirational trip and, whatever you think of the rights and wrongs of conflict, we were all struck by the incredible people doing a high-pressure job in a place so far from home.
I should also give an honourable mention to a holiday show I made with Len Goodman. We went to Aberdeen for the day, ate gingerbread in a camper van and wore shell-suits. Hard to beat that.
If you ask me to write another one of these in 10 years time hopefully there will be loads more interviews, shows and people to tell you about. This year I've also taken over from Bill Turnbull on BBC Breakfast so who knows where that will take me? Hopefully not too far away from the FA cup.
Dan Walker presents live coverage of the FA Cup 2nd round as Macclesfield Town face Oxford United on Friday 2nd December at 19:55 on BBC Two.