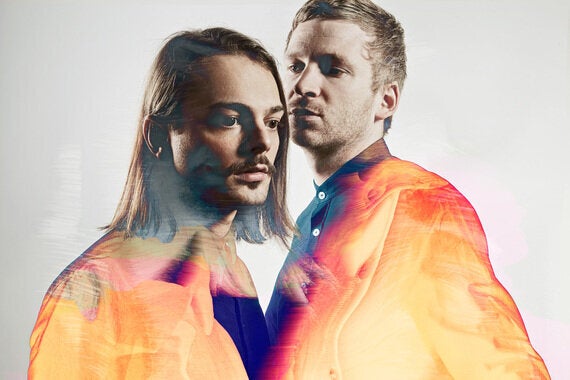 I chat to one half of the Scandinavian electronic duo
Classical music and electronic music have had a close relationship since the early days of synthesisers. German experimentalists such as Kraftwerk and Neu all took inspiration from contemporary composers such as Stockhausen and Steve Reich, and in the UK early synth players (such as Yes' Rick Wakemen) were also taking inspiration from classical music (just ignore the Camelot concept album). For me, the first time I heard a combination of the two was William Orbit's Trance anthem interpretation of Barber's Adagio for Strings (Which is still a tune by the way), and my favourite neo-classical composers such as Nils Frahm and Max Richter have been incorporating elements of electronic music into their sounds for some time now.
It's from this melting pot that you get Kiasmos, a Scandinavian electronica duo comprised of a critically acclaimed electronics producer and one of the worlds most respected contemporary composers. Janus Rasmussen (producer and vocalist for, Faroe islands band, Bloodgroup) and Olafur Arnalds (the Icelandic composer and pianist known for his beautifully sparse and melancholic music) are the creative forces behind the minimal techno project, both bringing elements of their own music to create something new and fresh. Their debut album, released through Erased Tapes, is an evocative piece of work in the vein of producers like Jon Hopkins and Trentemoller.
I caught up with Olafur Arnalds before his solo show at London's Roundhouse to discuss the new project.
"Can you tell me a little bit about how you and Janus first started working together?"
Olafur: We have been friends for a long time. It was 2008 and we met when I was working as a sound technician and I was doing some work for his band, Bloodgroup, who are really popular in Iceland. We were touring round the country and the two of us just became really good friends. We actually started doing after show DJ sets while on the tour, just me and him, because we were both getting really into electronic music, specifically techno. We became best friends, he'd only recently just moved to Iceland and we started seeing each other about every week or two and have a couple of drinks, usually end up making some music. It was never in any organised fashion, more it was a side-effect of getting drunk. Most of our songs on this album come from such scenarios'.
"How did the idea for the Kiamas project first come about?"
Olafur: It was sort of decided for us. We wanted it to become a project but definitely only a side project. We didn't really want to release a record, we just wanted to continue exploring music together. No pressure, no interviews, no labels, then after a few songs I sent them to Robert (Raths of Erased Tapes) and I sent them to my manager and they just said 'you guys have to do an album, we'll release it, you just have to do it'. I actually in-a-way protested, I had enough to do, I was really busy with my own project and I didn't have time for another band. Especially if it becomes popular, it'd be a nightmare. Of course we loved the music and we wanted to do it, but we really had to think if we could sacrifice the time.
"I've read that when you started work on the self-titled album that you wanted to create something completely fresh and not just a collection of the songs you've made of over the last 6 or 7 years. Was there a concept you were both working with the song writing?"
Olafur: Not really, basically we just wanted to start as a clean slate so we threw everything from before away and just started writing. Usually in my experience, with writing albums, I don't start up with a concept I start creating and then when I have a few pieces together I start seeing a pattern emerge. I get the concept. With this we never got it there, we just kept writing and suddenly realised we had ten songs but were like 'what the shit is this' (laughs). This isn't a concept album, if it's anything, it is a moment in time. It's like a picture of that month is our lives.
"Where does the name come from?"
Olafur: It came from a friend of mine who's a film PHD student. It's a grammatical term, it's actually spelt wrong it's supposed to be chiasmus, and it means something similar to an oxymoron but when you use it in a sentence, so using opposite concepts in a sentence. We thought it'd be really fitting because we're using a lot of opposites in the music. We have the strings and piano and then the heavy electronics on the other side.
"When you were writing the album did you find the songs came together in a certain way?"
Olafur: It was very much of collaboration, sometimes I would start writing and sometimes he would, but I think most of the songs start with the beat. Just a really simple beat, not even the final beat, but we'd lay down a kick drum or something just because we wanted it to be Techno-ish and everything we're writing fits to this 4/4 kick beat. Usually we'd loop that and I'd sit at the piano and improvise on top of it until we figured something out.
"Given your solo work and Jonus work with Blood Group is it logistically quite hard for you two to perform live together?"
Olafur: We're doing live shows this year and next year. How exactly "Live" they will be I don't know, currently our live set is not really about a performance. I think it's a very dangerous thing in electronic music when artists try to take it into the live scenario with live acoustics. You have something to watch, sure, but you lose the sound and the concept of the music. With us I don't think we're going to go that way, with bringing a live band on stage, but live electronics is a thing where it's more about creating soundscapes over beats that are pretty much on playback. What you can do is like the Knife, where on their last tour it was about a performance and an atmosphere. I think we could go down that route.
"There have been hints of Electronica in your own compositions, particularly on your most recent 'For now I am winter' album, what first peaked your interested in electronic music?"
Olafur: I think just listening to Electronica, it grabs your interest. After I bought my first synthesiser I became very interested in them as instruments. It's often like that where the tools are an influence on the art you make
"I've seen you collaborate live with Nils Frahm on electronic compositions/improvisations before, is there any plans for you two to record something?"
Olafur: We have actually. We did an EP for Record Store day called 'Stare'. We have an ongoing collaboration project going on. The EP was only three tracks and it was very electronic. I don't think there was any piano on at all, just ambient soundscapes. We both really love synthesisers (laughs)
"What's going to be your next project?"
Olafur: I'm just starting work on the second series of Broadchurch, and that's going to be taking over my life for the next four months. I'm just going to be in the studio making music.
"Do you enjoy the soundtracking/scoring side of things?"
Olafur: Yeah I do, it's different, but in this case, with Broadchurch, it's great. The people that I get to work with are amazing, and I've never had a single problem during the whole production of the series. Everyone is friends, nobody's really on your ass about anything, it's great. (laughs)
"Just out of curiosity have you seen the stage production of Let the Right One in the West End which features some of your music?"
Olafur: I have I saw it the last time I was over here and I loved it. I didn't realise how much of my music was used in the piece so I was really pleasantly surprised with it.
Kiasmos will be released on Erased Tapes on the 27th of October