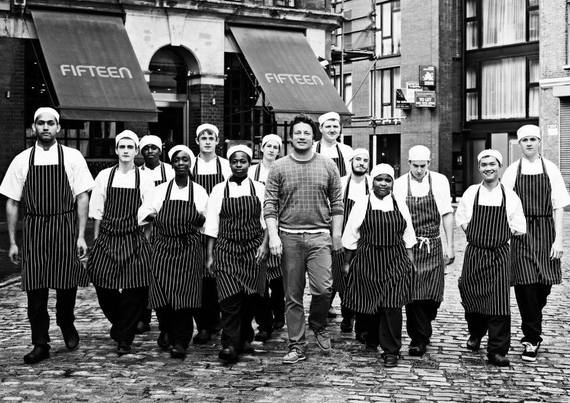 Over 10 years ago now Jamie Oliver had an idea that he could take 15 young people who had no formal training in cooking and over the period of a year teach them all to be top class Chefs. Jamie believes that anyone can cook and in fact it is his mission in life that everyone no matter who you are or where you come from has access to good food and that they be given the skills how to cook. I am one of the lucky ones in my office because I was there when the first group of Fifteen apprentices graduated and I have been to every graduation of each group since the first. It's an absolute honour for me to work with the apprentices at Fifteen and inspiring to see many of them continue to flourish in the hospitality industry when they leave us. Each of them has their own unique story as to what enticed them to apply for a place on the course. Many of them have faced hardships in life before they come to us and often we see incredible results with apprentices when they experience a sense of trust and acceptance. Jamie often refers to this as the "Fifteen family" and for the last 11 years this special place has been a family to me as well.
Being an apprentice at Fifteen is hard work. Each of them receives hands on training at the restaurant learning how to cook as well as completing a formal qualification. Additionally we also arrange many sourcing trips for them where they are taught about good food and where it comes from. On these "foodie adventures" the apprentices gain a great deal of knowledge about food and many topics are covered including sustainability, seasonality and farming techniques. And to make sure that they understand what they have learnt each of them is also required to write assignments on their experiences. Before they leave us and go out into the restaurant industry to work we also arrange work experience for them at some of the best restaurants in London. Here they will be given a taste of working life within a restaurant that at times can differ from their working life at Fifteen. Working at restaurants in London can be tough and often there is not the same level of support offered that the apprentice experiences when they are at Fifteen. When they are with us we equip them with the necessary skills to cope with this change once they leave us and start to work after the course.
At the end of the course we all celebrate at their graduation and this night is always emotionally charged as the apprentices have their friends and family there to celebrate. There is a great deal of joy as well and a sense of pride from each of them having completed the course. For me one of the most outstanding aspects of the Fifteen apprentice programme is the fact that when they finish their apprenticeship we also find them a job and even though they are not with us anymore they are always welcome back to Fifteen and each month we hold events and gatherings so that each student is always connected to us.
Applications are now open for the next group of Fifteen Apprentices. If you know anyone who is aged between 18 - 24 and who may be interested in applying then please send them our way.