Vince McMahon, Jim Ross, Jerry Lawler, Tazz, JBL and many others have provided the soundtrack to some of wrestling's greatest moments. That was until Billy Kirkwood hit the scene. If you've never been to an ICW show, well you're missing out (upcoming event details and tickets here). Kirkwood is one of the Jewel's in the ICW crown. The hype man, commentator and On-Demand interviewer. Stand-up comedian by day (see his gig listings here) and wrestling legend by night, together with ICW he is taking the world by storm. We were lucky to be able to grab a few words with the great man. Read on for the latest in our series of ICW specials.
You're the voice of ICW, how much preparation is required - do you have pre-planned phrases?
You know, not really. I certainly try and do a lot of preparation, study and research into who the guys are to get their characters across because I'm the sort of conduit between the viewers and the fans - and even the live fans. So I try and give as much information as I can impart and do a little bit of warm up and start the show. It's taking my skills as a stand-up comedian, which is what I do as a living and bringing that to the live event. In terms of the recording, it's a very different type of preparation. I know in other wrestling companies that guys will sit there with their notes and everything's quite scripted but I like to feed off the atmosphere, help tell the story that the wrestlers are telling and just explain what's going on. So to answer your question, yes and no.
Tell us about your stand-up work
Myself and Chris Brooker have worked together for quite a few years on a show called "I am the tag team champions". We team up from time to time and do stuff like that. As individuals we're just regular stand-up comedians gigging all over the country. I've been very lucky, living and touring for over a decade all around the world. It's what I make my living at. But one of the cool things is, I love pro-wrestling. So when this perfect combination came along of being this communicator and a pro-wrestling fan, putting my knowledge of wrestling together into a commentary role, it was just a dream come true and one I get unbelievably excited about.
What's next for ICW, how can the company grow? Take over the world?
Oh God, I have no idea. To take over the world?! I don't know. We certainly want to push the boundaries beyond anything any British wrestling company has done. We have fans all around the world. I get emails, I get tweets, as does the office - it's bombarded. Probably everywhere I go someone is asking about ICW. Where do I see it going? I've genuinely got no idea. I think we'll keep putting on the best live event shows - because there's so much wrestling talent in this country, it's just phenomenal. I think it's just bringing that to bear as much as we can. The more people that get to see ICW it seems to me, the more people get attracted by it. I think it's fair to say we're the number one promotion in the UK right now and I think we're really looking to drive that forward. And all the other companies that want to raise their game and come with us, well the more the merrier. Wrestling is healthy, more wrestling is healthier.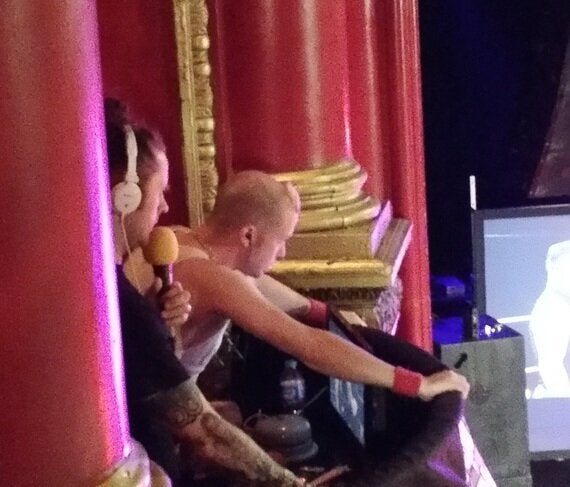 Above: Billy commentating on the action at London's Koko
We're always blown away by ICW shows - is it the creative? Are you involved in that?
I'm not involved directly with any creative process. I love to sit down and shoot the sh*t with the wrestlers, especially the promos and stuff like that. I've got a big passion for doing that type of thing. In terms of why a different atmosphere in ICW, it's an over-18s product, that's one thing. But if you take away the swearing element you're left with stuff that's just as entertaining, just as exciting. It's a real life action movie. It's the art of pro-wrestling and I just think we're bringing the Nirvana riff back to that, bringing cool and excitement back to wrestling. People come and they say this generation lived through the [WWE] Attitude Era but they also lived through the bad times in British wrestling. People forget that 15-20 years ago British wrestling was in a dark, dark place. You only need to ask the legendary guys like Jonny storm, Jody Fliesch, they were they guys that brought back the revolution in pro wrestling. We're just really trying to extend that and go further. You don't go on the waltzers at a fun fair and sit there calmly, you get excited, its gets the heart pumping and that's what pro wrestling's all about
Tell us about your best rib
You know I do a lot of them in the ring at the start of the show. I have a habit of getting chants going and you might've noticed, it's probably on poor Simon Cassidy who comes out and gets an audible "It's your fault chant". That chant is my fault. I'm sure I came out one show, I can't even remember, it was just some ramble I suppose and it ended up bad and I followed it with " f**k you Simon, it's your fault!" and since that time wherever he goes, its "f**k you Simon, it's your fault". I do have a habit of making my co-commentators laugh whenever I can. I think it's just stuff like that. I leave the ribbing to the boys, I let them do that. I'm here just to be a talker, I'm allowed to play my small role in pro-wrestling and I love it and long may it continue.
All we can say is Amen! Listen to Billy commentate through ICW on Demand then get tickets for an ICW show here. Keep reading for there are more ICW specials to come!...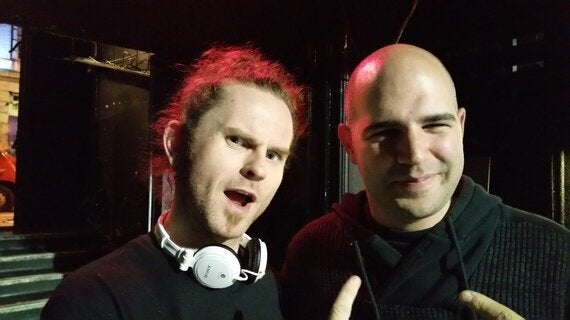 Popular in the Community